Synopsis: Set over one summer, the film follows precocious 6-year-old Moonee as she courts mischief and adventure with her ragtag playmates and bonds with her rebellious but caring mother, all while living in the shadows of Disney World.
Release Date: October 20, 2017     MPAA Rating: PG-13
Genre(s): Drama
Film Review
Production
A couple of years ago, director Sean Baker solidified his reputation as an indie-filmmaker-to-watch with the groundbreaking Tangerine. Now, with all eyes on him, he follows it up with the equally impressive The Florida Project.
The Florida Project is about a week-to-week hotel in Orlando, Florida (right in the shadow of Disney World) run by a kindhearted man named Bobby (Willem Dafoe). A little girl named Moonee (Brooklynn Kimberly Prince) lives there with her drug-addled mother, Halley (Bria Vinaite). While Moonee spends her days getting into harmless mischief with her friends, Halley does whatever she can to keep a roof over their heads and food on the table.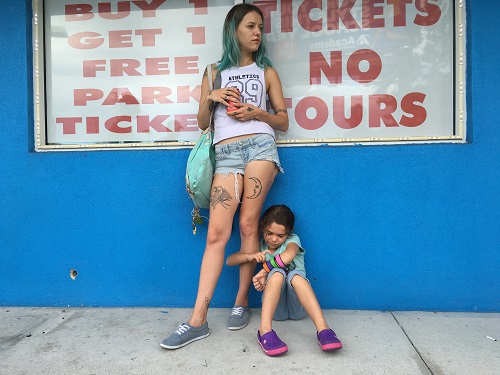 There's not a real deep story to
The Florida Project
, it's more like a slice-of-life snapshot. Baker and co-writer Chris Bergoch provide a rough sketch of events, but, like
Tangerine
,
The Florida Project
has a loose, improvisational feel that lends an air of authenticity to the fly-on-the-wall drama. The narrative unfolds reluctantly, yet engrossingly, and while the major points are a tad predictable, they are presented in a way that is anything but stereotypical.
Although Dafoe is by far the biggest name draw, the real stars of The Florida Project are the kids. Moonee and her two pals (played by Valeria Cotto and Christopher Rivera) are happy kids, almost overly happy, like obnoxiously so. They seem like real kids and the serious adult problems that Halley, Bobby, and the rest of the grown-ups experience are filtered through the naïve innocence of the children. The kids in The Florida Project are annoyingly sweet, and they'll make the non-parents in the audience simultaneously want to have kids and never wants to have kids.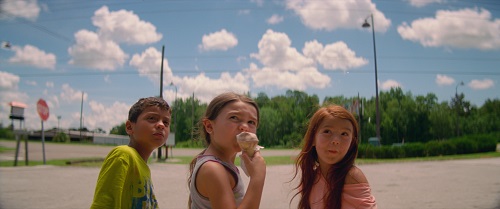 In a lot of ways,
The Florida Project
is similar to
Tangerine
. It's got the same flawed-yet-likable characters, the same wonderful visual style, and the same street-smart sense of storytelling. It is a huge step forward for Sean Baker, however, and both critics and audiences alike should be excited for whatever he's got coming next.
Acting
Generally, even when Willem Dafoe plays characters that are inherently good, they come off as a little creepy (see American Psycho and Platoon). His portrayal of Bobby is kind and generous, somewhat of a departure from what audiences are used to from him. His relationships with the other adults in the film are pretty much based upon how behind they are on their rent to him, but he comes off as genuinely protective and loving of the children, sort of a surrogate parent for them. Bobby is tough when he needs to be, but when the chips are down and the backs are against the wall, he cares about his tenants, both adults and children, and goes out of his way to help them out any way he can. It's great to see Dafoe in a role like this.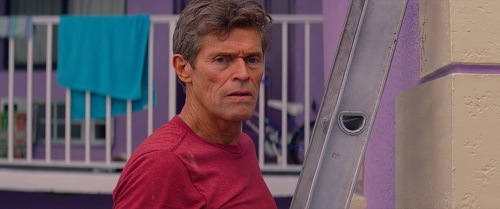 Aside from Dafoe, the other principals in
The Florida Project
are all unknowns – Baker actually discovered Bria Vinaite (Halley) on Instagram! The inexperience shows, but it also works in the film's favor, as it helps sell the observational, cinema verite style of storytelling. There are a handful of established actors in pop-in roles just for good measure, people like Macon Blair (
Green Room
) and Caleb Landry Jones (
Get Out
), but Dafoe and the rookies do the heavy lifting in
The Florida Project
.
Cinematography
Much of the hoopla surrounding Tangerine was due to the fact that Sean Baker decided to shoot the entire movie on an iPhone with an experimental lens setup. For The Florida Project, Baker went in the other direction, enlisting Mexican cinematographer Alexis Zabe (Silent Light, Duck Season) and shooting on 35mm film. Some of the aesthetic choices carry over from Tangerine, such as the use of movement and depth of field to capture private conversations and observational moments.
However, The Florida Project was shot on location in Florida, and the local landscape, with its distinct purple-pink-green color scheme, looks stunning on actual film. The Florida Project has a realistic photographic style with a surrealistic color palette, and that combination gives the film a visually striking style.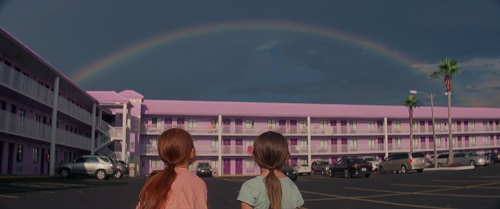 Cast and Crew
Director(s): Sean Baker
Producer(s): Sean Baker, Chris Bergoch, Kevin Chinoy, Andrew Duncan, Alex Saks, Francesca Silvestri, Shih-Ching Tsou
Screenwriter(s): Sean Baker, Chris Bergoch
Cast: Willem Dafoe (Bobby), Brooklynn Prince (Moonee), Valeria Cotto (Jancey), Bria Vinaite (Halley), Christopher Rivera (Scooty), Caleb Landry Jones (Jack), Macon Blair (Tourist John), Karren Karagulian (Narek), Sandy Kane (Gloria)
Editor(s): Sean Baker
Cinematographer: Alexis Zabe
Costume Designer: Fernando Rodriguez
Casting Director(s): Carmen Cuba
Music Score: Lorne Balfe
Country Of Origin: USA