One of the earliest tricks that filmmakers would use to forecast fear into their audience is the use of a "warning," a bit of fourth-wall breaking narration in the movie that would let the viewer know that they were in for some pure terror.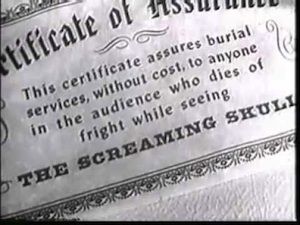 From Edward van Sloan's "it will thrill you, it may shock you" speech at the beginning of Frankenstein to William Castle's offering of patrons' money back if they were too scared to stay until the end of Homicidal, these warnings were great fun, but rarely taken seriously. In 1958, director Alex Nicol went above and beyond with his introduction to The Screaming Skull; he offered to pay for the burial costs of anyone who died of fright during his movie.
Once the film gets past Nicol's offer (with tracking shot of an open casket, complete with a "reserved for you" sign inside), The Screaming Skull tells the story of two newlyweds, Jenni and Eric Whitlock (played by television character actors Peggy Webber and John Hudson), who have just arrived at Eric's secluded country mansion. Eric's first wife, Marion, drowned in a pond on the grounds, and the gardener Mickey (Nicol) has been keeping the property up in her memory. They are joined at the estate by the Reverend Snow (Russ Conway from Whatever Happened to Baby Jane?) and his wife (the unknown Tony Johnson), and Eric cautions them about some time that Jenni had spent in an asylum, and lets them know that she has a history of mental instability. While trying to sleep, Jenni, haunted by visions and nightmares, starts hearing screams around the house. When she investigates, she finds skulls placed in strategic places, as well as a creepy old painting of Marion.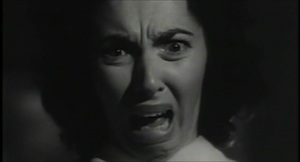 While Jenni believes that she is going insane, Eric blames the occurrences on Mickey, who is still devoted to Marion, even in death. Jenni keeps seeing skulls and hearing screaming, and continues to believe that she needs to be institutionalized while Eric continues to believe that Mickey is behind the haunting.
Written by "The Wild Wild West" writer John Kneubuhl, The Screaming Skull is, quite literally, a low-budget legend. It's low budget because it looks like it was made for less than a thousand dollars and it's legendary because it's so bad. The story is great; without giving away any secrets, there are a few good twists and turns, and some of the characters are not who they appear to be. The acting is overly melodramatic and the visual effects make Ed Wood look like James Cameron. There are, however, some aspects of The Screaming Skull that are very well done, and, with a little more money behind it, could have transformed it into a much better movie.
First off, the film was shot by cinematographer Floyd Crosby, who not only shot High Noon, but also worked on many of the classic Roger Corman/Edgar Allan Poe adaptations like The Pit and the Pendulum, The Fall of the House of Usher and The Raven.
The Corman influence is evident, as Crosby knows how to make a cheap movie look spooky. The Screaming Skull is full of cool shots. Crosby camera looks through windows and banisters, gets above and below the scenes and travels through shadows and darkness – and it all adds to the creepy look and feel of the film. Crosby nails the visual aspect of the fear that The Screaming Skull attempts to instill in its audience.
Another great element that The Screaming Skull has going for it is the music; the score was composed by Ernest Gold who, two years later, would win both an Oscar and a Grammy for his soundtrack for Exodus. Gold's score for The Screaming Skull is the combination of subtle and spooky that every horror film from the fifties should have, underscoring and emphasizing the scares without overshadowing them.
The Screaming Skull is one of those films that, without the score, some of the scenes play more like comedy than horror.
Which brings up the subject of unintentional humor; The Screaming Skull is full of it. The titular skull, which is never seen actually screaming, looks like a borrowed high school anatomy display. The special effects, though retroactively cool, are limited to stereotypical double exposure ghostly images. Most of the dialogue is silly, and all of the acting is marginal at best. Furthermore, Nicol's character of Mickey is laughable just about every time he is on camera. These are the factors that earned The Screaming Skull a spot on Mystery Science Theater 3000.
While The Screaming Skull is not scary enough to have to pay for anyone's funeral costs, it is still a classic B-movie that is bad in the best, most loving way possible. It's short, tight, and makes for a good viewing experience, as long as you don't expect to die of fright.