Hollywood lost another one of its shining stars this last weekend when Louis Jourdan, the debonair French character actor, passed away at the age of 93. Throughout his long and storied career, Jourdan worked with Hitchcock, played Count Dracula, and lent his voice talents to Scooby-Doo cartoons. He is best known to movie fans as the suave leading man in the musical Gigi and the villain in the Bond film Octopussy, but the horror community remembers him for another role; in 1982, Jourdan played the antagonistic Dr. Arcane in Swamp Thing.
Swamp Thing is about a bio-engineer named Dr. Alec Holland (Ray Wise from "Twin Peaks") who is holed up in a Louisiana swamp trying to develop a top-secret type of plant life that can exist and thrive in hostile ecosystems. A government agent name Alice Cable (Adrienne Barbeau from Creepshow) shows up to help, but she is not the only outsider who is interested in Dr. Holland's experiments; the swamp is also occupied by a paramilitary group who operate under the orders of the evil Dr. Anton Arcane (Jourdan), a mad scientist who wants Dr. Holland's formula in order to attain his own immortality. During a skirmish with the outlaw soldiers, Holland is doused with his chemicals and lit on fire before fleeing into the swamp. Cable escapes with a notebook full of Holland's research, and Arcane sends his men out to frantically find her. Soon, Cable and the others start seeing a strange, half-man/half-plant creature lurking in the wetlands. Eventually, Cable figures out that the Swamp Thing is a mutated Holland, and both of them have to stop Arcane from acquiring and using Holland's formula for his own selfish reasons.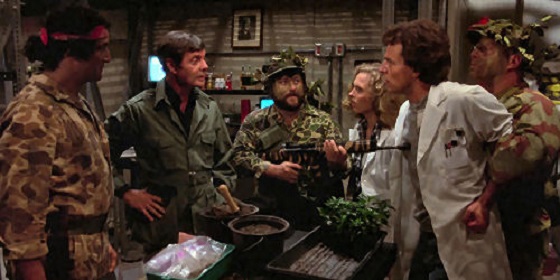 Since the script for Swamp Thing, which was written by Wes Craven (A Nightmare on Elm Street), is based on a DC Comics book by Len Wein and Bernie Wrightson, the movie can technically be considered an early superhero movie. Craven, who had already had a few minor horror hits such as Deadly Blessing and The Hills Have Eyes, approached the project from more of an action-adventure standpoint in order to prove that he could direct outside of the horror genre. Craven's horror roots combined with his desire to flex his muscles and spread his wings are what make Swamp Thing the cool horror/adventure hybrid that it is.
Louis Jourdan's turn as Anton Arcane in Swamp Thing is absolutely diabolical. The experienced actor knows exactly how to play the villainous role with just the right amount of moustache-twisting and melodramatic overacting, whether he's ripping a mask off of his head in a Scooby-Doo-like bad-guy reveal or simply delivering lines while waltzing around the set with a drink and a cigarette. Jourdan is surrounded by a supporting cast that is nothing short of horror royalty. In addition to having starred in Creepshow, leading lady Adrienne Barbeau was married to John Carpenter at the time of Swamp Thing's production and was a staple in films of his such as The Fog and Escape from New York. David Hess, who plays the field leader of Arcane's little army, made a name for himself in Craven's The Last House on the Left before trying his hand at directing with To All a Goodnight. Finally, lead actor Ray Wise was a relative newcomer to moviemaking, but would go on to become one of the most familiar faces on both television and in movies with his roles in "Reapers" and RoboCop. Even at that early point in his career, Wes Craven could gather stars like no one else.
Since Swamp Thing is, at its root, a creature feature, the titular monster is very important to the film. The creature costume and makeup was designed by William Munns (The Beastmaster, Return of the Living Dead), who keeps the general look of the monster consistent with the comic book hero. The monster effects are completely practical, with facial prosthetics altering the actor's face and a rubber suit that is such a throwback to the old sci-fi monster days that it just begs for a zipper to be running up the back. The creature was played by stuntman Dick Durock, who would go on to make quite a career of playing Swamp Thing, starring in both the 1989 sequel, The Return of Swamp Thing, and the subsequent "Swamp Thing" television series. Munns' creature design and Durock's performance turned Swamp Thing into more than a movie; it became a cultural phenomenon.
The musical score for Swamp Thing was written by the legendary Harry Manfredini, who is best known as the composer for the Friday the 13th movies, but also scored many horror classics such as Slaughter High, House, and The Horror Show. Because Swamp Thing isn't a straight-out horror movie, Manfredini's soundtrack is more versatile than some of his other dime-store works. Of course, the music includes all of the dramatic stingers and suspenseful vamps for which his scores are known, but there's also plenty of classic action sequence music for the more exciting segments. Manfredini's score is an excellent complement for what Wes Craven wanted Swamp Thing to be – an action/adventure/horror film.
Louis Jourdan would reprise the role of Dr. Anton Arcane in The Return of Swamp Thing before retiring from acting in 1992. He seemingly did it all over the course of his fifty-plus year career, but his second turn as the character just cemented the fact that, to horror and science fiction fans, he will always be Arcane from Swamp Thing.