John Wick: Chapter 3 - Parabellum Review: The Action and World Building Doesn't Wrap Up the Wickverse, It Only Makes the Viewer Want More
The assassin world isn't ready to let John Wick go in John Wick: Chapter 3 - Parabellum, and neither should you.
Release Date: May 17, 2019
In John Wick: Chapter 3 – Parabellum, super-assassin John Wick is on the run after killing a member of the international assassin's guild, and with a $14 million price tag on his head – he is the target of hit men and women everywhere.
Director: Chad Stahelski
Screenwriters: Derek Kolstad, Shay Hatten, Chris Collins, Marc Abrams
Producers: Basil Iwanyk, Erica Lee 
Cast: Keanu Reeves (John Wick), Halle Berry (Sofia), Ian McShane (Winston), Laurence Fishburne (Bowery King), Mark Dacascos (Zero), Asia Kate Dillon (The Adjudicator), Lance Reddick (Charon), Anjelica Huston (The Director), Said Taghmaoui (The Elder)
Editor: Evan Schiff
Cinematographer: Dan Laustsen
Production Designer: Kevin Kavanaugh 
Casting Directors: Salah Benchegra, Marisol Roncali, Mary Vernieu
Music Score: Tyler Bates, Joel J. Richard

Based on the initial pitch of an assassin who seeks revenge for the killing of his puppy, few could have expected John Wick to expand into a series with a lore and a backstory as rich as any Marvel movie. And yet, now that John Wick: Chapter 3 – Parabellum has arrived, it's hard not to want to explore every facet of the Wickverse, from the origins of the High Table, the seedy organization that governs the assassin world, to Wick's many consorts during his tenure as "Baba Yaga."
Where many film series try to rap things up with their third entry, John Wick: Chapter 3 – Parabellum expands things even further by exploring the lore, backstory, and history that surrounds the titular character, once again played by Keanu Reeves.
Through that series expansion, John Wick: Chapter 3 can send the character to new locales and introduce new characters, like Anjelica Huston's Russian ballet director who moonlights as an assassin trainer. But key to the adventure this time round is Halle Berry's Sofia, a former colleague of Wick's that owes him a favor. At times it seems silly to consider how much effort is put into making the world of John Wick: Chapter 3 seem so big, but it's also a ton of fun getting to see all of the nooks and crannies. Of course, familiar faces like Winston (Ian McShane) and Charon (Lance Reddick) are back, but the dynamic has changed since John Wick: Chapter 2. Now Wick is "ex-communicado," a wanted man hunted by the organization he once served and the assassins who once revered him.
John Wick can't run forever, and luckily the film doesn't rely too much on this predator/prey dynamic. Instead, Wick does a surprising amount of jet setting, as he works to clear his name and then solve a bigger issue. The story is far more complicated than "former assassin seeks revenge for puppy," but it has enough of a focus that it's fairly easy to follow. As was mentioned, the lore can get a bit much, but it's never distracting or confusing.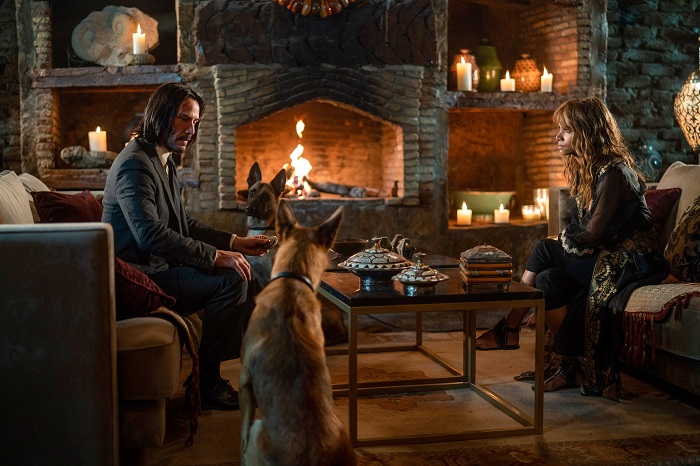 The film also has tons of fun characters, both returnees and new faces. Halle Berry is a highlight as Sofia, and her action scenes with Keanu Reeves are incredible thanks to some impressive canine stunt work. The duo have a great rapport when drama is necessary, but when the bullets are flying they are like a surgical strike team and it's a ton of fun to watch.
Mark Dacascos is also a highlight as Zero, the main "villain" of the film. One part ninja and one part Wick fan boy, Zero mixes a deadly serious work ethic with some levity. In most cases, the villains of the John Wick films have been silent, stoic assassins, but Dacascos brings a lot more to the table with Zero.
Thanks to some almost absurd world building, a lot of fun new characters, exciting character moments, and slick action, John Wick: Chapter 3 blows out the series in ways few could expect. It's bigger, better, and it justifies the series' existence for as long as Keanu Reeves and Co. want to keep working in the Wickverse. Instead of wishing that the third movie were a fitting end, John Wick: Chapter 3 – Parabellum will leave you wanting more and more.

Horses, motorcycles, dogs, throwing knives – John Wick: Chapter 3 – Parabellum is going for broke when it comes to action. It's violent, visceral, and relentless, but that is both good and bad. No question this is some of the best action of the series and in cinema, and the reliance on CGI or clever editing is almost minimal. The film wants to make it feel as realistic as possible and the actors buy into that approach whole cloth. Three films in, it might seem like the series would start to draw from similar ideas, but John Wick 3 is as fresh as they come. There is just one element that stands out a bit.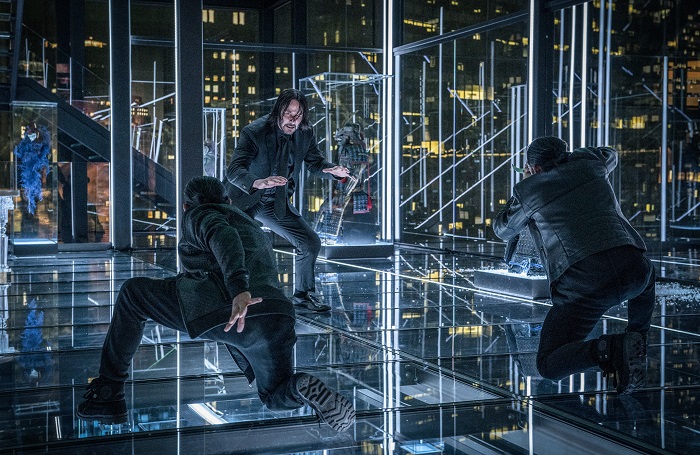 It may feel like nitpicking, but many of John Wick: Chapter 3's action sequences go on just a little too long. All are admittedly creative, well choreographed, well shot, and filled with big moments, but they also tend to hammer the same note a little too much by the end. Because Wick is such an expert killer, it gets a little old seeing him shoot a bad guy in the chest and then in the head, over and over and over again. Nowhere is the fatigue more evident than in the final action sequence, which goes on much longer than it needed to. Really, if John Wick 3 had trimmed each of its actions sequences by a handful of kills and the experience would have been tighter overall.