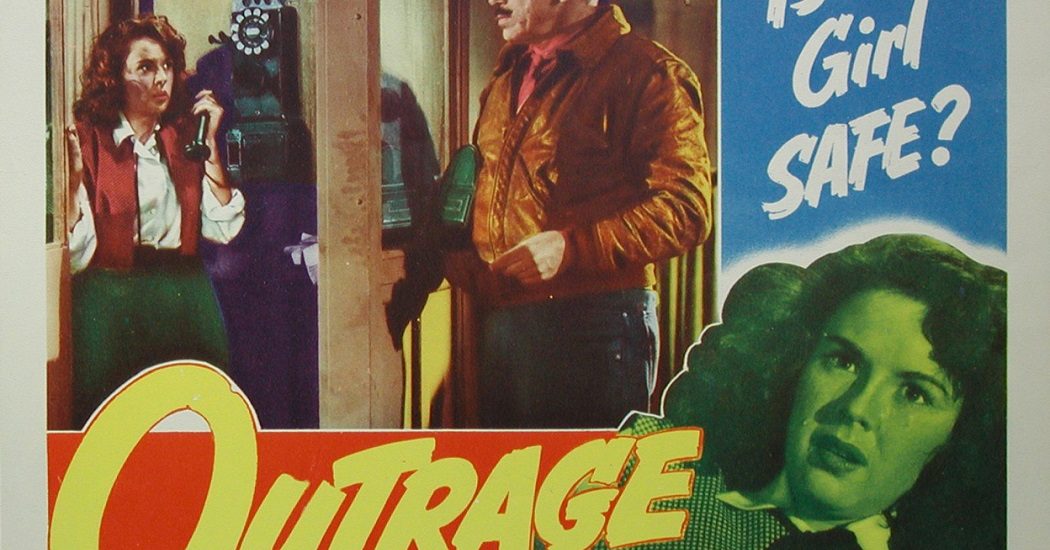 Cinema Fearité presents Outrage
Cinema Fearite spills over Women in Horror Month to March with Ida Lupino's exploitative B-movie Outrage.
After wrapping up Women in Horror Month last week and mentioning the badass Ida Lupino in the conclusion, we couldn't help extending the celebration. So, this week's Cinema Fearité is going to take a look at Lupino's 1950 sleeper Outrage.
Outrage is about a young woman named Ann Walton (Mala Powers from The Colossus of New York) who's seemingly got everything going for her; she's got a good job as a bookkeeper, her family is close-knit and loving, and her boyfriend, Jim (Robert Clarke from The Man from Planet X), has just asked her to marry him. All this peace and happiness is shattered when Ann is raped while walking home from work one night.
While her fiancé and family are sympathetic and supportive, the mental strain takes its toll on Ann, and she runs away to Los Angeles. Once there, she is befriended by the kind Reverend Bruce Ferguson (The Baby's Tod Andrews), who, despite not being able to get Ann to tell him anything about herself, helps her get a job and find a place to stay. But even the sunny west coast can't help Ann outrun the memories of that fateful night.
Ida Lupino wrote the script for Outrage with her frequent collaborator (and then-husband) Collier Young (who also wrote Act of Violence and On the Loose) and television pulp writer Malvin Wald (The Naked City). She used much of the same cast and crew that she did with her first credited feature Never Fear (many of whom would also return for her masterpiece The Hitch-Hiker), including Young. Although it's a far cry from I Spit on Your Grave or Savage Streets, Outrage is essentially an exploitation B-movie, more rape than revenge. But, for fifties cinema, Lupino was on the edge. Just insinuating a sexual assault was shocking.
And it is a huge testament to Lupino's talent and vision that she manages to communicate the terror and paranoia of Ann's assault without showing a single frame of violence. Ann's walk home takes her through darkened alleyways and deserted streets, with Lupino showing her shadowy assailant to the audience well before he is revealed to his victim. All of the action takes place around corners and behind walls, so that the viewer is forced to imagine the act itself. The mind's eye fills in the visual gaps while all that is heard on the soundtrack is the rustling of clothing, or the tap-tap of footsteps, or maybe a stray truck horn or a slamming window. It's a masterful example of less-is-more, because what's going on in the viewer's imagination is worse than anything that Lupino could – or would – show to a 1950s audience.
Outrage does lose a little bit of steam when it hits its melodramatic pseudo-love story angle. Of course, early scenes with Ann and Jim are necessary to build character and generate advance sympathy for what is about to happen, but once Ann lands in Los Angeles, there are some awkward moments between her and Bruce. It's never stated that Bruce has any unclean feelings towards Ann, but there's a weird chemistry between Mala Powers and Tod Andrews that casts doubt upon the motivations of the good Reverend. And it takes the wind out of the movie's sails a bit. For as much as Lupino nails the suspense and tension, she falters a little on the interpersonal relationship stuff in Outrage.
Stylistically, Outrage passes itself off nicely as a film noir movie. Cinematographer Archie Stout (The Quiet Man, Fort Apache) uses the high-contrast black and white photography to great effect, particularly during the horror-esque scenes where the shadows are long and the light are dim. Things soften up a bit when the sun is out, but that just serves to juxtapose the stark black of night with the harsh light of day. And in case there are any doubts as to Outrage being an exploitative B-movie, the soundtrack is packed with dynamic and pulsing stock music from Paul Sawtell (The Fly, Rodan, The Sadist). While Outrage is not even close to a hard-boiled crime thriller, many of the aesthetic earmarks of the genre are there.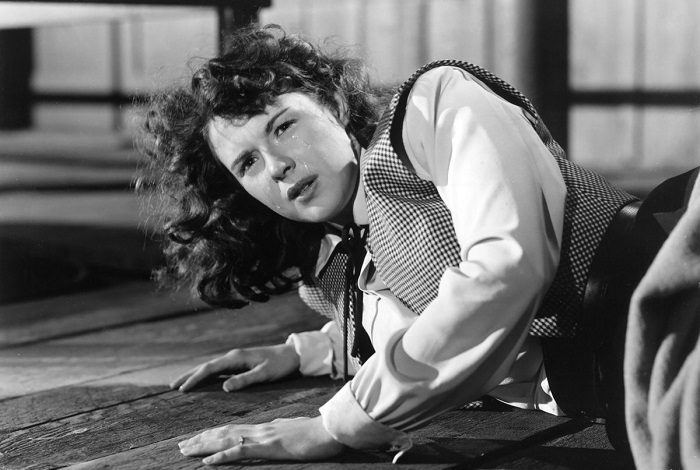 Ida Lupino successfully made the jump from bombshell beauty to respected director, and she did it in an era when female filmmakers were few and far between. Hell, she's the only woman to have directed an episode of "The Twilight Zone," as well as the only person to have starred in an episode and directed another. While Outrage is hardly Lupino's strongest work, it lays the foundation for a career that would span decades, both in front of and behind the camera. Ida Lupino was the real deal.