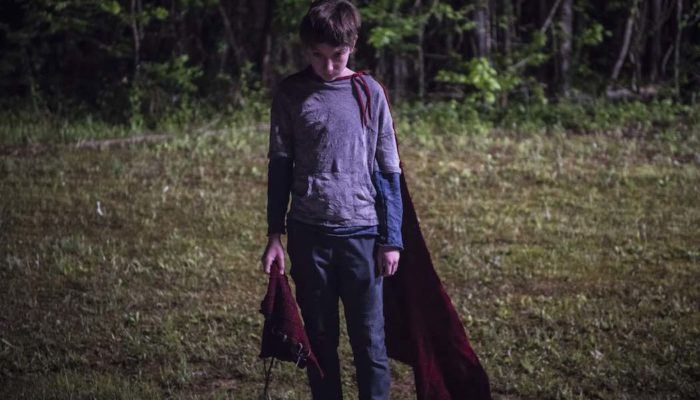 Brightburn Takes on the Superhero Horror Genre With an Homage to Superman and The Omen (Maybe)
If you're going to make a superhero horror movie, may as well borrow from the greatest of heroes, Superman, and the greatest of evil children, Damien.
What if Damien from The Omen was, in fact, an alien instead of the devil and came to earth in a spaceship, taken in by a kind couple who raise him as their own? Then, when he's a boy, they discover he has superhuman abilities a la Superman, and he does not plan to use them for good. If this story sounds like something you'd want to see, superhero horror movie Brightburn should be added to your movie release calendar.
Superhero Horror Brightburn Looks Very Familiar (Too Familiar)
Brightburn has all of the trappings of Superman, but it flips the script and makes its superhero a supervillain, or just plain evil. Jackson A. Dunn takes on the role of the evil superhero, Brandon Breyer/Blackburn, and Elizabeth Banks and David Denman play his adoptive parents.
The trailer for Brightburn does not leave much to the imagination, and sadly, the story appears to lack uniqueness — it really does look like Superman as a villain mingled with traits of Damien from The Omen. But, screenwriters Mark Gunn and Brain Gunn (both wrote the screenplay for Journey 2: The Mysterious Island) must have put something unique in this superhero horror movie, or else what's the point?
Perhaps Brightburn is an homage to Superman and The Omen; a way to mesh horror and superheroes for a generation that doesn't get many creepy devil kid movies that are more psychological than bloody, but is swimming in formulaic superhero movies.
Bets Are on Brightburn Being a Success
Screen Gems must think Brightburn has the makings of a hit to release it for Memorial Day weekend, and up against Disney's live-action Aladdin and Ad Astra, plus staying power to hold the box office against Rocketman and Godzilla: King of the Monsters the next weekend. And based on the trailer, it does have plenty of superhero horror to draw in the crowds.
Brightburn could be what the superhero genre needs — an alternative to men and women who protect the world from evil. The thought that lingers, though, is that every horror movie, including a superhero horror genre film, needs a hero. Where is Brightburn's hero, and are they human, superhuman, or from another world?