Cinema Fearité presents 'Fight Club'
David Fincher's genius elevates Chuck Palahniuk's brilliance in 'Fight Club.'
It's not uncommon for an author to dislike a cinematic adaptation of their work. When the personal art is projected through someone else's eyes, the results can go from simple disagreement (Bret Easton Ellis with Mary Harron's American Psycho) to downright hatred (Stephen King with Stanley Kubrick's The Shining. It's a little less common for a writer to admit that a movie is just as effective as their book, maybe even more so. But that's what happened in 1999 when David Fincher adapted Chuck Palahniuk's Fight Club.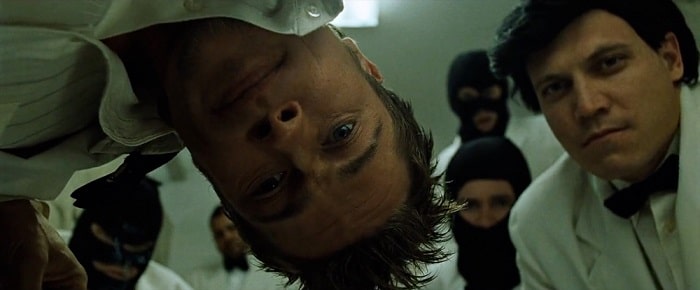 Fight Club is about an insomniac narrator (Edward Norton from Birdman) whose job as an automobile recall investigator keeps him travelling around the country. Because of this, he meets a steady stream of what he calls "single serving friends," or people with whom he shares one airline flight before they go their separate ways. To combat his insomnia, he fakes illnesses and joins support groups, partially in order to kill boredom, but mostly to find some sort of a meaningful connection with other people. In these groups, he meets a similar faker named Marla Singer (Ocean's 8's Helena Bonham Carter).
When his luxury apartment is inexplicably destroyed in a fire, our hero calls upon one of his single serving friends, a soap manufacturer named Tyler Durden (Brad Pitt from Fury and World War Z), for a place to stay while he gets back on his feet. While drinking one night, he and Tyler come up with the idea for "Fight Club," an organized gathering in a basement for men to meet and beat the hell out of each other. As Fight Club gets more and more popular and chapters start popping up in more places, Tyler decides to take it out of the basement and morph it into something called "Project Mayhem," which is basically a terrorist cell bent on destroying the class system in America. Things also get complicated when Marla comes between the two fast friends.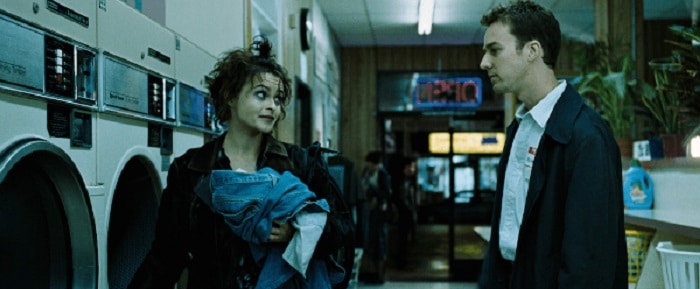 Director David Fincher got his start on the music video circuit, but quickly rose to fame with thrillers like Alien 3, Se7en and The Game. Author Chuck Palahniuk burst onto the hipster literature scene in 1996 with his debut novel Fight Club. On paper, Fight Club reads like one of those unfilmable books, but armed with a screenplay adaptation by Jim Uhls (Jumper), Fincher made just the write adjustments to turn Palahniuk's thinly-veiled indictment of consumerism into one of the greatest cinematic classics of the 21st century. And even the ever-humble Palahniuk has gone on record saying that he believes that Fincher's streamlined interpretation brought new and enlightening themes out of the story, and tied those themes together better in the end.
Similarly to the hero of Sergio Leone's Man With No Name trilogy, the driver in Nicolas Winding Refn's Drive, and the title character in Robert Rodriquez's El Mariachi movies, the narrator in Fight Club is never introduced by name. In voiceover, he refers to himself obliquely as "Jack," as in "I am Jack's smirking revenge" or "I am Jack's complete lack of surprise." In his support groups, he gives fake names like Cornelius, Rupert, and Travis. Marla refers to him as Tyler, for reasons that are very spoiler-y for those who have not seen the movie. But, in reality, the character has no name (he's referred to as "The Narrator" in the credits). Even Chuck Palahniuk has said that he doesn't know the character's name, perhaps preferring to leave him as an anonymous caricature of the consumerist world. And honestly, the anonymity just makes the character more enigmatic.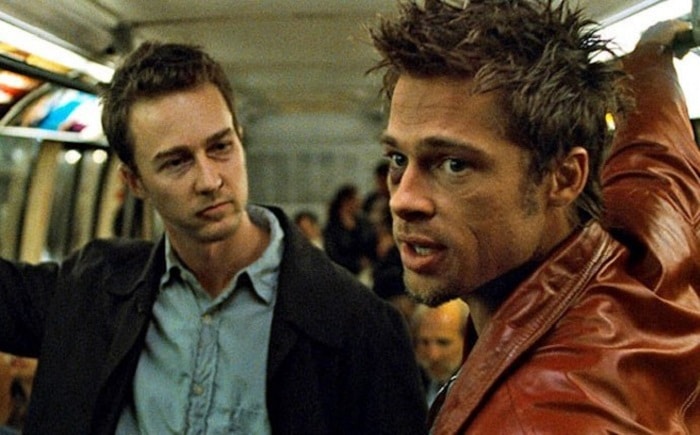 It's also symbolic of one of the movie's central themes, with Tyler saying things like "you are not a special snowflake" and the motto of Project Mayhem being "in Project Mayhem we have no names." True to form, most of the Project Mayhem participants are faceless soldiers, falling into step and sharing a uniform appearance, with the notable exceptions of the bright blond hair of Angel Face (Dallas Buyers Club's Jared Leto) and the gross weight problem of Robert "Bob" Paulsen (The Rocky Horror Picture Show's Meat Loaf). This is the army that Tyler wanted to assemble for his revolution, one that could infiltrate every aspect of blue collar life, despite having fat lips and bloody noses, despite being covered in black eyes and purple bruises.
And, possibly due in part to this working-class hero message, Fight Club has been assimilated into the pop culture lexicon. Everyone knows the "rules," or at least the first two, which are both "you DO NOT talk about Fight Club." The derogatory term "snowflake" that has been made popular by right wingers in today's political climate can be traced to Fight Club, even though its meaning is vastly different. Armchair politicians aren't the only ones who have missed the point, though. The movie's counterculture ideas have been appropriated by many meatheaded thugs who have completely misunderstood the subtext. Tough guys have gone so far as to search for (or even form) Fight Clubs in their areas, longing for, like the movie's Narrator, a place to belong. Some have even tried to replicate a very dangerous scene where Tyler purposely brands the Narrator with a chemical burn on the back of his hand. Basically, Fight Club is a bit like organized religion; as much as you love the movie itself, you may find yourself hating the other people who also love the movie.
David Fincher's music video aesthetic shines through in Fight Club. Fincher and cinematographer Jeff Cronenweth (One Hour Photo, Hitchcock) shot the movie in a dark, almost fluorescent looking style, giving it a gritty, grindhouse look. The actual basement fight scenes are presented like a video game, with quick edits, extreme closeups, and film speed changes that give the viewer a visceral watching experience. There are similarly constructed expositional and fantasy sequences that combine live action with comic-book style graphics and animations, helping to transform the movie into a strangely surreal work of art. And, despite the dirty and grimy tone, Fight Club is absolutely a work of art.
The music is also an integral part of Fight Club's electricity. The score was put together by The Dust Brothers, the record producing duo behind pop music hits from artists as varied as The Beastie Boys, Korn, Beck, and Hanson. The music is almost more like a collage than a score, with aggressive dance beat loops and hard-hitting electronic samples that inject a techno vibe into the ultra-violent party. The soundtrack is augmented by a handful of tastefully placed songs by artists like The Pixies and Tom Waits, so the music as a whole is reminiscent of a night at a club where the D.J. mixes familiar tunes in with cacophonous beats.
Fight Club is the rare case where the movie is actually better than the book. That's not a knock on the book at all. Chuck Palahniuk's book is brilliant. But David Fincher was able to elevate that brilliance with his own genius. And Palahniuk would probably be the first to congratulate him.