The Dead Don't Die Review
Jim Jarmusch's 'The Dead Don't Die' reads more like a love letter to classic zombies than a full-on horror flick.
Release Date: June 14, 2019
The peaceful town of Centerville finds itself battling a zombie horde as the dead start rising from their graves.
Director: Jim Jarmusch
Screenwriter: Jim Jarmusch
Producers: Joshua Astrachan, Carter Logan 
Cast: Bill Murray (Chief Cliff Robertson), Adam Driver (Officer Ronnie Peterson), Chloe Sevigny (Officer Mindy Morrison), Tom Waits (Hermit Bob), Steve Buscemi (Farmer Frank Miller), Danny Glover (Hank Thompson), Caleb Landry Jones (Bobby Wiggins), Larry Fessenden (Danny Perkins), RZA (Dean), Carol Kane (Mallory O'Brien), Tilda Swinton (Zelda Winston), Selena Gomez (Zoe), Austin Butler (Jack), Luka Sabbat (Zack), Eszter Balint (Fern), Maya Delmont (Stella), Taliyah Whitaker (Olivia), Jahi Winston (Geronimo), 
Editor: Affonso Goncalves
Cinematographer: Frederick Elmes
Production Designer: Alex DiGerlando 
Casting Director: Ellen Lewis
Music Score: SQÜRL
A few years back, visionary writer/director Jim Jarmusch took the vampire genre back from the Twihards with the hip Only Lovers Left Alive. Now, with The Dead Don't Die, he's trying to do the same for the tired old zombie movie.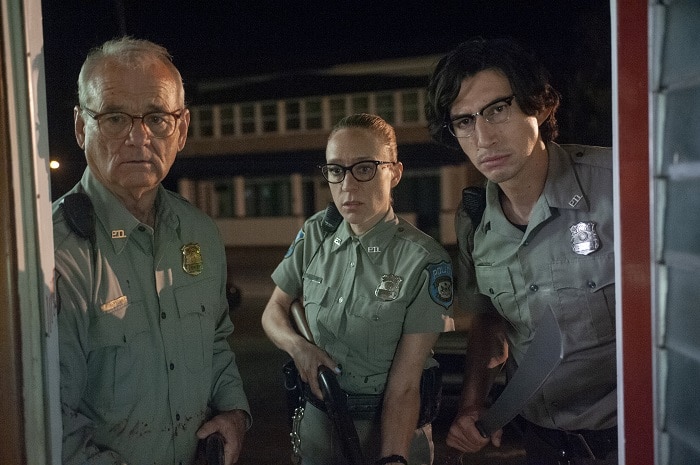 The Dead Don't Die is, of course, about a zombie apocalypse. It takes place in a town called Centerville, where police chief Cliff Robertson (Bill Murray from The Monuments Men) and deputy Ronnie Peterson (BlacKkKlansman's Adam Driver) first just notice strange things happening, such as the sun staying up long after it should have set. As the day goes on, however, they find themselves dealing with the dead coming back to life and attacking the living. With the help of the townspeople, or at least the ones who are still alive, Cliff and Ronnie struggle to figure out what is going on with the hungry undead.
There's a bit more to it than that, but saying any more about the plot of The Dead Don't Die spoils the fun. And with a movie that has as little fun in it as The Dead Don't Die, it's best not to ruin any of it. While Jarmusch doesn't even come close to breathing new life into the zombie subgenre, he does make a competent little ode to George Romero that takes a detour through David Lynch territory. Think of it as Night of the Living Dead if it had taken place in Twin Peaks.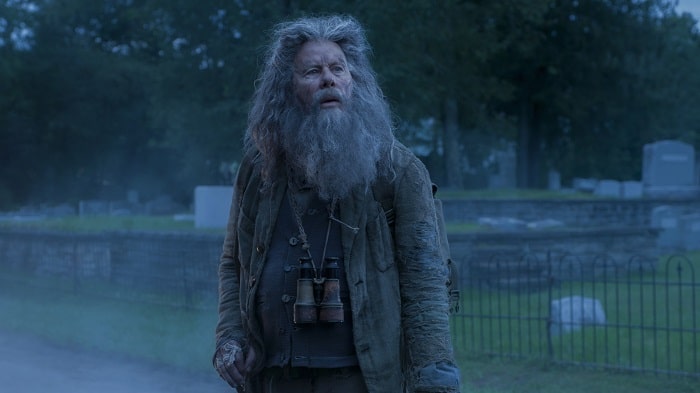 The stars seem to have lined up to work with Jim Jarmusch on The Dead Don't Die. The cast list reads like a who's-who of hip indie culture. Besides Murray and Driver, Chloë Sevigny (Lizzie) shows up as another police officer. Tilda Swinton (Suspiria) plays the oddball town mortician who suddenly finds that she has her hands full. Steve Buscemi (The Death of Stalin), Danny Glover (Sorry to Bother You), Caleb Landry Jones (Get Out), Larry Fessenden (We Are Still Here), and RZA (Mr. Right) all play local yokels, Selena Gomez (Spring Breakers) pops in as a tourist, and Tom Waits (The Ballad of Buster Scruggs) portrays an enigmatic drifter. Rock star Iggy Pop (Song to Song) and comedienne Carol Kane (The Sisters Brothers) both play zombies. There's a ton of talent in The Dead Don't Die. The opening crawl of the movie is just one big name after another.
That talent doesn't always translate well to the story, though. While the performances are as good as they can be for what the movie is, there's a distinct Mars Attacks! vibe to the proceedings, so the focus is never on one group of characters for too long. The two police officers are obviously the central duo, but Jarmusch spends time sifting through cafes, gas stations, hardware stores, reform schools, hotels…pretty much any populated place, sort of like he wants to give each above-the-title actor a fair shake of screen time. This serves to introduce the players, but doesn't really let the audience get to know them, and even leaves a few would-be plot points completely unresolved. Which is fine by some accounts, because everyone in the movie is basically zombie cannon fodder anyway. But, unlike in Mars Attacks!, no one really steals the movie (although Swinton tries her damnedest with what she's given).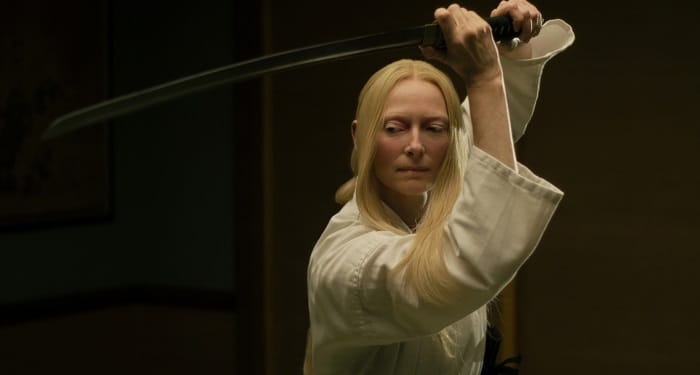 There's a lot of wasted goodwill in The Dead Don't Die. The plot moves forward well enough for the audience to like where it's going, but it shifts gears at a point, and that shift isn't necessarily a good one. In fact, it's downright silly. So, the movie ends up in a really weird, campy place. But for all anyone knows, weird and campy may have been Jim Jarmusch's whole intent. If he was trying to make a B-movie with an A-list cast, well then, mission accomplished. If he was trying to make a legit zombie movie, he gets an A for effort, but a C- for the project.
Even though it's not played as a straight-up comedy, The Dead Don't Die has its share of laughs. Most of the humor is almost subliminal, like the image of the tall and lanky Adam Driver pulling up in his tiny little convertible. The zombies themselves have their comic moments, too, mostly derived by the fact that the undead seeks out what they loved in life, so Iggy Pop's zombie pines for coffee while Carol Kane's corpse longs for chardonnay. The funniest moments come when Murray and Driver semi-break the fourth wall and acknowledge that they're in a movie, such as when they recognize the movie's theme song playing on their radio or during a later scene that, well, is best left unspoiled, but Jarmusch plays with the meta angle, and the results are hilarious. Had Jarmusch embraced the self-referentiality a little harder, The Dead Don't Die could have been a riotous sendup of the zombie subgenre. As it is, it's just mildly amusing. Don't expect Shaun of the Dead, but be ready for a few good chuckles here and there.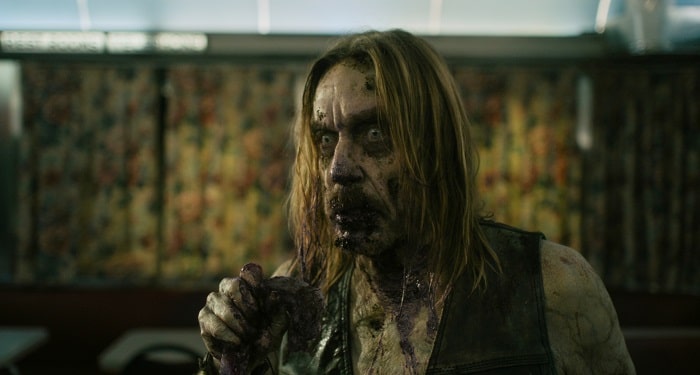 Zombie fatigue is a real thing, and the living dead have not been scary for a long time, but even if one isn't sick to death of the undead, there's not much to be afraid of in The Dead Don't Die. The movie works as a tribute to George Romero movies or "The Walking Dead," but as a horror film, it's too obvious to frighten anyone. There are some good gore gags, and the zombie makeup is terrific, so horror fans will appreciate that much at least. And those who still get a thrill from zombie movies may get their blood pumping in a few spots. But everything in The Dead Don't Die has been done before, and that's kind of the point of it. It's a love letter, not a horror film.