Synopsis: Ron Stallworth, an African-American police officer from Colorado, successfully managed to infiltrate the local Ku Klux Klan and became the head of the local chapter.
Release Date: August 10, 2018     MPAA Rating: PG-13
Genre(s): Biography, Comedy
Film Review

Visionary filmmaker Spike Lee has never been one to shy away from political and social commentary. Films like Malcolm X and Do the Right Thing were more overt about it, but he even managed to sneak messages into his less preachy movies like Summer of Sam or his reimaging of Old Boy. BlacKkKlansman might be his most socially conscious movie yet. It also might be his most important.
Set in the early seventies, BlacKkKlansman is about a young black police officer in Colorado Springs named Ron Stallworth (John David Washington from "Ballers") who, because of his hip look, is assigned to be an undercover detective. Wanting to make a name for himself within the department, he makes contact with the local chapter of the Ku Klux Klan by phone and expresses interest in joining up. Of course, there's an obvious problem with this, so Ron recruits a white Jewish officer named Flip Zimmerman (Adam Driver from Star Wars: The Force Awakens and The Last Jedi) to be his "man in the field." While Flip becomes "Ron Stallworth" during in-person meetings, the real Ron continues his phone correspondence, even making contact with the Klan's Grand Wizard David Duke (Topher Grace from "That '70s Show"). As Ron and Flip get deeper into their infiltration, the stakes rise, and soon enough, the collective "Ron Stallworth" finds himself in over his head.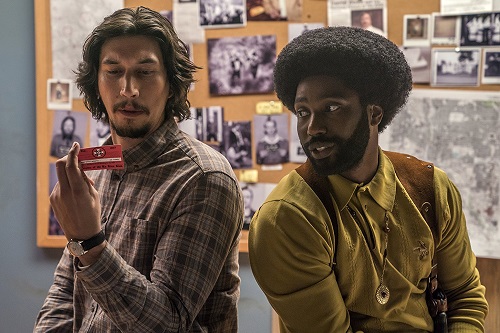 Spike Lee and his team of David Rabinowitz, Charlie Wachtel, and Kevin Willmott adapted the screenplay for BlacKkKlansman from the book by the real Ron Stallworth. Yes, the movie is based on one of those "too crazy to be made up" stories. It deals with extremely disturbing subject matter, but it's also full of that patented brand of Spike Lee wit, so BlacKkKlansman winds up amusing and entertaining its audience while it informs and educates them. It's a true Spike Lee joint.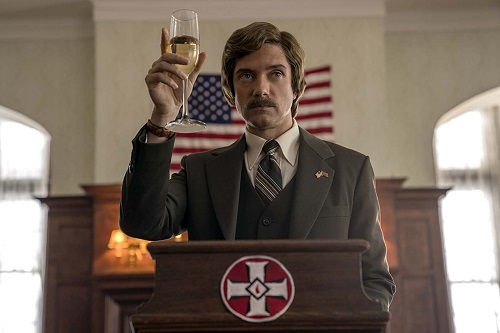 There is nothing subtle about BlacKkKlansman. The film makes Lee's feelings about the KKK abundantly clear, portraying them as classless buffoons, but still showing them as a viable threat. The Ku Klux Klan is just smart enough to be dangerous, and that's exactly how they're portrayed in the film. But Lee does not stop there. He also tackles racial profiling and corruption within the police department. And, just to be fair, he exposes the weaknesses and flaws in the counter-KKK movement as well when Ron infiltrates a reactionary group led by a revolutionary college student named Patrice Dumas (Spider-Man: Homecoming's Laura Harrier). Spike Lee is an equal-opportunity injustice exposer; he takes no prisoners.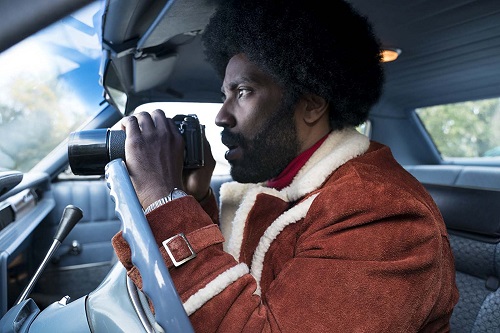 On a technical level, BlacKkKlansman is a marvel. It looks and sounds great, it's well acted, and its pacing and timing are impeccable. But, like most of Spike Lee's work, it's more than just a movie. BlacKkKlansman transcends the medium of film, becoming more of a cultural experience than a cinematic one. And that's a rare thing these days.

Frequent Spike Lee collaborator Terence Blanchard (Bamboozled, Chi-Raq) composed the score for BlacKkKlansman. The music fits right in with the seventies era of the film, giving it a bit of a blacksploitation vibe, except more soulful than funky. The soundtrack also includes its share of period-perfect pop tunes, songs like The Temptations' "Ball of Confusion," Cornelius Brothers & Sister Rose's "Too Late to Turn Back Now," and James Brown's "Say It Loud – I'm Black and I'm Proud." Also of note is the inclusion of an unreleased Prince song called "Mary Don't You Weep" that plays over the closing credits. Between Blanchard's expressive score and Lee's flawlessly curated musical selections, the soundtrack to BlacKkKlansman is a perfect complement to the movie.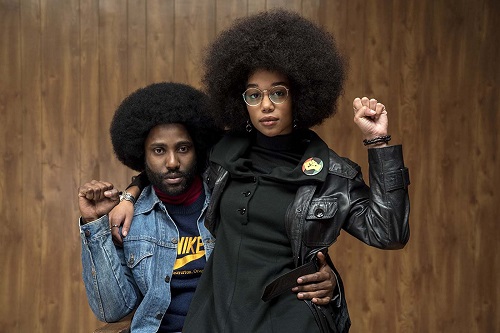 Spike Lee has a knack for making important points without talking down to his audience, and BlacKkKlansman carries on that tradition. Although the film is full of the typical Spike Lee signature moves, stuff like repetitive action jump cuts and floating dolly shots (the "Spike Lee" shot), Lee's directorial decisions in BlacKkKlansman lie more within the script and storytelling than within the visual aesthetic of the film. The whole movie is full of quick-and-dirty, not-so-subtle digs on the current American administration, mostly coming from David Duke himself (the line "Thank you for helping to Make America Great!" is actually spoken).
Lee's point of view is obvious, but just in case anyone was still confused after more than two hours of BlacKkKlansman, the last five minutes or so is made up of images of present-day, tiki-torch wielding Nazi marchers, with a dedication to Heather Heyer, the anti-racist activist who was killed during a White Nationalist Rally in Charlottesville, Virginia last year. It's the heavy ending that a film like BlacKkKlansman needs after spending so much time poking fun at the Klan and treating it with humor and absurdity. It's a reminder that, even today, the Klan is still very real, and still very dangerous.
Cast and Crew
Director(s): Spike Lee
Producer(s): Jason BlumSpike LeeRaymond MansfieldSean McKittrickJordan PeeleShaun Redick
Screenwriter(s): Charlie WachtelDavid RabinowitzKevin Willmott
Story: Ron Stallworth
Cast: John David Washington (Ron Stallworth)Adam Driver (Flip Zimmerman)Topher Grace (David Duke) Laura Harrier (Patrice Dumas)Michael Joseph Buscemi (Jimmy Creek)Ryan Eggold (Walter Breachway)Jasper Pääkkönen (Felix Kendrickson)Paul Walter Hauser (Ivanhoe)Ashlie Atkinson (Connie Kendrickson)
Editor(s): Barry Alexander Brown
Cinematographer: Chayse Irvin
Production Designer(s):
Costume Designer: Marci Radgers
Casting Director(s): Kim Coleman
Music Score: Terrence Blanchard
Music Performed By: 
Country Of Origin: USA