Synopsis: A teen comes into possession of a new laptop and soon discovers that the previous owner is not only watching him, but will also do anything to get it back.
Release Date: July 20, 2018     MPAA Rating: PG-13
Genre(s): Horror,
Film Review

A few years back, the creative little horror movie Unfriended took the simple concept of presenting its story completely on a computer screen and ran with it. That movie was effective enough, both critically and commercially, to warrant a sequel called Unfriended: Dark Web.
Unfriended: Dark Web is about a guy named Matias (Colin Woodell from Unsane) who acquires a new laptop on craigslist. He uses it for all of his usual computing tasks, which include chatting with his girlfriend, Amaya (Stephanie Nogueras from "Switched at Birth"), and group skyping with his pals Nari (Betty Gabriel from Get Out and Upgrade), Serena (Don't Worry, We Won't Get Far on Foot's Rebecca Rittenhouse), Damon (Andrew Lees from "Rescue Special Ops"), A.J. (Conner Del Rio from "Level Up"), and Lexx (Ink & Rain's Savira Windyani).
After noticing that his new computer is running slow, he uncovers a hidden folder full of horrifying videos. He also finds a browser which takes him to the Dark Web, a clandestine corner of the internet where he is exposed to a cabal of nefarious users who will stop at nothing to get their hands on the laptop – and the videos. To prove that they are serious, the Dark Webbies come after Matias' friends one by one until he agrees to hand over the computer.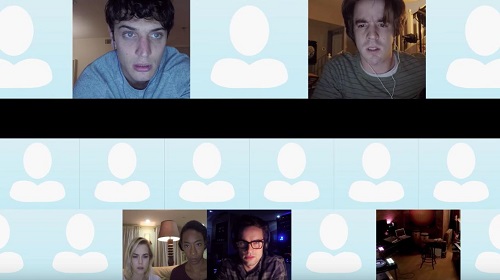 The directorial debut of writer Stephen Susco (Texas Chainsaw 3D), Unfriended: Dark Web uses the same screen-sharing gimmick as Unfriended. However, while Unfriended was able to sustain the stunt for the duration of its running time, the ploy wears out its welcome pretty quickly with Unfriended: Dark Web. The tedium is not helped by the fact that the movie gets off to a pretty slow start, spoon-feeding much of the exposition for the benefit of non-tech audience members. After a while, it does start rolling along with the same mysterious deaths and dismemberments as the first film. Which is somewhat creative, but still winds up feeling stale.
Unlike the spectral presence in Unfriended, the threat in the sequel comes from actual human beings, which somehow makes it less believable. Unfriended: Dark Web seems like the type of movie that was written by someone who has never been on the Dark Web (although, this may be my own ignorance, seeing as how I've never been on the Dark Web, either). It just seems hard to believe that the pathway to the internet's deepest and darkest corners goes through a browser that makes the user's desktop looks like a 16-bit river tunnel scene from a super NES game. While there are horrible people on the internet, Unfriended: Dark Web portrays them as freewheeling thrill-killers, making them about as realistic as the average slasher villain. Only not nearly as interesting or fun to watch.
It's interesting to note that there is a rumor circulating around the internet that Unfriended: Dark Web has two different endings. Whether this is a ploy to get people to see the film more than once, a subtle way of trolling the audience, or a vicious rumor to generate publicity for the movie's opening remains to be seen. As for the movie itself, well, fans of Unfriended should give it a shot, but go in with low expectations. If you don't expect too much from it, you might not be let down.

Unfriended: Dark Web has its share of those patented Blumhouse loudness-based jump scares, but that's really all there is to it. The Dark Web mystery is kind of creepy, as are the various faceless cyber stalkers that come with it. But Unfriended: Dark Web doesn't even have the clever kills of its predecessor, just a rash of routine maimings and murders. And even those are shown through glorified security camera footage that obscures detail, so none of the brutality is too disturbing. Overall, Unfriended: Dark Web is a fairly tame affair.
Cast and Crew
Director(s): Stephen Susco
Producer(s): Timur BekmambetovJason Blum
Screenwriter(s): Stephen Susco
Story: 
Cast: Colin Woodell (Matias)Stephanie Nogueras (Amaya)Betty Gabriel (Nari) Andrew Lees (Damon)Savira Windyani (Lexx)Rebecca Rittenhouse (Serena)Connor Del Rio (Aj)Chelsea Alden (Kelly)Douglas Tait (Charon IV)Alexa Mansour (Erica Dunne)Bryan Adrian (Jack)
Editor(s): Andrew Wesman
Cinematographer: Kevin Stewart
Production Designer(s):
Costume Designer: Cassandra Jensen
Casting Director(s): John McAlary
Music Score: Timo Chen
Music Performed By: 
Country Of Origin: USA