Synopsis: A fictional film set in the alluring world of one of the most stunning scandals to rock our nation, American Hustle tells the story of brilliant con man Irving Rosenfeld (Christian Bale), who along with his equally cunning and seductive British partner Sydney Prosser (Amy Adams) is forced to work for a wild FBI agent Richie DiMaso (Bradley Cooper). DiMaso pushes them into a world of Jersey powerbrokers and mafia that's as dangerous as it is enchanting. Jeremy Renner is Carmine Polito, the passionate, volatile, New Jersey political operator caught between the con-artists and Feds. Irving's unpredictable wife Rosalyn (Jennifer Lawrence) could be the one to pull the thread that brings the entire world crashing down.
Release Date: December 13, 2013     MPAA Rating: PG-13
Genre(s): Drama, Heist
Film Review

Set in 1978, American Hustle stars Christian Bale (The Dark Knight) as Irving Rosenfeld, a con man who, along with his partner and mistress, Sydney Prosser (Amy Adams from Man of Steel), bilks dozens of unsuspecting people out of thousands of dollars with a phony loan scheme. That is, until they are caught by an FBI agent named Richie DiMaso (The Hangover's Bradley Cooper) who offers the couple a deal; help him nail four more crooks and they get to walk away, scot-free. Irving and Sydney agree and begin their first case with Richie – they are tasked with bringing down the mayor of New York, Carmine Polito (Jeremy Renner from The Avengers). As they work their way through their scheme, the situation is complicated when Richie falls for Sydney and Irving makes friends with Carmine. Everyone is conflicted, but there is too much at stake to back off.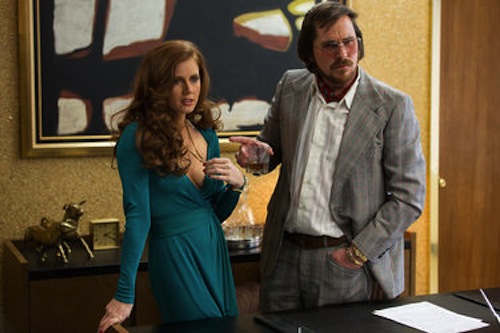 American Hustle opens with a title card stating that "some of this actually happened." The script, written by David O. Russell (Silver Linings Playbook, The Fighter) and Eric Warren Singer (The International), is loosely based on the FBI's ABSCAM operation from the late seventies and early eighties. "Loosely based," meaning that there did exist in reality a con man that cooperated with the FBI in trying to bring down a group of powerful politicians. The rest of the film is pure, unadulterated speculation. Russell, who also directs the film, turns a boring old FBI sting into a highly entertaining dark comedy that resembles a heist movie…just without the heist. It's a serious film that is surprisingly tongue in cheek, a movie that feels like a companion piece to other period films – it's like Boogie Nights without the porn, or Goodfellas (mostly) without the mafia.
In order to realize Russell's vision, there really is no way for American Hustle to not be an epic film. That means that it's long, and it does start to unfold a little too slowly after the initial genius setup. Thankfully, the film uses its other assets to keep the viewer's attention during the slow areas. For example, as soon as the planning and plotting starts to drag out, interesting new characters like Irving's wife, Rosalyn (Jennifer Lawrence from The Hunger Games), or a likeable mob bodyguard, Pete (Not Fade Away's Jack Huston), are introduced to spice things up. The result is a film that is long, and feels long, but never gets boring or tedious. It's always a blast to watch; American Hustle is engaging, even when there's nothing going on.
American Hustle is a rare film. With its first-rate script, slick direction, and flawless acting, it fires on all cylinders. It's not completely original, but that's to be expected of a film set in the era. It is a clever mix of drama and comedy, of crime film and love story, and it is destined to be a classic of the retro-seventies mini-genre.

For American Hustle, David O. Russell gathers many of the bright stars from his last two films, patching together an ensemble made up mostly of big names and award nominees (and winners) from the casts of The Fighter and Silver Linings Playbook. From The Fighter, Russell enlists Christian Bale and Amy Adams, and both are exceptional; Bale does another one of his chameleonic transformations to become the conniving con man while Adams seduces both the camera and her male cast mates with her fiery performance. From Silver Linings Playbook, Russell not only pulls Bradley Cooper and Jennifer Lawrence, but calls upon Robert De Niro to make an appearance as well. Cooper plays the socially retarded FBI agent to perfection, while Lawrence makes the absolute most of her few scenes, knocking it out of the park every time she is onscreen. De Niro actually steals the film in his one (uncredited) scene as mob boss Victor Tellegio, playing it in typical De Niro style – get in, nail it, go home. The only outsider in the main cast is Jeremy Renner, but he fits right in with his hilariously accurate portrayal of Mayor Carmine Polito, a virtual living snapshot of a smarmy seventies politician. David O. Russell assembles a troupe of talented actors with whom he is comfortable working, and it results in American Hustle having the best ensemble cast of the year.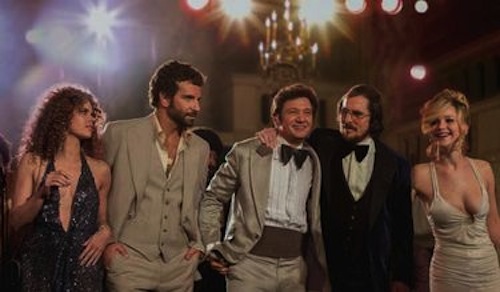 Like any good movie set in the late seventies should, American Hustle uses its soundtrack to the fullest extent. The song selection is perfect, whether it's Irving and Sydney bonding over Duke Ellington, Donna Summer's "I Feel Love" blasting while people do drugs and have sex in the bathroom of Studio 54, or Jennifer Lawrence getting her aggressions towards her husband out to Paul McCartney and Wings' "Live and Let Die." The period music fits perfectly, functioning as much as a storytelling tool as a reminder of the time. The pop songs are complimented by an original score from Danny Elfman (Good Will Hunting, Milk, and countless others from the last twenty years) that fills in the gaps beautifully. A period film like American Hustle needs a memorable soundtrack to be effective, and the music delivers.
Cast and Crew
Director(s): David O. Russell
Producer(s):
Screenwriter(s): Eric SingerDavid O. Russell
Story: 
Cast: Christian Bale (Irving Rosenfeld)Bradley Cooper (Richie DiMaso)Amy Adams (Sydney Prosser) Jeremy Renner (Mayor Carmine Polito)Jennifer Lawrence (Rosalyn Rosenfeld)Louis C.K. (Stoddard Thorsen)Michael Pena (Paco Hernandez/Sheik Abdullah)
Editor(s):
Cinematographer: Linus Sandgren
Production Designer(s):
Costume Designer: 
Casting Director(s): 
Music Score: Danny Elfman
Music Performed By: 
Country Of Origin: USA