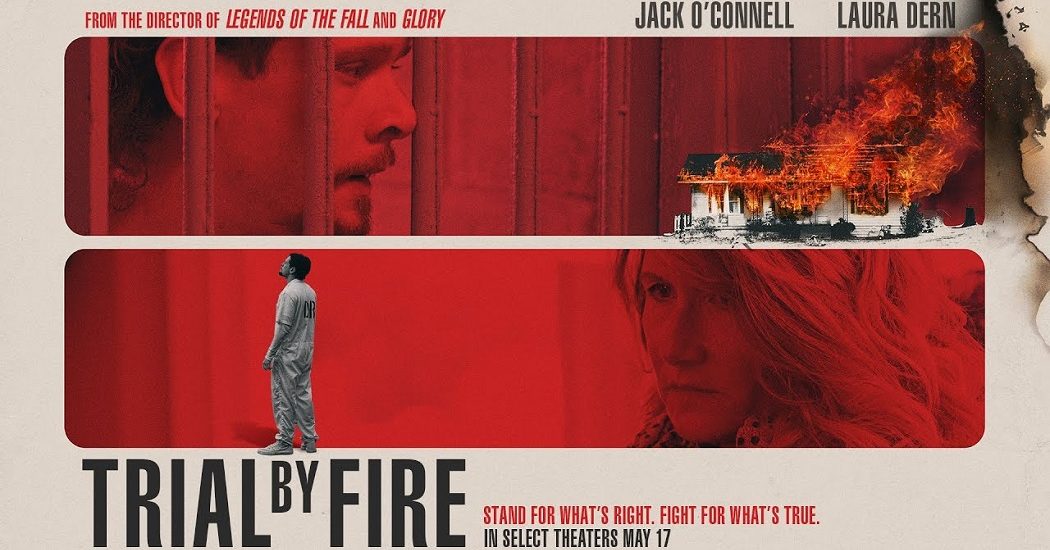 Trial By Fire Review: A Not So Successful Movie About Cameron Todd Willingham's Death Row Case
Trial By Fire takes a swing at a heavy issue in Cameron Todd Willingham's Death Row execution, but winds up feeling like a made-for-TV version of true-crime events.

Release Date: May 17, 2019
Trial By Fire tells the tragic and controversial story of Death Row inmate Cameron Todd Willingham, who was executed in Texas for killing his three children after scientific evidence and expert testimony that bolstered his claims of innocence were suppressed.
Director: Edward Zwick
Screenwriters: Geoffrey Fletcher, David Grann
Producers: Kipp Nelson, Alex Soros, Allyn Stewart, Edward Zwick
Cast: Laura Dern (Elizabeth Gilbert), Jack O'Connell (Cameron Todd Willingham), Emily Meade (Stacy Willingham), Jeff Perry (Gerald Hurst)
Editor: Steven Rosenblum 
Cinematographer: John Guleserian
Production Designer: Clay A. Griffith
Casting Director: Victoria Thomas
Music Score: Henry Jackman
The American justice system is hopelessly flawed. Prosecutors and law enforcement officials are often more concerned with obtaining convictions than they are with uncovering the truth, and that leads to many innocent people being sent to prison…or worse. And, even when evidence is presented that could exonerate the convicted, it's often ignored or suppressed, since lawyers and judges have built careers on putting criminals away, whether they deserve it or not. Trial By Fire is a story of one such case involving Texas' Cameron Todd Willingham.
Trial By Fire tells the story of Cameron Todd Willingham (Jack O'Connell from Unbroken and '71), a Texas man whose three young daughters were killed by a fire in December of 1991. Cameron is arrested and charged with arson and murder, and thanks to some shady police work and an incompetent defense attorney, is promptly convicted and sentenced to death.
While Cameron is on Death Row, a schoolteacher named Elizabeth Gilbert (Laura Dern from Star Wars: The Last Jedi) starts writing to him, and the two strike up a friendship. Convinced that Cameron is innocent, Elizabeth studies his case and uncovers all of the flaws. With the help of a chemist/arson investigator named Gerald Hurst (Lizzie's Jeff Perry), Elizabeth comes up with evidence that can prove Cameron's innocence. But the clock is ticking on his execution date.
Spoiler alert: She doesn't make it. As with any true-crime fictionalization, the outcome is generally known, so it should come as no surprise that Cameron Todd Willingham gets executed at the end of Trial By Fire. But the point of Trial By Fire is not where it ends up, it's how it gets there. Screenwriter Geoffrey Fletcher (Precious) found the inspiration for his script in a New Yorker article by David Grann (whose work also inspired last year's The Old Man & The Gun), and director Edward Zwick (Legends of the Fall, Blood Diamond) massages the all-too familiar martyr story into a captivating – if flawed – legal procedural.
For as engaging as the story is, Trial By Fire is a frustrating movie, for a couple of reasons. First, the slant of the narrative points to Cameron's innocence, so every time he and his legal team suffer a defeat, the viewer wants to scream at the screen. The trial is a farce, with neither the judge nor the jury listening to the testimony of Cameron or his wife (played by Nerve's Emily Meade), and it makes the blood boil with rage, both on the screen and in the veins of the watcher. And that's a credit to Zwick's knack for storytelling and his ability to get his audience invested.
But Trial By Fire is also emotionally manipulative. From the initial investigation, the arson experts talk as if Cameron is guilty, basically setting the stage for his conviction. The arresting officer speaks the same assumptions, saying things like "your own kids?" and "you're a real piece of sh*t!" to the suspect. When Cameron is put on Death Row, the other inmates label him as a "baby killer," even though there are doubts about his guilt. The heavy-handed implications aren't just there to make it seem like Cameron is fighting an uphill battle; the snide remarks and ignorant quips just add fuel to the fire in an already red-hot audience. And that's the bad kind of frustration.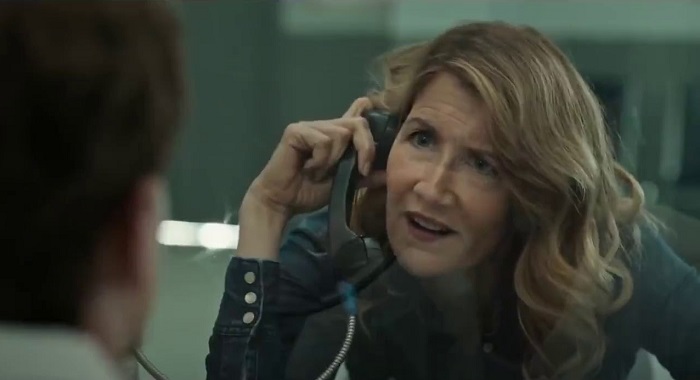 Trial By Fire is not a poorly made movie by any stretch. Again, Zwick knows how to get his audience riled up, and both O'Connell and Dern turn in respectable performances. The writing is a bit sterile, as is often the case with true-crime dramatizations, but the twists in the story make up for the on-the-nose dialogue.
The real issue with Trial By Fire is that it feels like a weak television movie, relying more on manufactured emotionality rather than presenting the cold hard facts. Its heart is in the right place, and it does tackle a very real problem with American society, but a documentary about the Cameron Todd Willingham case would probably be more interesting and honest. And one called Incendiary: The Willingham Case was made in 2011, so if you want only the good kind of frustration, check that out.