Synopsis: A bullied teenager is sent to a reform school where he accidentally summons the spirit of a girl, herself a victim of bullying, who takes vengeance on his tormentors.
Release Date: September 18, 2015     MPAA Rating: PG-13
Genre(s): Horror,
Film Review

Every horror fan knows that a slasher movie is only as good as its antagonist. Whether it's a powerful human, like Jason Voorhees or Michael Myers, or a supernatural entity, like Freddy Krueger or the Candyman, slasher villains have to be charismatic, unique.and unstoppable. Enter the new movie from Adam Egypt Mortimer ("Jerk All-Stars"), a paranormal slasher called Some Kind of Hate.
Some Kind of Hate is about a teenage boy named Lincoln (Ronen Rubinstein from Jamie Marks is Dead) who is a victim of high school bullying. After finally having enough, Lincoln knifes one of his bullies in the face, resulting in his being sent to a reform-school type of wilderness camp. Once there, he is bullied again by a group of jerks led by an alpha-male named Willie (Dark Summer's Maestro Harrell). Angry and frustrated, Lincoln accidentally summons the spirit of Moira (Sierra McCormick from "A.N.T. Farm"), a girl who died at the camp years earlier. Moira can inflict harm on people by cutting herself, and she takes out Lincoln's enemies one by one, making their deaths look like suicides. With the help of another resident named Kaitlin (Fright Night's Grace Phipps), Lincoln has to stop Moira from killing before there's no one left – and before he ends up taking the blame for all of the deaths.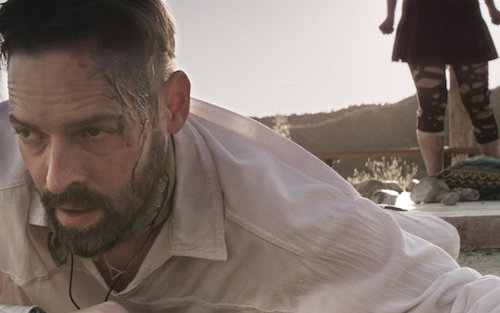 Adam Egypt Mortimer wrote the screenplay for Some Kind of Hate with Brian DeLeeuw (his first produced script), and they have crafted a pretty convincing supernatural thriller. The movie starts slow, as some slashers are wont to do, but once it starts rolling, there's no stopping it. And once the blood starts flowing, it doesn't slow down. Because the characters are all young people, it comes off as a teenage movie, but not in the same quirky way as It Follows or Scream; more like Class of 1984 or Bad Boys, like a mean teen flick.
And then there's Moira. As a movie killer, she's effective enough; her gimmick of cutting into herself and somehow opening up ghostly gashes on her victim's body is a fun twist on the Freddy Krueger method of slaying. The problem with her is, as an antagonist, there's very little mystery to her. There's way too much explanation and exposition in the film, so there's nothing about Moira that goes unknown. She talks too much when she should be silent and she walks around in the light when she should be hiding in the shadows. By the end, there is very little of Moira that is left to the imagination, and frankly, she's a rather forgettable antagonist. She's got the unstoppable part down, and she's so-so on the uniqueness, but she doesn't really have the charisma.
Some Kind of Hate is enjoyable enough as a horror movie. It's got thrills, chills, and blood spills. The concept and characters aren't strong enough to sustain a franchise, so there most likely won't be a Some Kind of Hate 2: Some More Kinds of Hate or anything like that, but for the here and now, it's worth a look. It's not the best horror film of the year, but it's far from the worst.

The music in Some Kind of Hate is a breath of fresh air amongst all of the new retro-synthesizer scored movies that have popped up everywhere. There are sporadic synthesizers in Some Kind of Hate, but most of the soundtrack, which was composed by Robert Allaire ("American Horror Story"), is guitar based, full of layered hard strumming and razorblade plucking. The music is largely atonal and noisy, heavy with amplified feedback and harmonics, but it also has a pleasant vibe to it – it's not the type of score that will send grandparents sprinting from the room, holding their ears in agony. Toss in a bunch of songs by heavy metal bands with names like Myrkur, Night Things, and Serpentine Path, and the soundtrack to Some Kind of Hate is a complete headbanging guitar-a-thon that is surprisingly accessible to the masses.

For the most part, Some Kind of Hate is a typical supernatural slasher movie, but it's done well enough to be scary. Moira may not be the most horrifying of killers, but she's no slouch either, and the paranormal aspect of her character makes for some nice startling moments. Much of the fear is provided by jump scares, but there are also cool sections of suspense that are made all the more maddening by the avant-garde, tuneless wall-of-sound score. There are plenty of bloody gore effects, too. Some Kind of Hate may also be scary in the wrong ways for those who have been victims of bullying; certain sequences might be considered triggers, but that just means that the filmmakers did their job well enough to get into the viewer's head. Any way it's looked at, Some Kind of Hate is good for plenty of real scares.
Cast and Crew
Director(s): Adam Egypt Mortimer
Producer(s): Jack HellerGabriela RevillaAmanda MortimerDallas Sonnier
Screenwriter(s): Brian DeLeeuwAdam Egypt Mortimer
Story: 
Cast: Ronen Rubinstein (Lincoln Taggert)Grace Phipps (Kaitlin)Maestro Harrell (Willie) Spencer Breslin (Isaac)Michael Polish (Jack Iverson)Lexi Atkins (Christine)Brando Eaton (Derek)Andrew Bryniarski (Lincoln's Father)Noah Segen (Krauss)Justin Prentice (Jim Greene)Jasper Polish (Samantha)Sierra McCormick (Moira)
Editor(s): Josh Ethier
Cinematographer: Benji Bakshi
Production Designer(s):
Costume Designer: E.B. Brooks
Casting Director(s): Jaime GallagherSara Wallace
Music Score: Robert Allaire
Music Performed By: 
Country Of Origin: USA