'Monster Party' Review
Three would-be thieves plan a heist, but the tables are turned when they find out that they are robbing a 'Monster Party.'
Release Date: November 2, 2018
In Monster Party, three teenage thieves infiltrate a mansion dinner party secretly hosted by a serial killer cult for the social elite.
Director: Chris von Hoffman
Screenwriter: Chris von Hoffman
Producer: Jesse Berger, Eric B. Fleischman, Brian Kavanaugh-Jones
Cast: Julian McMahon (Patrick Dawson), Robin Tunney (Roxanne Dawson), Sam Strike (Casper), Virginia Gardner (Iris), Brandon Micheal Hall (Dodge), Erin Moriarty (Alexis), Kian Lawley (Elliot), Lance Reddick (Milo)
Editor: Gehrig Burnett Jr., Joe Rosenbloom
Cinematographer: Tobias Deml
Production Designer: Megan Elizabeth Bell
Casting Director: Lindsey Weissmueller
Music Score: Felix Erskine, Nao Sato

Have you ever wondered what would happen if the thieves from Don't Breathe broke into a house where one of those high-class parties from The Purge was happening? Well, wonder no more, because that's the basic concept behind Monster Party.
Monster Party is about a group of cut-rate criminals who plan the heist of a lifetime. Iris (Virginia Gardner from Halloween) works for a catering company, and her newest gig is at a huge mansion in a wealthy part of town. She enlists the help of her friend Casper (Leatherface's Sam Strike) to disable the alarm system so that her boyfriend Dodge (Brandon Micheal Hall from "Search Party") can rob the place blind while she distracts the revelers. Their simple plan goes awry when the trio discover that the party, thrown by Roxanne and Patrick Dawson (The Craft's Robin Tunney and Fantastic Four's Julian McMahon), is a gathering of recovering serial killers, and they're just looking for a reason to fall off the wagon.
Monster Party is a much better movie than one might expect from the setup. Writer/director Chris von Hoffman (Drifter) manages to flip the script on the usual home invasion theme by turning the hunters into the hunted, and while it's a trope that has been explored ad nauseum before, that doesn't stop this movie from being a lot of fun. What starts out as a suspenseful caper movie (will the anti-heroes get caught?) becomes a shocking, brutally violent fight for life with a gang of bloodthirsty foes (who will survive and what will be left of them?). It's like a crime movie that turns into a slasher. Neither of those are bad things, and van Hoffman has a good handle on both the visual aesthetics and the narrative nuances of each genre.
There are some flaws with Monster Party. There's an underlying mystery of a "monster in the basement" that doesn't really pay off; it just becomes a diversion that serves no purpose other than to raise the movie's gore factor. And there's a simmering revenge subplot that tries to boil over in the final minutes, but it winds up just feeling like padding, as if von Hoffman wanted to get his movie up to 90 minutes when he should have just left it at a brisk 75.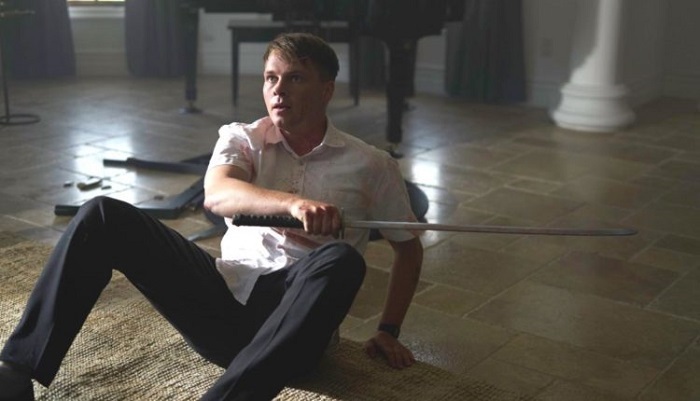 But all of this is nitpicky stuff. The bottom line is that if brutal killings and splattering gore is your thing, Monster Party is probably for you. Even with its reversal twist, there's very little that most horror fans haven't seen before, but it's well done, and the whole thing is just plain entertaining.

The most admirable thing that Chris von Hoffman is able to do with Monster Party is skirt the line between comedy and horror so that his disturbing movie about murderers murdering still retains an air of dark humor. Everything about the movie is over the top, from the ridiculously overkill weaponry to the never-ending onslaught of violence, so after a while, the entire situation turns campy. It's still a terrifying scenario, but it escalates so ludicrously that the audience can't help but chuckle. And that's what black comedy is all about – laughing at things that shouldn't be funny.

Most of the scares in Monster Party are derived from plain old brutality and gore, and that results in a few awesome cringeworthy moments. There's not much in the way of jump scares in the movie, which is, in a way, refreshing. It's all maddening tension followed by intense graphic violence. It's suspense without the cheap payoff, the chase without the pie. Once the viewer figures it out, the scares get a bit predictable, but it's still the kind of blood-soaked terror that gorehounds crave. Monster Party is, for the most part, a disposable movie, and it may not inspire any night terrors, but in the moment, it's the kind of movie that many viewers will need to watch through their fingers.