Synopsis: En route to meet his estranged daughter and attempting to revive his dwindling career, a broken, aging comedian plays a string of dead-end shows in the Mojave desert.
Release Date: November 13, 2015     MPAA Rating: PG-13
Genre(s): Drama,
Film Review

Entertainment is all about a bad stand-up comedian (Gregg Turkington, better known by his fictional comic alter-ego name Neil Hamburger) who is making his way to Los Angeles across the American southwest, doing gigs in crappy nightclubs and dive bars as he goes. Along the way, he calls his estranged daughter every chance he gets with the hope of reconnecting with her. He also meets colorful characters who help to enrich his touring experience.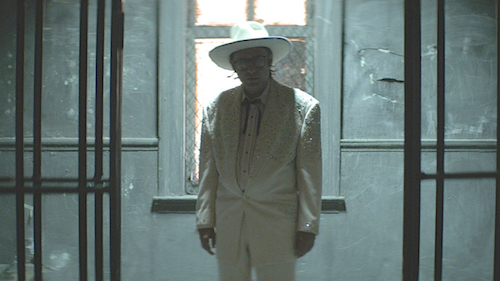 That's really all of a synopsis for Entertainment that there can be. Not because any more would spoil it, but because there really isn't any more to the movie. It's a simple setup with even simpler execution.
There's an interesting crew of minds behind Entertainment. The movie was directed by Rick Alverson (The Comedy), and written by Alverson along with Turkington and Tim Heidecker (the Tim from "Tim and Eric Awesome Show, Great Job!"). So, Entertainment was brought to life by the creator of a fictional comedian, the creator of a comedy television show, and the creator of a movie that is actually called The Comedy. And there's nothing funny about Entertainment. Isn't it ironic?
Although he is never named as such in the film, the lead Comedian in Entertainment is pretty much Gregg Turkington's Neil Hamburger, recycling the same mediocre jokes and unfunny stage persona as the established a-hole. But it's a deeper, more sympathetic Hamburger; the veil is lifted and the character just seems more sad and frustrated than angry and combative. His off-stage demeanor is a far cry from his mean spirited showbiz game face, so the character turns into a highly sympathetic figure. The Comedian in Entertainment is, for lack of a more tactful way of putting it, a suicide waiting to happen.
Entertainment is a strange movie. It's full of surreal and crazy moments, but none of it phases the Comedian as he just keeps on keeping on, lighting out for the territory as the sun sets on him and his trail of disastrous gigs. It doesn't really go anywhere story-wise, but it's impossible to stop watching. It's kind of depressing, very distressing, and just a plain old downer. It's not a fun movie by any stretch of the imagination, but it's worth watching. Forgive the pun, but in a word, that's Entertainment.

For such a strange movie, Entertainment has a fairly notable cast. Aside from Gregg Turkington's Comedian, the characters in the movie are basically glorified walk-ons, just colorful folks that the hero meets as he makes his way out west. The most consistent companion that he has is a minimalistic clown who constantly upstages him at their shows, an affable fellow named Eddie the Opener who is played with absolute conviction by Tye Sheridan (Joe). John C. Reilly (Boogie Nights) also comes in and out of the movie a few times as the Comedian's Cousin John, and he is his usual consummate character-acting self. The rest of the cast is made up of bit parts, relegated to pretty much one scene each, but they include such notable names as Michael Cera (Scott Pilgrim vs. the World), Amy Seimetz (You're Next), Lotte Verbeek (The Fault in Our Stars), and Dean Stockwell ("Battlestar Galactica"). Bow Wow Wow singer Annabella Lwin and The Jesus Lizard vocalist David Yow each appear in blink-and-you'll-miss-them roles as well. Entertainment surrounds Gregg Turkington with a talented cast of supporting actors who most likely strolled in for a day and shot their scenes before lunchtime.

Despite its comic pedigree and the occupation of its central character, Entertainment is not funny, but it's also not supposed to be; it's not a comedy. The jokes in the Comedian's act are all basically ripped out of Turkington's Neil Hamburger act, and they are so bad that the audience can't help but laugh at them, but not because they're funny – it's an uncomfortable laugh, more from shock than from amusement. Here's a sample joke – "What's the difference between Courtney Love and the American flag?" ("It would be wrong to urinate on the American flag"). Want another? "Why did Madonna feed her baby Alpo brand dog food?" ("That's just what came out of her breasts"). There's no actual humor, just a jaw-dropping disbelief that the comedy can be so horrific, and the bad jokes fit the Comedian's character perfectly.
Cast and Crew
Director(s): Rick Alverson
Producer(s): Rick AlversonBrooke BernardPatrick HiblerAlex LipschultzRyan LoughGeorge RushRyan Zacarias
Screenwriter(s): Rick AlversonTim HeideckerGregg Turkington
Story: 
Cast: Gregg Turkington (The Comedian)Tye Sheridan (Eddie)Lotte Verbeek (The Chromotherapist) John C. Reilly (John)Dean Stockwell (Frank)Amy Seimetz (Rene)Tim Heidecker (The Celebrity)Tonantzin Carmelo (Teresa)Kalia Prescott (Maria)Annabella Lwin (Rachel)David Yow (Party Host)Michael Cera
Editor(s): Rick Alverson
Cinematographer: Lorenzo Hagerman
Production Designer(s):
Costume Designer: Elizabeth Warn
Casting Director(s): Sig De MiguelStephen Vincent
Music Score: Robert Donne
Music Performed By: 
Country Of Origin: USA