Synopsis: A couple who can't stop fighting embark on a last-ditch effort to save their marriage: turning their fights into songs and starting a band.
Release Date: June 16, 2017     MPAA Rating: PG-13
Genre(s): Comedy,
Film Review

Zoe Lister-Jones is most recognizable from appearances on sitcoms like "New Girl," "Whitney," and "Life in Pieces," but she's done her time behind the camera as well, having written the indie flicks Consumed and Breaking Upwards. Now, Lister-Jones takes on a new challenge with her directorial debut, the rocking and rollicking un-romantic comedy Band Aid.
Band Aid stars Lister-Jones as a woman named Anna who, thanks to a bevy of personal and professional problems, is constantly arguing with her husband, Ben (Adam Pally from A.C.O.D.). After trying to talk it out and even forcing one marriage counselor to move to Canada, Anna and Ben find themselves playing around on children's instruments at the birthday party of one of their friends' kids, and they realize that their improvised music sounds good. Ex-musicians themselves, the couple dig their guitar and bass out of the garage and decide to turn their fights into songs. With the addition of their sex-addict neighbor Dave (Fred Armisen from "Saturday Night Live" and "Portlandia") on drums, a band is formed, and the stress outlet seems to strengthen the couple's relationship. However, as they search for material for more songs, problems from the past are drudged up and threaten to derail their fragilely repaired marriage.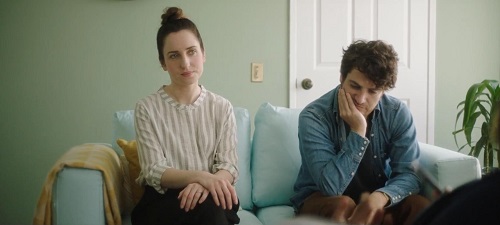 When Zoe Lister-Jones makes a movie, she takes the reins. Not only did she write and direct Band Aid, but she also produced, hand-picked the (all-female) crew, and co-wrote the songs. The premise of the movie is wacky and entertaining, and everything is a lot of fun while it lasts. Unfortunately, once Anna and Ben start talking about their problems instead of singing them to each other, the whole thing just gets bogged down and becomes very dry and sterile. The originality becomes typical.
It doesn't help that the bigger issues behind the couple's animosity towards each other are fairly depressing, and once the movie turns that corner, it starts getting real instead of being whimsical and lighthearted. To draw an unrelated (but still musical) parallel – Band Aid is like Aerosmith's career; it's starts off like a party-rock anthem along the lines of "Walk This Way," but it ends up as a sappy, forced love ballad like "I Don't Want to Miss a Thing."
Luckily, the good front half of the movie outweighs the sketchy back end, so Band Aid stills ends up an enjoyable watch. A really enjoyable watch, actually. It's funny, smart, and quirky. And it's packed with cool tunes. And honestly, Lister-Jones had no choice but to take the film where she does in the ending, because that's how the stakes get raised so that the audience keeps caring. So, maybe the Aerosmith career trajectory metaphor was a bit much. But hey, some people do actually like "I Don't Want to Miss a Thing," don't they?

The band that Anna, Ben, and Dave form in Band Aid is called The Dirty Dishes, and their songs were co-written by Zoe Lister-Jones and Kyle Forester (who also wrote songs for Sing and Nerve). The music itself sounds like garage band indie pop, and the hooks are catchier than the common cold in December. Although they flirt with clever brilliance, most of the lyrics are mundane and banal, almost to the point where that is the point; these songs are supposed to have been written out of anger and frustration, so the writer may not have gotten around to a second draft. The vocals let both Anna and Ben present their separate sides to the argument in a boy-girl, call-and-response kind of way, with both voices harmonizing when they finally get around to agreeing. It's lo-fi genius.
There are also a few tunes in the movie by the New York pop group Lucius, who likewise contribute the cinematic score to the film, and it's all fine and dandy, but the real sonic draw to Band Aid is the musical stylings of The Dirty Dishes.

There's a fun chemistry between Zoe Lister-Jones and Adam Pally in Band Aid. The two have impeccable comic timing, and the bickering and magpie-ness is oddly organic. Lister-Jones and Pally seem like an old married couple, finishing each other's sentences and knowing their thoughts before they speak them. Even their fights, which frequently end up as songs (one ending in a harmoniously sung "F*ck You.!" duet), are a joy to witness, mainly because the actors work so well together. The addition of Fred Armisen to the trio just ups the ante. Band Aid wouldn't be nearly as much fun with different lead actors.

The humor in Band Aid is not the type that is going to make anybody roll around on the floor laughing. It's more of a constantly chuckling kind of comedy. It's almost a mumblecore sort of funny, with most of the jokes coming from fast and witty verbal jabs and quips. Phrases like "they're passing out baby pictures like it's 9/11" and "I'll do the dishes and you can suck your own d*ck" fly quickly and plentifully, and are always met by an equally funny qualifying response by another character like "that's such a weird analogy" or "what does that even mean?" But mostly, the humor in Band Aid is relatable; audiences are laughing at themselves and their own circle of friends in addition to laughing with the characters in the movie. Oh, and Fred Armisen is, well, Fred Armisen. He's the cherry on top, the comic relief in an already funny movie.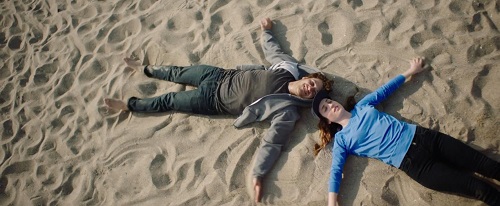 Cast and Crew
Director(s): Zoe Lister-Jones
Producer(s): Zoe Lister-JonesNatalia Anderson
Screenwriter(s): Zoe Lister-Jones
Story: 
Cast: Zoe Lister-Jones (Anna)Adam Pally (Ben)Susie Essman (Shirley) Retta (Carol)Hannah Simone (Grace)Ravi Patel (Bobby)Brooklyn Decker (Candice)Angelique Cabral (Lauren)Majandra Delfino (Maria)Nelson Franklin (Ned)Fred Armisen (Dave)Colin Hanks (Uber Douche)
Editor(s): Libby Cuenin
Cinematographer: Hillary Spera
Production Designer(s):
Costume Designer: Sarah Fleming
Casting Director(s): 
Music Score: Lucius
Music Performed By: 
Country Of Origin: USA