Synopsis: Sigmund Freud's newest patient is a vampire fed up with his undying relationship with his wife.
Release Date: June 24, 2016     MPAA Rating: PG-13
Genre(s): Comedy, Horror
Film Review

Just when the vampire trend seemed to have been going the way of the zombie, last year's What We Do in the Shadows pumped new blood into the subgenre by embracing it lovingly and laughingly. Well, it may not hit quite as hard, but Therapy for a Vampire takes a swing at the same funny bone.
Set in Vienna during the year 1932, Therapy for a Vampire is about a vampire named Count Geza von Közsnöm (Tobias Moretti from The Dark Valley) who, as the title implies, seeks therapy from the famous Dr. Sigmund Freud (Karl Fischer from Attack of the Lederhosenzombies). The Count has grown bored with his wife, Countess Elsa von Közsnöm (Jeanette Hain from The Countess), and laments about a lost love from hundreds of years before. The Countess has problems of her own; she wishes to be able to see herself again, a feat that is made difficult by the fact that vampires cast no reflections. Seeing a solution to Elsa's problem, Freud introduces the couple an artist named Viktor (Kalte Probe's Dominic Oley) who is commissioned to paint a portrait of the Countess so that she can look at herself whenever she wishes. Everything gets messy when Geza meets Viktor's girlfriend, Lucy (Woman in Gold's Cornelia Ivancan), and he instantly recognizes her as the reincarnation of his long lost love.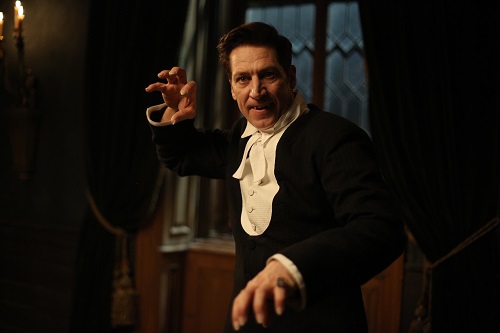 Written and directed by Austrian filmmaker/photographer David Rüehm (The Escape), Therapy for a Vampire is a cute idea for a movie. The idea that a vampire would seek therapy is fun, and the notion that another vampire would commission a painting of herself just so that she could see herself again is, actually, pretty clever. And the reincarnated lover angle is as romantic as any plot point in any modern vampire movie. Unfortunately, once the intriguing situations are set up, the movie runs out of steam and becomes just another bad screwball comedy.
While they're not as likeable or as charismatic as the gang in What We Do in the Shadows, the vampires in Therapy for a Vampire are campy and corny, with overly-typical body gestures and slip-n-slide floating movements, so they're quite fun to watch. The hackneyed act is amusing for a while, but after a bit, the viewer longs for something to grab them and force them to care about the characters. That something never comes in Therapy for a Vampire, and after a while, the movie just gets tedious and tired.
Therapy for a Vampire leans hard on the fact that it's a vampire movie, and when all is said and done, that's really all it's got going for it: the vampires. And even they get boring after a while. When the smoke clears, it's just a mediocre movie that just happens to be about a couple of bloodsucking freaks, and it will be quickly forgotten by its audience once the sun comes up.

The vampires in Therapy for a Vampire are campy and silly, so there are a few funny moments in the film, moments that are almost exclusively provided by the vampires themselves. Some of the comedy involves humorous treatment of vampire mythology, such as when Elsa tries to put makeup on without being able to see herself in the mirror. Other laughs are generated by the Count's therapy sessions, like when he starts telling Dr. Freud about his long-lost love and finds himself floating above the couch in a…Freudian way. It's nothing gut-bustingly hilarious, but there are a few chuckles to be had throughout the movie. The laughs are pretty few and far between, but the handful of funny moments in Therapy for a Vampire will raise at least a smile, if not a snicker.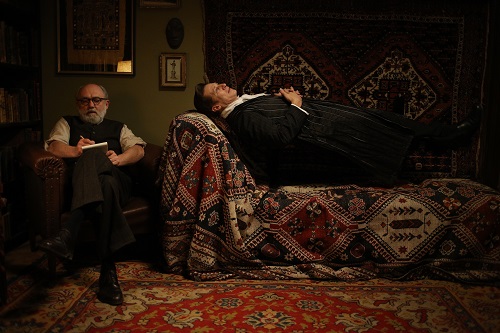 Vampires stopped really being scary a long time ago, but the bloodsuckers in Therapy for a Vampire are even more tame than normal. The Count and Countess are more like an old nagging married couple than a couple of fierce predators. There's a bit of neck-biting and human-killing, but not nearly enough for the movie to be scary at all. If you're looking for a good horror movie about vampires, you should keep looking, because there's not much fear to be found in Therapy for a Vampire.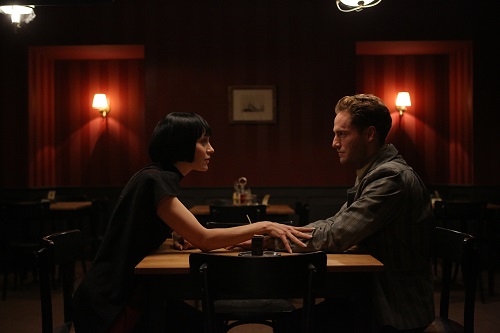 Cast and Crew
Director(s): David Rühm
Producer(s): Christian DaviAlexander GlehrChristof NeracherFranz NovotnyThomas Thümena
Screenwriter(s): David Rühm
Story: 
Cast: Tobias Moretti (Graf Geza von Közsnöm)Jeanette Hain (Gräfin Elsa von Közsnöm)Cornelia Ivancan (Lucy) Dominic Oley (Viktor)Karl Fischer (Dr. Sigmund Freud)David Bennent (Radul)Lars Rudolph (Oscar)Erni Mangold (Fräulein Sedlacek)Anatole Taubman (Ignaz, der Einbrecher)
Editor(s): Claudio Cea
Cinematographer: Martin Gschlacht
Production Designer(s):
Costume Designer: Monika Buttinger
Casting Director(s): Rita Waszilovics
Music Score: Bernd Jungmair
Music Performed By: 
Country Of Origin: AustriaSwitzerland