Synopsis: In the early 20th century, an aging actress and her lover visit the estate of her elderly brother.
Release Date: May 25, 2018     MPAA Rating: PG-13
Genre(s): Drama,
Film Review

What do you get when a Tony Award-winning director and a Tony Award-winning writer team up with an incredible cast to adapt a classic play for the big screen? In the case of The Seagull, you get a technically proficient snoozefest.
The Seagull takes place at the lake home of an elderly dying man named Pjotr Sorin (Brian Dennehy from Knight of Cups). Among the guests is Sorin's sister, a famous actress named Irina Arkadina (Annette Bening from 20th Century Women) and her lover, a writer named Boris Trigorin (Corey Stoll from Black Mass). Irina's son, a budding writer named Konstantin (Dunkirk's Billy Howle) is also there, pining over a local girl named Nina (Lady Bird's Saoirse Ronan). Nina, however, is in love with Boris. Also present is Sorin's estate's caretaker, Ilya Shamrayev (Glenn Fleshler from A Most Violent Year), and his wife, Polina (Geostorm's Mare Winningham), the latter of whom is having an affair with a doctor named Dorn (Jon Tenney from Green Lantern). There's also a schoolteacher named Mikhail Medvedenko (Brooklyn's Michael Zegen) who is in love with Ilya and Polina's daughter, Masha (High-Rise's Elisabeth Moss), who in turn is in love with Konstantin.
Did you get all that? It's a lot to keep track of, so you may want to write it all down.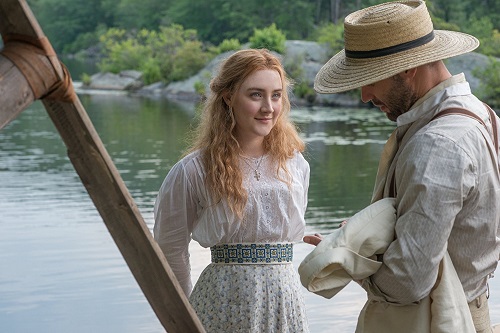 The Seagull was adapted from Anton Chekov's play of the same name by writer Stephen Karam (Speech & Debate) and director Michael Mayer (Hatfields & McCoys). Karam and Mayer both come from theater backgrounds, and that fact is painfully obvious, because The Seagull is clearly a stage play, and it does not quite translate to the big screen. As a film, it's well executed, and extremely well-acted, but the entire thing as a whole is a tedious bore.
The love triangles and themes of unrequited love are all there, but they're lacking the drama and passion of Chekov's original play. Although there's plenty going on, virtually nothing happens, if that makes any sense. It's all just a bunch of people hanging out and pining over each other, and the cast delivers all of its pining in convincing fashion, but that's pretty much all there is to the movie. And that's the kind of wordy rapport that is more suited for the stage than for the screen.
Essentially, The Seagull is a competently made movie that has no point to its existence, and even Chekov purists will probably be put to sleep by it.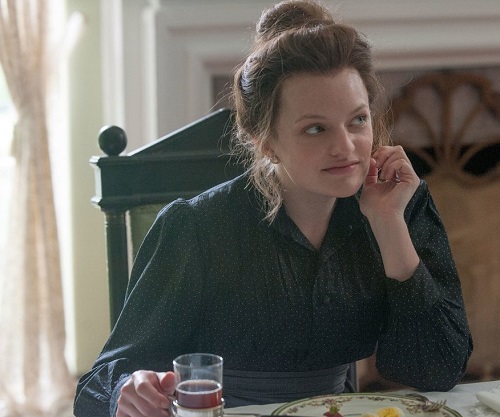 The Seagull is an actor's film, and the strongest aspect of the movie is easily the work of the talented ensemble cast. Annette Bening commands the entire production, and Elisabeth Moss steals every scene in which she appears. While it's not Saoirse Ronan's best work, even an average performance from her is remarkable. The men in the cast hold their own as well, with Brian Dennehy, Corey Stoll, and Michael Zegan all delivering first-rate performances. If there's a weak link in the cast, it's Billy Howle, whose inexperience shows as his Konstantin is basically the male lead, and the young actor seems, at times, to be in over his head. But all in all, the stellar cast of The Seagull is wasted on a mediocre movie.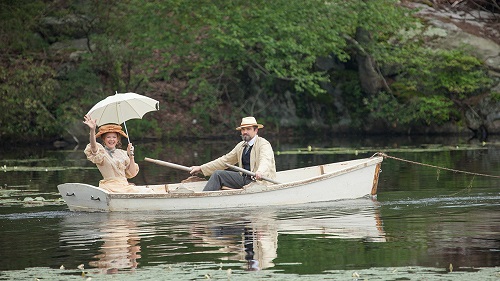 For an adapted stage play, there is a lot of music in The Seagull, and next to the acting, the score is the most impressive aspect of the film. The soundtrack features music from Nico Muhly (Margaret, Me and Earl and the Dying Girl) and Anton Sanko (Ouija, The Possession), and their two styles both compliment and contrast each other. Some of the music is diegetic and some of it is cinematic, but all of it is energetic and dynamic. The pounding pianos and singing strings help to ease the longer-feeling sections of the movie. Luckily, music is plentiful in The Seagull, because in many ways, the score is the most interesting element of the movie.
Cast and Crew
Director(s): Michael Mayer
Producer(s): Tom HulceRobert SalernoLeslie Urdang
Screenwriter(s): Stephen Karam
Story: Anton Chekhov
Cast: Saoirse Ronan (Nina)Annette Bening (Irina)Elisabeth Moss (Masha) Corey Stoll (Boris Trigorin)Glenn Fleshler (Shamrayev)Brian Dennehy (Sorin)Michael Zegen (Mikhail)Billy Howle (Konstantin)Mare Winningham (Polina)Jon Tenney (Doctor Dorn)Ben Thompson (Yakov)Barbara Tirrell (Olga the Cook)
Editor(s): Annette Davey
Cinematographer: Matthew J. Lloyd
Production Designer(s):
Costume Designer: Ann Roth
Casting Director(s): 
Music Score: Nico Muhly & Anton Sanko
Music Performed By: 
Country Of Origin: USA