Synopsis: Three parents try to stop their daughters from having sex on Prom night.
Release Date: April 6, 2018     MPAA Rating: PG-13
Genre(s): Comedy,
Film Review

The losing of one's virginity is a time-tested cinematic rite-of-passage. Usually, though, when the deed (or attempted deed) is depicted in a movie, the focus is on the male gender. Now, Blockers is here to flip that script.
Blockers is about three lifelong friends named Julie (Kathryn Newton from Paranormal Activity 4), Samantha (Gideon Adlon from "Ámerican Crime"), and Kayla (Geraldine Viswanathan from "Miracle Workers") who make a pact to lose their virginities on prom night of their senior year. When their parents catch wind of the plan, they freak out and decide to stop it. Julie's mother Lisa (The Comedian's Leslie Mann), Kayla's father Mitchell (World Wrestling Entertainment superstar John Cena), and Sam's father Hunter (Ike Barinholtz from Neighbors) spend the evening tracking the girls and their dates down, but the prom party always seems to be one step ahead of the over-protective parents.
With a screenplay written by Jim and Brian Kehoe (the guys behind Overachievers), Blockers is the directorial debut of Kay Cannon, who is best known as the writer of the Pitch Perfect movies. Blockers does have a distinct female point of view to it, but that does not mean it's not raunchy. It's just got confident and intelligent young women at the center of the story. Think of Blockers as the high school movie version of Bridesmaids. Both the story and the humor are as crude as a "guy" movie, and Blockers wears that fact like a badge of honor.
In many ways, Blockers is a typical high school hijinks movie along the lines of American Pie or The Edge of Seventeen, with John Hughes-style drama mixed with Judd Apatow-style humor. There's plenty of the "parents just don't understand" kind of angst involved, but there's also a lot of heart in the movie, mostly coming from the obvious parent-child relationship talks that inevitably are forced to occur at the movie's resolution. Most of the entertainment value comes from the lack of communication, however, as the parents try to gain control of their kids at the same time that the kids are trying to exercise their collective independence.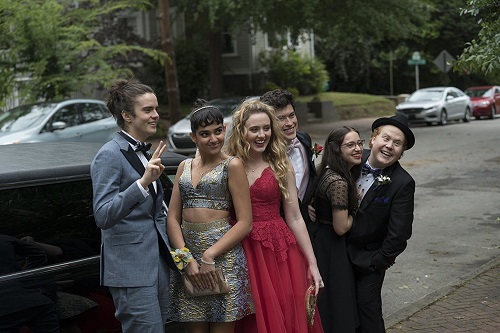 There's not a whole lot of new ground broken in Blockers. Take away the fresh female perspective, and it's a movie that audiences have seen dozens of times over the years. It's still a fun movie, full of belly laughs and warm fuzzies. And sometimes, that's all you need to have a good time.

Most of the humor in Blockers is, predictably, potty humor, with most of the jokes revolving around the consensual sex that the three girls plan on having at the end of their night. There are also plenty of gags and bits that involve the generation gap and the parent's naivety about what's "cool" with the kids today (at one point, Mitchell actually gets talked into "chugging" beer with his butt by a group of high school kids). Much of the comedy is tasteless and crude, but sometimes, tasteless and crude is funny. Blockers is one of those times.
It should be mentioned that, comedy-wise, John Cena carries Blockers on his manly, broad, WWE-sized shoulders. Leslie Mann is the delusional neurotic, and Ike Barinholtz provides down-to-earth heart to the film, but Cena is the comic gold. He's cartoonish and self-deprecating, and there's seemingly nothing that he will not do for a laugh. And, whether he's pulling a physical gag or cracking an unknowing verbal joke, he generates a ton of those laughs throughout the film.
Cast and Crew
Director(s): Kay Cannon
Producer(s): Chris CowlesChris FentonEvan GoldbergJon HurwitzNathan KahaneSeth RogenHayden Schlossberg
Screenwriter(s): Brian KehoeJim Kehoe
Story: 
Cast: John Cena (Mitchell)Leslie Mann (Lisa)Kathryn Newton (Julie) Ike Barinholz (Hunter)Ramona Young (Angelica)Geraldine Viswanathan (Kayla)Miles Robbins (Connor)Graham Phillips (Austin)Gideon Adlon (Sam)Sarayu Blue (Marcie)Jimmy Bellinger (Chad)
Editor(s): Stacey Schroeder
Cinematographer: Russ T. Alsobrook
Production Designer(s): Brandon Tonner-Connolly
Costume Designer: Sarah Mae Burton
Casting Director(s): Nicole AbelleraJeanne McCarthy
Music Score: Mateo Messina
Music Performed By: 
Country Of Origin: USA