Synopsis: 12 Years A Slave is based on an incredible true story of one man's fight for survival and freedom. In the pre-Civil War United States, Solomon Northup (Chiwetel Ejiofor), a free black man from upstate New York, is abducted and sold into slavery. Facing cruelty (personified by a malevolent slave owner, portrayed by Michael Fassbender) as well as unexpected kindnesses, Solomon struggles not only to stay alive, but to retain his dignity. In the twelfth year of his unforgettable odyssey, Solomon's chance meeting with a Canadian abolitionist (Brad Pitt) forever alters his life.
Release Date: November 1, 2013     MPAA Rating: PG-13
Genre(s): Drama
Film Review
Production
Steve McQueen's 12 Years a Slave is a harsh, brutally honest portrait of a free man named Solomon Northup, who was kidnapped and forced into slavery for 12 years of his life. Based on Northup's memoirs, the film is extremely moving, oftentimes heartbreaking, and unflinching in its depiction of slavery in the mid-1800s. At the same time, there is hope in Solomon's story, in the few kind souls he meets along the way and the knowledge that he is a strong-willed character who will not give up.
Over the course of the film, Solomon finds himself at the whim of several slave owners, but he's primarily under the care of a Mr. Ford (Benedict Cumberbatch) and a Mr. Epps (Michael Fassbender). While Ford is a just man with a solid moral compass, Epps typifies the cruel slave owner, who sees Solomon and the other slaves as nothing more than property and treats them as such. So, although Solomon's journey is permeated by moments of pointed tragedy and despair, it isn't as if the film holds a dark cloud over his head the entire time. It succeeds because it shows the triumph of the human spirit as seen in one of the most remarkable stories of survival.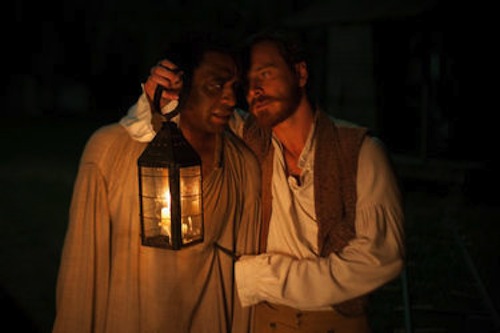 In addition to its extremely moving and affecting story, 12 Years a Slave's filmmaking is impeccable. Steve McQueen and cinematographer Sean Bobbitt choose to use a lot of natural light, preserving the authenticity of the time period. To that point, the film has a few single take shots that are so unnervingly effective that they will have audiences squirming in their seats. The goal isn't to shock, mind you, but to portray some of the brutality experienced by slaves without cutting away. It all goes back towards providing an honest portrait of slavery, and makes the film all the more powerful.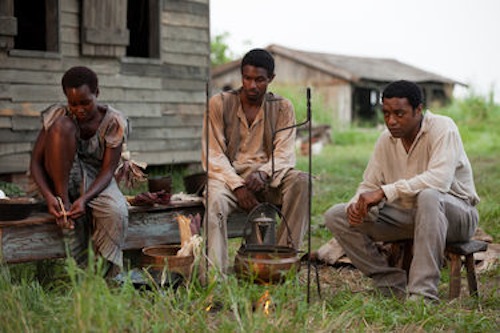 Admittedly,
12 Years a Slave
isn't going to be for everyone, as it is a tough movie to get through. It's safe to assume that's by design, but the violence, while seemingly true to the time, is brutal and unflinching. Additionally, many of the typical criticisms that might be raised towards a film of this length and subject matter feel inconsequential because of its authenticity and the strength of its performances.
As a whole, though, 12 Years a Slave is easily one of the year's best. It's an intensely compelling journey that ultimately has a positive message, even in the face of some of the cruelest acts. The acting is superb, the film is smartly crafted, and the cinematography serves to keep all of the gloss of Hollywood out. Audiences will come away from the film moved by Solomon's journey, and praising the film for its unflinching honesty.
Writing
Where 12 Years a Slave misses the mark (only slightly) is in its story, based on the memoir from the real Solomon Northup, "12 Years a Slave". While Solomon's story of survival amidst the most brutal circumstances is a fascinating one, there are elements to the film itself that feel a little aimless. That may be by design, and in service of communicating the breadth of Solomon's journey, but it feels like the film wraps up much quicker than expected. This character has spent 12 years of his life in servitude, and you genuinely feel that, but the tail end of his journey loses a little bit of its momentum.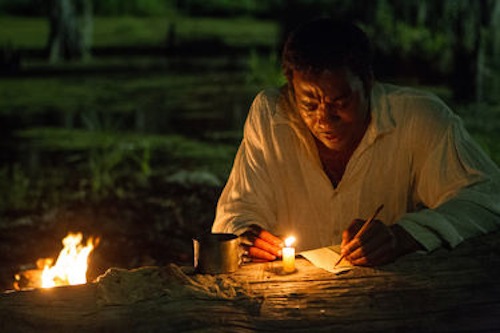 Additionally, the film's dialogue is a little lackluster and basic. For a film bursting with high caliber acting, the conversational scenes fall a little flat. Rather, it's the emotions communicated by the actors that makes these more intimate scenes come to life. For a life story this compelling, the dramatization slightly drops the ball.
Acting
Whether it's the desperate slaves or the malicious, occasionally kind-hearted, slave owners, 12 Years a Slave features some of the best performances of the year. Chiwetel Ejiofor portrays Solomon as an incredibly strong-willed character, albeit with a certain vulnerability, in such a way that you never give up hope for him, and are heartbroken when he continuously falls into misfortune. Granted, a lot of his best acting is done through subtle facial expressions and not much dialogue, but he still takes hold of this character piece and owns it.
The supporting cast of Michael Fassbender, Brad Pitt, Paul Dano, and Benedict Cumberbatch portray the various viewpoints on slavery with care and commitment. It's heartwarming to see characters like Pitt's and Cumberbatch's – people who might not overtly detest slavery, but show compassion to Solomon and others – and at the same time frightening to see a character like Fassbender's Edwin Epps, a cruel slave owner with no moral compass. Without characters like these, and believable performances from the associated actors, Solomon's journey wouldn't be half as remarkable.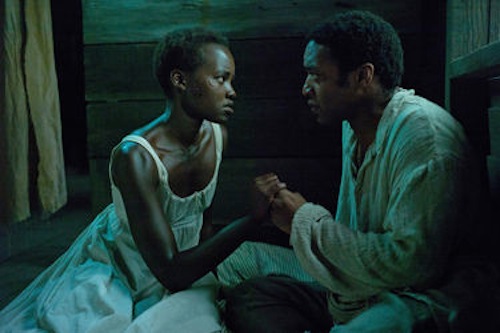 Out of all the role players, though, relative newcomer Lupita Nyong'o shines the brightest as Patsey, one of Epps' prized slaves. Patsey's blissful ignorance, even in the face of horrific tragedy, is extremely affecting. Just as you feel for Solomon and hope for his survival, you know that Patsey's story has little hope despite her status among the other slaves. Nyong'o's performance communicates that duality perfectly.
Cast and Crew
Director(s): Steve McQueen
Producer(s):
Screenwriter(s): John Ridley
Story:
Cast: Chiwetel Ejiofor (Solomon Northup)Dwight Henry (Uncle Abram)Quvenzhane Wallis (Margaret Northup) Paul Giamatti (Freeman)Benedict Cumberbatch (Ford)Paul Dano (Tibeats)Michael Fassbender (Edwin Epps)Sarah Paulson (Mistress Epps)Lupita Nyong'o (Patsey)Brad Pitt (Bass)Alfre Woodard (Mistress Shaw)
Editor(s):
Cinematographer: Sean Bobbitt
Production Designer(s):
Costume Designer:
Casting Director(s):
Music Score: Hans Zimmer
Music Performed By:
Country Of Origin: USA