Synopsis: Bruce Wayne must not only deal with the criminals of Gotham City, but also the responsibility of raising a boy he adopted.
Release Date: February 10, 2017     MPAA Rating: PG-13
Genre(s): Animation, Action
Film Review

Picking up off the lead of The LEGO Movie, The LEGO Batman Movie is the latest brick-based animated comedy to hit theaters. But where Emmet's adventure was a playful parody of LEGO toys combined with a genre-bending adventure, The LEGO Batman Movie is more traditional in its aims. There's still an underlying theme of parody and satire in the film, but many of its jokes are centered on the absurdity that is a character who dresses like a bat. It also just so happens that the whole world and characters are made of LEGO.
Even without the design of the world, the crisp CGI visuals, and the many tiny details that are hidden throughout the film, The LEGO Batman Movie works on its own as a strong Batman story. Obviously this is a much lighter affair for the caped crusader, but it's still a story that fans will be able to connect with and relate to. Moreover, because the film isn't trying to build a larger universe or serve numerous DC masters, The LEGO Batman Movie can revel in all things Batman – from his history in TV and movies to the numerous villains he has faced over the years. There's a freedom to The LEGO Batman Movie that's refreshing and never-ending when it comes to comedic potential, and rest assured, director Chris McKay takes full advantage.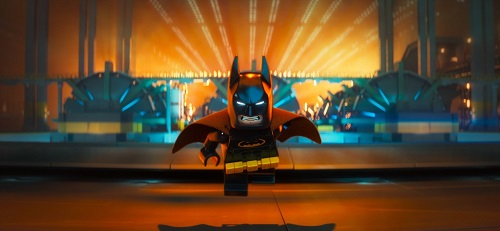 Alongside a great story and a look that's unique and filled with wonder, The LEGO Batman Movie has a cast of voice actors that are pitch perfect in their respective roles. Will Arnett reprises his role as Batman from The LEGO Movie and is just as great here. He's always had a sharp sense for timing in his live action work, but as LEGO Batman, Arnett feels free-er and goofier, which helps make the film all the more entertaining. Zach Galifianakis is also a delight as the Joker, giving the character a completely different spin – one that ensures he's still the bad guy, but offers up plenty of opportunities for laughs. There really isn't anyone in the film that feels miscast or out of place; every voice actor gives his or her all to the role, and breathes new life into characters most moviegoers will be familiar with. Michael Cera's Robin, for example, is a character seen countless times on-screen, but this take still feels fresh and funny.
When The LEGO Movie was first released, it felt like the filmmakers were only scratching the surface, and now The LEGO Batman Movie has come along to confirm those suspicions. There's a freedom to LEGO-izing a Batman story that allows the writers, director, and actors to explore the character in a way that is more playful and enjoyable, which is very important for an animated kids film. Making the film LEGO also opens up a ton of opportunities for cameos and Easter Eggs, and trust me when I say the film goes the extra mile. But most importantly, The LEGO Batman Movie nails its three main goals: it's a consistently funny comedy, it's an enjoyable movie for the family, and it has a Batman story that's engaging and creative.

Much like its predecessor The LEGO Movie, The LEGO Batman Movie is packed full of clever gags, blink and you'll miss it references, and a ton of relatable humor. It may be a movie about Batman in brick form, but there is a surprising amount of the film that is dedicated to calling out the comedy in life's random events. And then things are made better by the fact that The LEGO Batman Movie is also a really enjoyable and funny Batman film that's filled with plenty for fans of the DC Comics hero to love. The real test of a great animated comedy is whether it can have all ages laughing, and The LEGO Batman Movie passes with flying colors.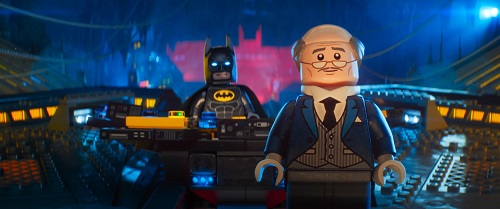 Cast and Crew
Director(s): Chris McKay
Producer(s): Roy LeeDan LinPhil LordChristopher Miller
Screenwriter(s): John WhittingtonErik SommersJared Stern
Story: Seth Grahame-Smith
Cast: Will Arnett (Batman/Bruce Wayne)Michael Cera (Robin/Dick Grayson)Channing Tatum (Superman/Clark Kent) Ralph Fiennes (Alfred Pennyworth)Jenny Slate (Harley Quinn)Zach Galifianakis (The Joker)Jonah Hill (Green Lantern/Hal Jordan)Rosario Dawson (Batgirl/Barbara Gordon)Zoë Kravitz (Catwoman/Selina Kyle)Adam Devine (The Flash/Barry Allen)Conan O'Brien (Riddler/Edward Nygma)Billy Dee Williams (Two-Face)
Editor(s): David Burrows
Cinematographer: 
Production Designer(s):
Costume Designer: 
Casting Director(s): Mary Hidalgo
Music Score: Lorne Balfe
Music Performed By: 
Country Of Origin: USADenmark