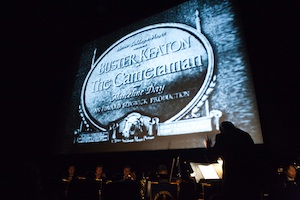 My favorite part of watching silent movies is the variability of the experience depending on the format. While it's true that every movie should be experienced on the big screen, it is doubly true for films from the silent period. Oftentimes, if these films exist at all, they have not been well preserved, or even if they have, their DVD copies cannot replicate the experience of seeing them as movie audience did in their original release. During the 1920s, all films were screened with live musical accompaniment, from the small town piano player to the largest metropolitan orchestra. Without a prescribed soundtrack and audible dialogue, there was no singular version of any film, allowing for a diverse, collaborative experience and many repeat viewings. I have seen silent films with piano accompaniment, and I have seen The Cameraman many times, but I have never had a more exciting silent film experience than this one at the TCM Classic Film Festival.
Providing live accompaniment was Vince Giordano and His Nighthawks, an eleven piece orchestra whose renowned recreations of '20s and '30s jazz and swing music have been featured in films The Aviator and Ghost World and on the radio in "A Prairie Home Companion."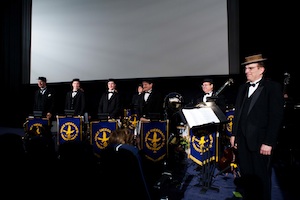 The Nighthawks performed an original score composed for Giordano especially for the TCMFF screening of The Cameraman, which added an extra thrill to this once-in-a-lifetime experience.
In the film, Buster Keaton plays a moony tintype photographer for falls hard for the extremely lovely Marceline Day. Day, who works in the MGM newsreel office, encourages Buster to trade in his ten-cent tintype camera for an exciting career as a newsreel cameraman, which, in a bid for her affections, he hastily does. Complicating matters are Buster's penury, cocky newsreel cameraman/romantic rival Harold Goodwin, the cranky cop Buster has a habit of running into at the most unfortunate times (Harry Gribbon, with a face like rubber cement), and an agile capuchin monkey named Josephine.
Film critic and historian Leonard Maltin was on-hand to provide an introduction to the film. The Cameraman was Buster Keaton's first picture under contract for Metro-Goldwyn-Mayer, a business decision he'd live to regret. From 1920 to 1928, Keaton had creative freedom to produce some of the finest and most technically inventive comedies in the history of motion pictures; at MGM, he was just another name in their extensive pantheon of stars. The Cameraman is the only MGM picture that still has Buster's distinctive touch (director Edward Sedgwick was an old friend and allowed Keaton free reign to direct many sequences himself).
But MGM insisted on a fully completed script, a set schedule and firmly-budgeted production costs. Filming some scenes on the streets of New York City proved problematic for the crew as large crowds caused delays and impeded Keaton's preference for on-sight improvisation. The rest of Keaton's short-lived career at MGM proved one of diminishing quality, and only got worse when, with the advent of sound, MGM insisted on making him sing, dance, and bandy terrible puns instead of performing the stunts and engineering the tightly-wound gags that were Buster Keaton's hallmark. Still, for all the disappointments on the horizon, The Cameraman is an extremely successful picture. One of the first genuine romantic comedies, it strikes a perfect blend between scripted romantic elements and Keaton's penchant for improvised comedic sequences (a pantomime baseball game in an empty Yankee stadium is a stand-out). In fact, MGM used The Cameraman as a training film for the studio's comedians for decades. Keaton's influence is readily apparent in later films from the Marx Brothers and Red Skelton, among others.
The atmosphere of the screening was one of unparalleled joy: the packed audience practically exploded into applause after every comedic sequence, cheering Buster on his romantic conquest and booing the villainous rival. Everyone behaved exactly as you would like them to; I've watched many Buster Keaton films and I have my own favorite bits in each film, but without seeing them with an audience, there's no way to tell if those bits are favorites for anyone else. My favorite image in The Cameraman takes place at a public pool. Buster has been forced into a swimsuit much to large for him and, while showing off for Marceline on the high dive, lost his suit in the impact of hitting the water. Embarrassed, naked, and desperate for covering, Buster scrambles underwater, anxiously paddling away from a group of female bathers. Just then, he glimpses a large woman wearing a large, turn-of-the-century style bathing dress. With laser-eyed determination, he sets his sight on the target, dips his chin just below the water line, and glides in for the kill. The scene got one of the biggest laughs of the film, and it warmed my heart to hear my favorite part received so rapturously.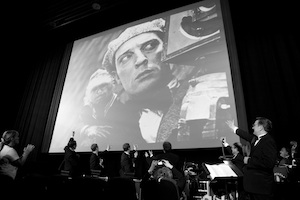 Of course, Vince Giordano and His Nighthawks only added to the frivolity. Giordano's original score was unlike any I'd heard for the film before, combining samplings of popular music of the time period and unique musical themes. Buster's theme alternated between piano and violin for his more lively and lovelorn moments. The Orchestra also provided classic silent comedy sound effects, like a slide whistle for pratfalls, cymbals for collisions, and a very nifty rattle sound for the film's hand-cranked newsreel cameras. The score also balanced diegetic music like fanfare during a ticker tape parade, with more self-referential cues like playing the MGM theme over the film's title card.
At the end of the film, the audience didn't want the Orchestra to stop. Thankfully, they indulged us with a jazzy encore, but not before doffing their Buster Keaton-appropriate porkpies to the man himself. Vince Giordano's hat was actually one of Keaton's own creations, on loan from the Buster Keaton Society. The night was a wonderful tribute to silent cinema and one of that era's greatest screen legends.