Thus far Daniel Craig's James Bond films – Casino Royale and Quantum of Solace – have been a mixed bag. While the former was a successful reinvention of agent 007 the latter threw most of those intriguing concepts away in favor of a humdrum story about water being our most precious resource. However, despite the inferior quality of Quantum of Solace there was a belief that Craig's Bond was still a viable hero, one that could be redeemed. And thankfully MGM too saw fit to keep the property alive with Craig, and will this week deliver the third Bond adventure for Craig (23rd for Bond), Skyfall.
While many of the key makings of a traditional James Bond adventure are present in Skyfall it's the franchise's newest additions, director Sam Mendes and director of photography Roger Deakins that make the biggest impact, revolutionizing the franchise and delivering one of the best James Bonds since GoldenEye, if not one of the best Bond films ever. And they do so with little effort, using Bond's general globetrotting persona and proclivity for chasing danger to heighten what is otherwise a pretty familiar story. It is by their glorious communion that Skyfall becomes a wondrously vibrant piece of cinema, and a fresh take on an old spy.
Mendes, best known for his Oscar-nominated films American Beauty and Road to Perdition, isn't what one would consider an action film director, even though a few of his films feature some poignant moments of violence. His ability to craft action sequences comes more from a visual storyteller's perspective, more so than someone who wants to impress with bombast. Don't misunderstand, Skyfall is filled with some truly thrilling sequences, namely a chase scene at the beginning, but each is motivated by a desire to provide action that might have been done before, but to do so with a visual panache that only a truly accomplished filmmaker can deliver. Mendes' action is easy to follow, and has a sense of place and space that few action directors comprehend these days.
Mendes' greatest weapon, like the Walther PPK that Bond wields in most of his films, is cinematographer Roger Deakins. After the untimely passing of Conrad Hall – one of the industry's greatest DPs – Mendes found his way into the good graces of Deakins, who previously had worked almost exclusively with the Coen brothers. Now that Mendes and Deakins have found each other they work almost symbiotically — Deakins' love of colorful light and shadow can only be heightened by Mendes' direction and vice versa. What's unique about the PPK in Skyfall is that only Bond can wield it, Q (Ben Whishaw) has programmed it to respond to the touch of Bond and Bond alone. The same could be said for Deakins cinematography: it is tailor made for a director like Sam Mendes.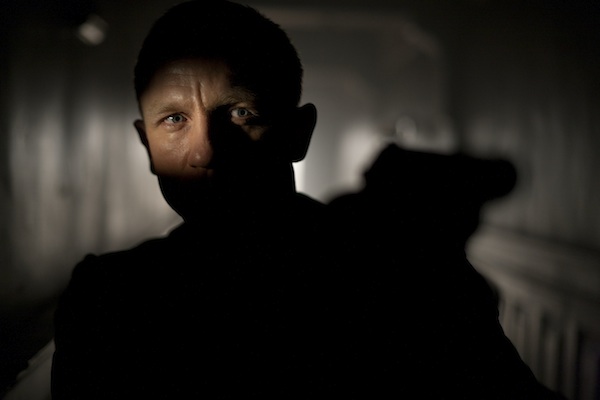 Skyfall is bold in its choices, and never falters under some truly risky action set pieces. Many of the film's more important sequences take place at night, but not in a manufactured day-for-night setting – under true darkness. It could have made for an absolute mess, but Deakins lights the action with such subtle, but oh so important, detail that each shot and scene never loses focus. But more than that, these sequences become downright awe-inspiring as ultra neon light or immense fire takes on their own character. Even from the very first shot – a silhouetted Bond coming in to frame with only his eyes and gun illuminated – it becomes clear this is a different Bond, one where the aesthetics work cohesively with the action. To say that in lesser hands these portions of the film would have been flat and unintelligible is only scratching the surface – Deakins operates on another level that few can hope to reach.
It's important to stress that Skyfall is by no means a perfect film, but its direction and cinematography help elevate the standard fare. Deakins is most assuredly destined to receive some recognition from the AMPAS, Golden Globes, A.S.C., or some combination therein, but he clearly owes a lot to Mendes regardless. Mendes found a way to deliver a darker James Bond adventure that feels so different but never loses those signature touches, and more importantly he allowed Deakins to "play around" with scenes that would allow his visual style to flourish. When all is said and done Skyfall may not be the best James Bond film, but it's certainly the prettiest.