Synopsis: When Jay and Annie first got together, their romantic connection was intense – and though they're still very much in love, ten years and two kids have cooled the passion. To kick things up a notch, they decide – why not? – to make a video of themselves trying out every position in The Joy of Sex in one marathon three-hour session. It seems like a great idea – until they discover that their most private video is no longer private. With their reputations on the line, they know they're just one click away from being laid bare to the world…but in their race to reclaim their video, they'll find that it will expose even more than they bargained for.
Release Date: July 18, 2014     MPAA Rating: PG-13
Genre(s): Comedy,
Film Review

Sex Tape is the type of comedy that sounds like a home run. A couple looking to spice up their love life decides to make a sex tape and through some technological misunderstandings the very private tape ends up in the public domain. Unfortunately, while that set-up could have lent itself to a smart, introspective comedy about rekindling one's love life in the face of current responsibilities, Sex Tape the movie only barely brushes against those ideas. It's the quintessential definition of a middle-of-the-road comedy, despite its heavy R-rating.
Jason Segel (I Love You Man) and Cameron Diaz (Bad Teacher) play Jay and Annie, two college sweethearts who were physically attracted to each other from day one. However, as Jay and Annie's relationship matured, their spark in the bedroom began to lose some of its luster. Then came kids and it was all but gone. Well aware that their sex life is no longer what it was, Annie conceives an idea: she and Jay will record a sex tape. Much like sex tapes can ignite or reignite careers, Annie believes that recording this sex tape with Jay will do the same for their love life. However, when Jay forgets to delete the tape, and it ends up shared with many of their closest friends, family, and co-workers, they face more pressing concerns than a dwindling spark. And Jay and Annie are sent on a nightlong wild goose hunt to delete every digital copy of the tape before it hurts their public, or personal lives.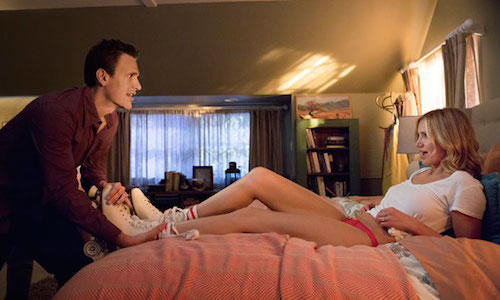 While it isn't entirely clear when Sex Tape transformed from an earnest R-rated comedy into a slapstick, hijinks-fueled romp, there's no question that a better movie is brimming just beneath the surface. The story of Jay and Annie, on the one hand, is relatable and comedically authentic, but when the two start redefining their characters midway through you start to lose the film's driving force. The film takes so many hard right turns – like when Annie's future employer (played by Rob Lowe) starts snorting cocaine and Annie decides to join him, all while Jay is outrunning the boss's bloodthirsty dog – it's jarring in the worst way. Had Sex Tape set a less heartfelt tone with Annie's opening monologue, a verbalized version of her latest blog entry about the first time her man saw her naked, Sex Tape might have coasted on its raunchy humor. Instead, every moment consistently defies the pre-established tone. And even when you ignore those heartfelt moments and take the film at face value, it's still not that funny. The word desperate came to mind more than a few times.
For what it's worth, Sex Tape is a passable comedy thanks in large part to its leads. Jason Segel and Cameron Diaz clearly have great chemistry, and you have to applaud their bravery for taking on roles that require some very revealing scenes. You even begin to suspect that maybe what they saw in the script got lost in translation. In fact, it's hard not to shake the feeling (and disappointment) that somewhere beneath Sex Tape's undeniably moronic set-ups and ludicrous punch lines there's a clever comedy about modern relationships, modern technology, and rekindling the spark; at times the film comes close, even masquerades as it for the first 20 minutes. But, as they say, the hijinks ensue.

Despite its name, Sex Tape is more a goofy R-rated comedy than a raunchy one, which is a shame because the film's sex-driven humor delivers its biggest laughs. There just isn't enough of it. You get the genuinely hilarious and awkward filming of the sex tape, and then a completely different movie steps in. This other film, while still funny in parts, charts all over the spectrum – there's drug humor, juvenile humor, and even a little physical comedy thanks to Segel, but the jokes are confusing more than anything else. Sure, there's obviously some logic to be lost in a story about a couple running around trying to delete a sex tape, as their fear drives illogical thoughts, but at some point the film stretches credulity so far it becomes hard to watch.
Is Sex Tape funny? In parts it brings the laughs, especially from Jason Segel, but the film's script is so haphazard it's hard to find the rhythm that's so important to comedies. You begin to buy into one reality, and even find it entertaining, but before long the film takes a hard turn and you're once again scratching your head.
Cast and Crew
Director(s): Jake Kasdan
Producer(s):
Screenwriter(s): Kate AngeloJason SegelNicholas Stoller
Story: 
Cast: Cameron Diaz (Annie)Jason Segel (Jay) Rob Corddry (Robby)Elle Kemper (Tess)Rob Lowe (Hank)
Editor(s):
Cinematographer: Tim Suhrstedt
Production Designer(s):
Costume Designer: 
Casting Director(s): 
Music Score: Michael Andrews
Music Performed By: 
Country Of Origin: USA