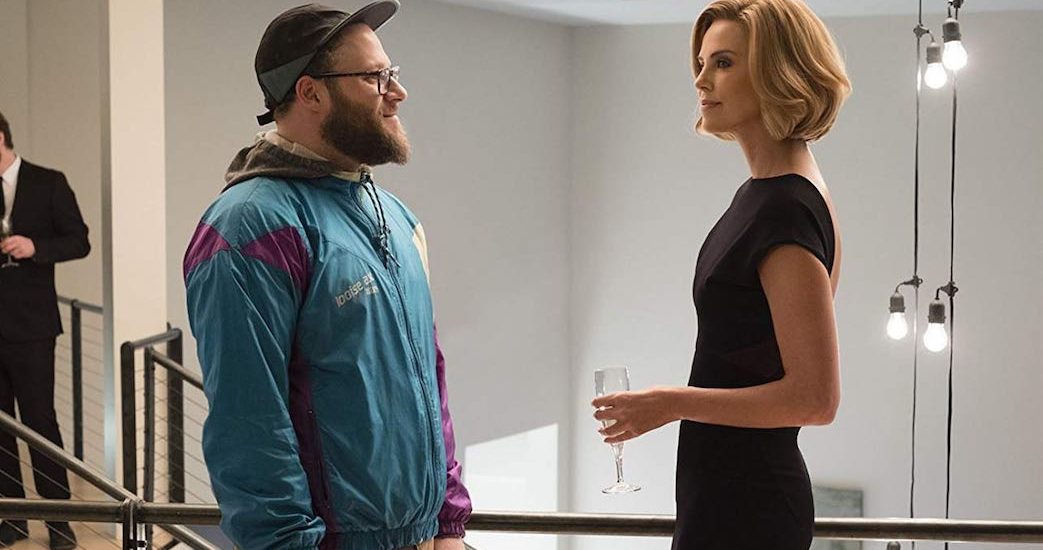 Rogen, Theron In Long Shot: Review
Long Shot wants desperately to break the mold on romantic comedies, but it fails miserably unless you like the same old thing time and time again.

Release Date: May 3, 2019
In Long Shot, Fred Flarsky (Seth Rogen) is a gifted and free-spirited journalist with an affinity for trouble. Charlotte Field (Charlize Theron) is one of the most influential women in the world. Smart, sophisticated, and accomplished, she's a powerhouse diplomat with a talent for…well, mostly everything. The two have nothing in common, except that she was his babysitter and childhood crush. When Fred unexpectedly reconnects with Charlotte, he charms her with his self-deprecating humor and his memories of her youthful idealism. As she prepares to make a run for the Presidency, Charlotte hires Fred as her speechwriter, much to the dismay of her trusted advisors. A fish out of water on Charlotte's elite team, Fred is unprepared for her glamorous lifestyle in the limelight. However, sparks fly as their unmistakable chemistry leads to a round-the-world romance and a series of unexpected and dangerous incidents.
Director: Jonathan Levine
Screenwriter(s): Dan Sterling, Liz Hannah
Producer(s): A.J. Dix, Evan Goldberg, Beth Kono, Seth Rogen, Charlize Theron, James Weaver
Cast: Charlize Theron (Charlotte Field), Seth Rogen (Fred Flarsky), June Diane Raphael (Maggie Millikin), O'Shea Jackson Jr. (Lance), Ravi Patel (Lance), Bob Odenkirk (President Chambers), Andy Serkis (Parker Wembley)
Editor: Melissa Bretherton, Evan Henke
Cinematographer: Yves Belanger
Production Designer: Kalina Ivanov
Music Score: Marco Beltrami, Miles Hankins
At some point, we as the moviegoing public (and society in general) have to tire of the same old movie cliches found in romantic comedies. In the case of Long Shot, we have a man – Journalist Fred Flarsky (Seth Rogen) who is far too unattractive to ever get hot Secretary of State Charlotte Field (Charlize Theron). That's not how I feel; it's the basis for the plot in Long Shot.
Of course, a moral is hidden inside Long Shot's plot that it's not appearance that matters but who the person is that counts and how they make you feel. That's all well and good, but Long Shot, like so many romantic comedies before it, only has debunking the myth of who deserves who in society based on their looks and station to hold itself up and appeal to its audience.
It's exhausting to watch this old, tired story play out yet again without any semblance of originality or purpose beyond a few well-timed jokes and decent chemistry between its stars. Maid In Manhattan again anyone? Because Long Shot, aside from its prolific use of foul language, drug references, and slams against the political establishment, isn't much better than Jennifer Lopez's forgettable maid meets wealthy politician rom-com. I'm not a fan of Fox News or the current inhabitants of the White House, but Long Shot is more concerned with outlining the sad state of the United States and politics on a global scale in general than building a strong story for its two love interests.
And Long Shot does not manage to make a lasting impression with its political commentary, so even that can't save it.
Long Shot's Plot Should Have the 10-Point Hotness Scale
How many times can Long Shot hammer home that Rogen's Flarsky is not an acceptable match for Theron's Field because of how he looks? It may never rate him on a 10-point scale but it might as well have. To make sure the point gets across, there's a scene in which "unattractive" well-known figures are paired with society "darlings" and [Spoiler Alert] no one thinks they should be together because of their looks.
Perhaps society does not deserve more credit than Long Shot gives it to look past appearance and embrace the fact that when two people find happiness with one another, that's enough. But screenwriters Dan Sterling and Liz Hannah (The Post) could have tried to change things up and make it more about the other issues the couple have, such as Flarsky being a button-pushing journalist and Field having to tread lightly and not ruffle feathers in her political station. That's too The American President, I guess, and smart.
Rogen, Theron Not Breaking the Romantic Comedy Mold in Long Shot
Seth Rogen and Charlize Theron in Long Shot manage to perfect the necessary far-off loving glances and intimacy-filled moments that are far too few in the film, but there's no question they will end up together. The stakes are low, the political entanglements exactly as you suspect throughout, and the climax a ridiculous grab for undeserved accolades on the part of screenwriters Sterling and Hannah.
Long Shot is not breaking the mold of romantic comedies with its opposites-attract premise; it's reinforcing what's come before it. The minute Rogen shaves his neck beard and then dons a tux, you have visions of She's All That and, by design, Long Shot loves to channel Pretty Woman. If journalists are the new prostitutes, it is a perfect analogy.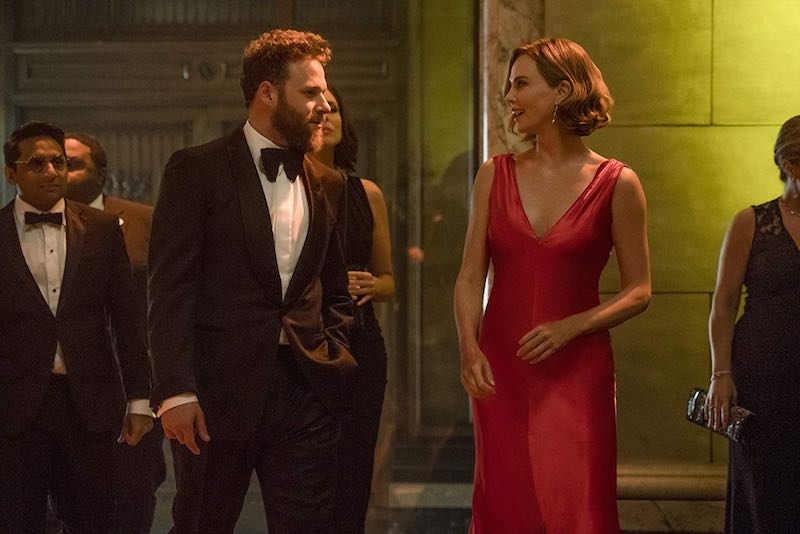 Rogen's Flarsky may be the antithesis of a journalist willing to sacrifice their beliefs for a job – you can't buy him, but he doesn't end up as an example anyone should follow. In order to get the girl [Spoiler Alert] he gives up his career to follow her around like a puppy who is so happy to have someone love him that is as hot as her that any goals he may have had or purpose disappears. So much for equality. Hell, opposites-attract The Proposal did a better job at demonstrating an equal partnership even though it began with a bribe. But Ryan Reynolds isn't in the "unattractive" box, so he has leverage – Rogen's Flarsky does not.
Long Shot is not without occasional funny moments. Rogen and Theron in Long Shot each manage to pull laughs from the viewer. Theron's Molly experience leads as the funniest scene in the film as she negotiates a hostage situation while under the influence. And it's never a terrible thing to see Rogen fall flat on his face, which he does more than once.
But Rogen and Theron can't save Long Shot from its misgivings, which is unfortunate because the two have great chemistry on screen. If you can sit through yet another romantic comedy that you can predict within the first ten minutes, go see Long Shot. You may even like the blatant reference to There's Something About Mary that is far funnier when hair gel is concerned and not a beard.