In the early eighties, legendary actor Marlon Brando had the features of his head scanned and digitized by a special effects house, thinking that someday in the near future, actors would be replaced by computer generated images of themselves, therefore rendering themselves obsolete. It is both fun and fitting that director Stevan Riley (Fire in Babylon, Blue Blood) uses these cleaned-up hologram-like Brando head images to narrate Listen to Me Marlon.
Over the course of his lifetime, Marlon Brando kept recordings of himself, talking to himself, about himself. Listen to Me Marlon whittles down the over 200 hours of tape into an hour and forty minutes of pure Brando – the man's life and work in his own words and voice. There's a weird tone to the tapes; Brando made them for himself – either as a journal, to be used in self-hypnosis, or for whatever reasons – but the listener does not get the feeling that he intended them to be private. The monologues contain plenty of personal stuff, but nothing that it would seem that Brando didn't want an outsider to know. It's almost as if he expected the tapes to be heard by the public someday.
Listen to Me Marlon basically is basically an oral history of Marlon Brando, covering the actor's entire legendary life and career. The tapes (and CG Brando head) carry most of the film, but the story is augmented by other interviews, news stories, and scenes from his movies. Of course, most of the fabled stories about the man are presented and represented. On a professional level, he talks about the notorious refusal of his Oscar for The Godfather in 1973 (citing the fact that "everything we've been taught about American Indians is wrong…all taught to us by movies") and his famous problems working with Francis Ford Coppola again on Apocalypse Now (he calls Coppola a "card-carrying prick"). His personal life is touched upon as well, with the film providing insight into the kidnapping and release of son Christian in 1972, the murder of daughter Cheyenne's boyfriend by Christian in 1990, and the subsequent suicide of Cheyenne in 1995. Brando also addresses his eccentric acting methods, talking about how he has used cue cards taped to other actors' faces and earpieces feeding him lines when he can't remember them, saying it all like he's proud of the fact that he can get away with it because, well, he's Marlon Brando. Who's going to stop him?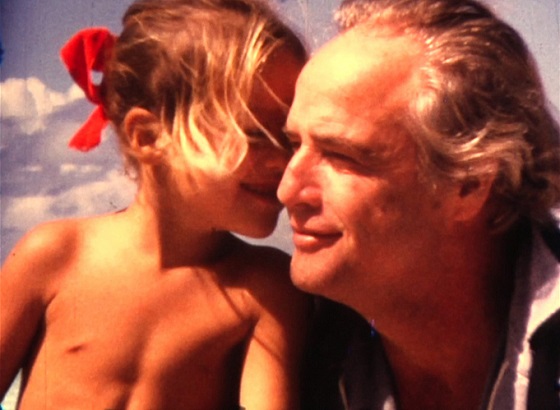 The most thought-provoking scene in Listen to Me Marlon shows Brando at a press conference right after Cheyenne's suicide. He breaks down sobbing, and it's heartbreaking to see. But, after hearing him talk for a while, the audience is left to wonder, was he just acting, or was it the most honest display of emotion that anyone had ever seen from him? And, at that point in his life, did he even know the difference?
Ultimately, Listen to Me Marlon is mostly made for hardcore Brando fans; it's more Brando than the average person will want to see or should have to be exposed to. His inner workings are sometimes poetic, sometimes reasonable. Sometimes thoughtful, sometimes philosophical. Sometimes he's absolutely crazy, but at least he's never boring. That is, as long as the viewer actually cares about him in the first place.