Synopsis: A writer indulging in all that Los Angeles and Las Vegas has to offer undertakes a search for love and self via a series of adventures with six different women.
Release Date: March 11, 2016     MPAA Rating: PG-13
Genre(s): Drama, Romance
Film Review

Hollywood A-listers seem to be lining up to work with legendary writer/director Terrence Malick. A few years ago, he attracted Brad Pitt, Sean Penn, and Jessica Chastain to his The Tree of Life. The year after that, he had Ben Affleck, Rachel McAdams, and Javier Bardem in To the Wonder. Now, it's Christian Bale's turn, along with Cate Blanchett and Natalie Portman, in the newest Malick odyssey, Knight of Cups.
Knight of Cups stars Bale as a screenwriter named Rick who, while dealing with his brother's suicide, indulges and overindulges in all of the excesses of Hollywood life. In between trysts with a number of different women (two of which are played by Blanchett and Portman), Rick connects with his other brother (Wes Bentley) and his father (Brian Dennehy). Rick's search for self and happiness find him in all sorts of situations, both joyful and heartbreaking.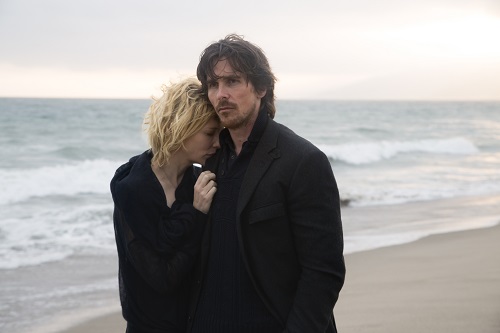 That synopsis is about as much of a story as there is to Knight of Cups. It's difficult to review a movie like this one because it's the type of film that some people will get and some people will not. The movie just floats from character to character, observing and recording Rick though each individual's eyes. Narratively, it's pretty much of a mess. Knight of Cups takes its name from a tarot card which, when upright, signifies change and new experiences. If upside down, the card represents dishonesty and unreliability. It's fitting that the movie poster features Bale upside down, because he wanders through the film in a confused state that is only rivaled by that of the audience who is forced to watch him do it. One has to wonder if Malick is making a statement about the movie industry by making his lead character a Hollywood player.
Now, from an aesthetic standpoint, Knight of Cups is great. It's got brilliant cinematography, stylish editing, wonderful acting, an eclectic score, and some very subtle-in-a-good-way sound design. Cinematography and editing can go a long way towards telling a story, but there has to be a story there to tell in the first place. Knight of Cups has none. It's nice to look at, but there's nothing below the surface. Either that, or it's too deep to be readily accessible. Either way, it's a snore. A beautiful snore.
But Terrence Malick doesn't care that Knight of Cups is a snore. He made the movie he wanted to make, and what the world gets is a heavily improvised, beautifully shot, hazily intellectual art film full of Hollywood A-list stars. Some people will get that, and some people won't.

The photography in Knight of Cups is absolutely gorgeous. Just as he did with The Tree of Life and To the Wonder, Terrence Malick tapped accomplished cinematographer Emmanuel Lubezki (who has won the last three Oscars in his craft for Gravity, Birdman, and The Revenant) to shoot the movie, and of course, Lubezki does a fantastic job. Malick and Lubezki make a great team; Malick always finds unique and interesting locations for his films, and Lubezki shoots them in creative and innovative ways. Knight of Cups is set in Los Angeles and in Las Vegas, with scenes taking place both at upscale parties and in dingy strip clubs (and everywhere in between), but Lubezki's fluid and sweeping photographic style manages to make even the seedy underbellies of the cities look breathtaking. Of course, the movie is full of the long, drawn-out one-takes that have become Lubezki's cinematic calling card, but the shots fit the loose excuse for a narrative very well, as the entire movie is one long, drawn-out experience. In all honesty, Lubezki's photography is easily the most interesting aspect of Knight of Cups. It's another proud feather in the master's already-crowded cap.
Cast and Crew
Director(s): Terrence Malick
Producer(s): Nicolas GondaSarah GreenKen Kao
Screenwriter(s): Terrence Malick
Story: 
Cast: Christian Bale (Rick)Cate Blanchett (Nancy)Natalie Portman (Elizabeth) Brian Dennehy (Joseph)Antonio Banderas (Tonio)Freida Pinto (Helen)Wes Bentley (Barry)Isabel Lucas (Isabel)Teresa Palmer (Karen)Imogen Poots (Della)
Editor(s): A.J. Edwards
Cinematographer: Emmanuel Lubezki
Production Designer(s):
Costume Designer: Jacqueline West
Casting Director(s): Lauren GreyFrancine Maisler
Music Score: Hanan Townshend
Music Performed By: 
Country Of Origin: USA