In the early nineteen eighties, with the slasher movie craze in full effect, a handful of directors were already trying to break the horror movie mold. John Carpenter, the man who ushered in the golden age of the slasher movie with Halloween, was remaking Howard Hawks' The Thing. Tobe Hooper was trading in serial killers for supernatural terror with Poltergeist. And then, there was David Cronenberg. Always a purveyor of an artful mix of both science fiction and horror, Cronenberg followed up his breakthrough film, Scanners, with the equally strange Videodrome in 1983.
Videodrome stars James Woods (Cat's Eye, Vampires) as Max Renn, the head of a Canadian UHF television station that specializes in exploitative programming. Bored with the usual softcore porn that his station has been broadcasting, Max enlists the help of a video pirate named Harlan (The Dead Zone's Peter Dvorsky), a man who tracks down illegal transmissions and unscrambles them. Harlan shows Max a Malaysian show called "Videodrome" that consists of nothing but scenes of torture and murder, and Max asks him to find out who is broadcasting the signal. In the meantime, Max appears on a talk show about sensational television programming where he defends his channel against claims of indecency from a psychologist named Nicki Brand ("Blondie" singer Debbie Harry) and a media scholar named Professor O'Blivion (Jack Creley from Dr. Strangelove or: How I Learned to Stop Worrying and Love the Bomb), an enigmatic philosopher who only appears as an image on a television screen. Max becomes infatuated with Nicki, begins to date her, and quickly finds out that she has a sado-masochistic side. In the meantime, Harlan discovers that "Videodrome"'s signal originates not in Malaysia, but in Pittsburgh, right around the same time that Nicki tells Max that she is going to be a "contestant" on the show. Wanting to stop her, Max investigates "Videodrome" further and learns that Professor O'Blivion and his daughter, Bianca (Sonja Smits from "Traders"), are behind the show. He also learns that it is much more than a television show; it is a phenomenon that controls the minds and senses of everyone who views it. By the time Max learns the truth about "Videodrome," he and Nicki may already be in too deep.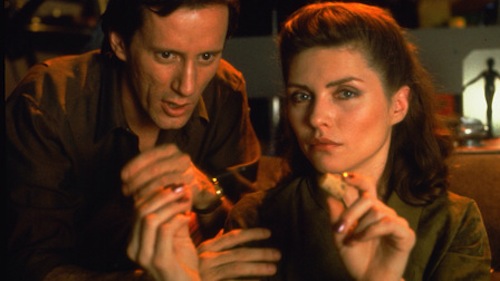 As a writer and director, David Cronenberg is as close to a modern auteur as one is apt to find, and Videodrome shows off his twisted vision. The film is dark, gruesome, and extremely surreal. Released during the infancy of home video and cable television, Videodrome makes some interesting social statements about the power of mass media and the effects of perceived violence, as well. Are people in control of the visions onscreen, or is it the other way around? Whether Cronenberg is trying to make an important political point or just scare people with a freaky movie, one thing is for sure: Videodrome is not an easily forgettable film.
One of the aspects of Videodrome that makes it so unforgettable is the special effects, designed by the one and only Rick Baker (Star Wars). Still basking in the glow of his Oscar Award winning effects from An American Werewolf in London, Baker went schlockier and stranger with Videodrome. Not content with simple blood and guts effects, Baker employs a little of everything in his visuals; there are breathing videotapes, morphing television screens, melting electronics, and, of course, torture gore. The most memorable (and impressive) makeup effect is a gash in Max's abdomen in which O'Blivion's minions place Betamax tapes to program him once he is brainwashed; whole hands, including the tapes that they are holding, are shoved wrist-deep into the stomach of a screaming James Woods, and everything winds up covered in slimy, slippery goo. While they may not be as visually impressive as the famous transformation scene from An American Werewolf in London, the visuals in Videodrome are anything but typical, and Baker's special effects help make the film the disgusting masterpiece that it is.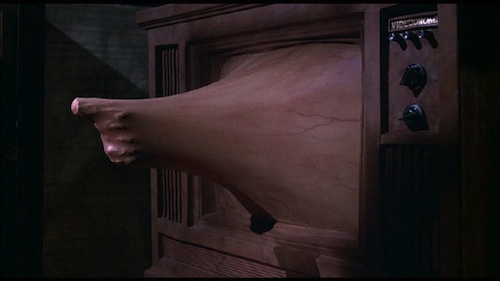 Working in tandem with Rick Baker's effects, the cinematography of Mark Irwin (Scream) is another huge part of Videodrome's effectiveness. Irwin was David Cronenberg's steady cinematographer for the early part of his career, up to and including The Fly in 1986. Cronenberg's early films have the dark grittiness that is Irwin's signature, and Videodrome is no exception. Videodrome is painstakingly lit to look like it isn't, and Irwin gets extra credit for dealing with photographing all the television sets in the film with very few visual roll bars. Mark Irwin knew what David Cronenberg wanted with Videodrome, and he delivered it in spades.
The score for Videodrome was provided by another one of Cronenberg's longtime collaborators, composer Howard Shore (who, in addition to scoring everything from The Brood to Cosmopolis for Cronenberg, also did the music for tons of Hollywood blockbusters, including the The Lord of the Rings movies). Shore's music is every bit as bizarre as the film, starting out as traditional orchestral film music and devolving into electronically synthesized pieces that perfectly echo Max's steady decent into madness. Shore's soundtrack mirrors the technological mistrust that is a theme of the film. Like Cronenberg, Shore is a pro, and Videodrome's music remains a groundbreaking and influential composition.
In recent years, David Cronenberg has turned to more "serious" directing, making mainstream films like A History of Violence, Eastern Promises, and A Dangerous Method. Science fiction and horror fans may lament the change, but they'll always have his disturbing body of early work to remind them of his former glory. Videodrome deserves to be near the top of that list.