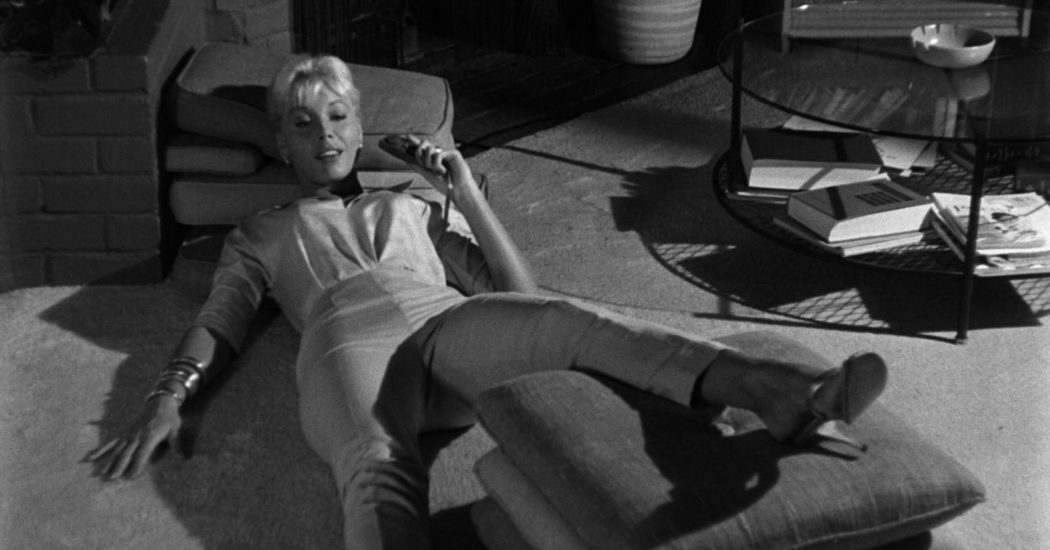 Cinema Fearité presents 'Private Property'
'Private Property' is a home invasion/noir crime thriller that, thanks to the UCLA Television & Film Archive, can now be seen by generations to come.
Home invasion movies exploit a realism that makes them more frightening than the average horror movie. There's a "that could really happen!" aspect to them. Some movies, like The Strangers, take a suspenseful route while others, like You're Next, go more over-the-top, and still others, like Funny Games, expertly combine the real and the surreal. But decades before any of those films were made, in 1960, there was a lost noir thriller about a home invasion, an economical little movie called Private Property.
Private Property is about a thug named Duke (Corey Allen from Rebel Without a Cause) who hangs out near the Los Angeles beach with his dim-witted-yet-equally thuggy friend, Boots (The Wild Bunch's Warren Oates). When Duke finds out that Boots has never been with a woman, he offers to pick one up and pass her along to him. They find their mark in a beautiful young housewife named Ann Carlyle (Kate Manx from Hero's Island) who happens to pull into a gas station where the two goons are loitering. They follow her to her palatial home in the Hollywood Hills, and as luck would have it, the house next door is abandoned.
The guys set up shop and begin stalking her, with Duke convincing Ann to give him a job as a gardener and pool boy while Boots looks on voyeuristically from the upstairs window of the neighboring hideout. As Duke gets to know Ann, he learns that she is trapped in an unfulfilling marriage with a neglectful husband, and that she may be more sexually open minded than he had originally thought. Tempers flare between the guys when Duke has second thoughts about passing the beautiful – and willing – woman over to Boots, until the entire situation boils over.
Private Property was written and directed by Leslie Stevens, who would go on to create influential television series "The Outer Limits" and "Buck Rogers in the 25th Century." Despite its architect's penchant for science fiction and the fantastical, this home invasion movie is based firmly in realism, and its economical elegance only adds to its minimalist style. Stevens made the film for less than $60,000, shooting most of it in and around his own home and backyard, calling in favors to assemble a crew, and even casting his own wife in the lead. At the time of its release, Private Property impressed neither critics nor audiences, and quickly fell into obscurity.
And Private Property got lost. Literally. All prints of the film vanished. For over 50 years, no one could see Private Property, whether they cared enough to try or not. Lucky for film fans and historians everywhere, a print was uncovered in 2015 and restored by the UCLA Television & Film Archive, and Private Property was given a new, this time much more appreciated, lease on life. In retrospect, both critics and audiences seemed to warm to the film, seeing it as the triumph of independent cinema that it is.
On its surface, Private Property is little more than a combination of a noir crime film and a home invasion movie. But on a deep dive, it's apparent that it is much more than that. Duke and Boots aren't kick-in-the-door home invaders. They're not even sneak-in-a-back-window ones. These guys charm their way into Ann's home, much like the sneaky antagonists of movies like Fatal Attraction and Wait Until Dark. Ann is a willing participant in the cat-and-mouse game that Duke plays with her, and while his seduction isn't as shocking to modern eyes as it was to initial sixties moviegoers, the fact that his plans are known from the start make him even more of a bastard. Of course, it's difficult to feel sorry for Ann; she's hardly a femme fatale, but she does have secrets of her own. And her naively idiotic decisions have the viewer practically screaming warnings at her through the screen. Private Property is a shocking movie when you consider the simpler, more innocent time during which it was made.
Photographically, Private Property looks incredible, mostly because Leslie Stevens enlisted the services of world-class cinematographer Ted McCord (East of Eden, The Treasure of the Sierra Madre, The Sound of Music) to shoot the film. Even though most of the action in the movie takes place in the harsh light of day, McCord treats Private Property like the film noir that it is, utilizing interesting angles that seemingly place the camera anywhere and everywhere, whether it's looking up at a character to make them appear 10-feet tall or peeking through a glass of liquor to emphasize their inebriation. McCord also plays up the voyeuristic aspects of the movie by having his lens gaze through fences and window panes, putting the viewer right next to Duke and Boots as they peep on Ann. McCord's playing with the locations and props as part of the photography make Private Property look both ominous and whimsical. It's a strange combination, but McCord pulls it off.
The score for Private Property sounds exactly how a film noir soundtrack should. The music, composed by Pete Rugolo (Jack the Ripper, Death Cruise), is bombastic and dramatic, emphasizing every single plot point with an ear-piercing violin sting or a thunderous orchestral wallop. At first, it seems a bit over-the-top, but once the audience gets used to it and realizes that the buoyantly cinematic score is a conscious choice by the composer and director, it starts to make a bit of sense and gels with the "surreal realism" of the movie. The storyline of Private Property is ultra-believable, so the cinematography and the music are allowed to reel it back into the world of make believe. What's left is, in a nutshell, a classic crime movie.
By today's standards, Private Property is rather tame. Heck, it's even sterile for its day when you think about the fact that it was released in the same year as Psycho in America and Peeping Tom in England. But it did hit a nerve with some audiences who alternately likened it to pornography and exploitation films. Those comparisons are debatable. And thanks to the UCLA Television & Film Archive, people can do just that, as Private Property can now be seen and enjoyed by anyone who wants to see and enjoy it.