There's a Friday the 13th this week.  So, it's as good a time as any for Cinema Fearité to take a look at the wackiest – and most maligned – entry into the popular and prolific Friday the 13th franchise, the ninth film in the series, the one made in 1993 after Jason had gone everywhere else in the world, Jason Goes to Hell: The Final Friday.
Jason Goes to Hell: The Final Friday begins with the end.  A young woman (stuntwoman Julie Michaels from Halloween H20 and Road House) ventures to Camp Crystal Lake.  Of course, Jason Voorhees (horror icon Kane Hodder in his third time playing the role) shows up and tries to kill her.  After chasing her around for a bit, Jason is led into a clearing that is suddenly lit up with bright flood lights.  A militarized team of FBI agents opens fire, throwing everything they have at the notorious serial killer until he is literally blown into a hundred little pieces.  Game over, Jason.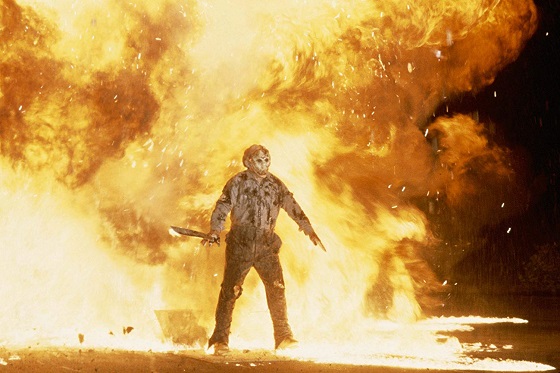 Or so they think.  Jason's remains are brought to a coroner (Godzilla's Richard Gant), who suddenly feels compelled to eat the killer's disembodied heart.  This causes the man to be possessed by the spirit, strength, and attitude of Jason, so he goes on a murderous rampage.  Jason's spirit also switches between bodies as he kills his way towards his last remaining blood relatives: his half-sister Diana Kimble (Erin Gray from "Buck Rogers in the 25th Century"), her daughter Jessica (Kari Keegan from Mind Games), and Jessica's baby daughter Stephanie (an uncredited Brooke Scher).
A bounty hunter named Creighton Duke (It's Steven Williams) who has been trailing Jason explains to the family that the villain needs Baby Stephanie's body to become whole again, and that he can only really be killed by a special dagger that is wielded by a blood relative.  Along with her boyfriend, a tabloid reporter named Robert Campbell (Captain America: The Winter Soldier's Steven Culp), and Stephanie's dad, a slacker named Steven Freeman (John D. LeMay from The New Kids), Jessica must fight whoever is possessed by Jason to save her daughter.
If that sounds like a weird plot for a Friday the 13th movie, well, that's because it is.  After the disappointing box office performance of Friday the 13th Part XIII: Jason Takes Manhattan, Paramount Pictures sold the rights to the Jason Voorhees character to New Line Cinema, who took a decidedly different approach to the franchise than Paramount did.  Original Friday the 13th film director Sean S. Cunningham signed on to produce, and director Adam Marcus (Texas Chainsaw 3D) cooked up the story and script along with screenwriters Jay Huguely ("Silk Stalkings") and Dean Lorey ("Arrested Development"), and Jason started his trip to Hell.
And of course, fans got angry.  Jason Goes to Hell: The Final Friday is generally regarded as the stupidest entry into the franchise, mostly because of the supernatural elements to the story.  Between the magical object plot point and the presence of John D. LeMay, the movie feels like a long-form episode of television's "Friday the 13th: The Series," which had ended its unspectacular run a few years earlier.  And like "Friday the 13th: The Series," in its time, Jason Goes to Hell was reviled.  It's only in retrospect that the film, much like other franchise black sheep movies like Halloween III: Season of the Witch and Book of Shadows: Blair Witch 2, has found its cult audience.
The biggest problem that hardcore Friday the 13th fans had with Jason Goes to Hell: The Final Friday was the film's treatment of their beloved Jason character.  For most of the series, Jason had been a powerful, almost supernaturally invincible foe, the type that fanboys love to root for to win, especially as the victim characters became more and more expendable.  But Jason Goes to Hell took things a step further, transforming Jason into a paranormal figure, a spirit that can enter and leave bodies as he sees fit (illustrated by a brilliant camera trick in which whomever is possessed looks like Jason when they're reflected in mirrors).  Because of this, Jason can be anyone, and is in fact portrayed by a handful of actors in the film – basically every actor who plays a character that gets taken over by him (Hodder stills does the honors as Jason in his normal form).  Jason has never been subtle, so fans rebelled against this new interpretation.  They wanted the hockey mask-wearing mountain who walked right up to his victims in broad daylight, and Jason Goes to Hell gave them a sneaky shapeshifter.
Besides Cunningham and Hodder, there is another name familiar to Friday the 13th fans in the credits of Jason Goes to Hell: The Final Friday.  The musical score for the film was done by Harry Manfredini (The Horror Show, Swamp Thing), who scored all of the other Friday the 13th movies except, curiously, for Friday the 13th Part VIII: Jason Takes Manhattan (that one was composed by Fred Mollin, who worked with Manfredini on Friday the 13th: Part VII: The New Blood, but that's a whole other story).  Having Manfredini in the fold gives the music for Jason Goes to Hell a consistent feel, providing fans with something that they can grab on to so that they know that they're watching a Friday the 13th movie.  The score is pure Manfredini, too; it is undoubtable a Friday the 13th soundtrack.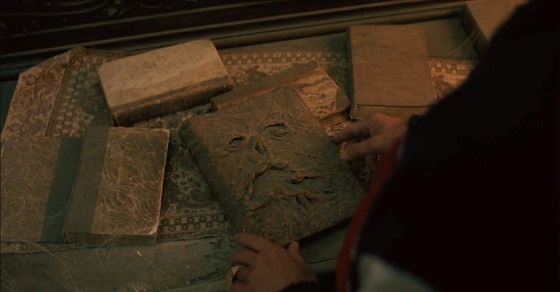 Although it's not quite as meta as, say, Wes Craven's New Nightmare, Jason Goes to Hell: The Final Friday is full of winks and nods to other horror films.  With the Jason's half-sister story, it practically lifts plot points right out of the middle trio of Halloween movies.  The third act is ushered in by a They Live-style wrestling fight between Steven and his cop buddy Randy (Kipp Marcus from "The New Leave It to Beaver").  It gets more obvious than that, though; not only does the Necronomicon actually show up in a scene, but Jason possesses one victim in a way that is an obvious tribute to "that" tree scene from The Evil Dead.  And, at the risk of spoiling the ending, once Jason is defeated, his mask is pulled down to Hell by the arm of none other than Freddy Krueger, setting up the ultimate horror crossover, Freddy vs. Jason, that would eventually be made ten years later (thanks to the New Line deal mentioned earlier).  Corny, yes.  But by the time it hit nine movies (and its second studio), that's what the Friday the 13th franchise had become.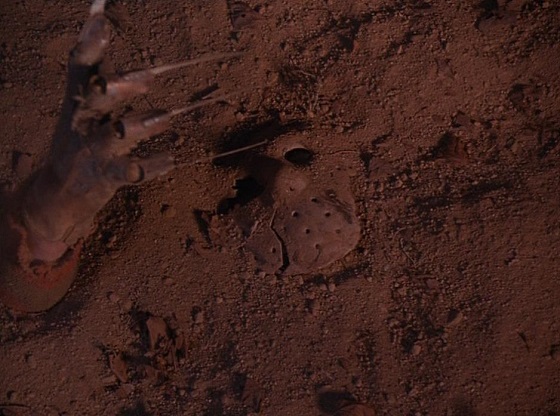 Jason Goes to Hell: The Final Friday hardly lived up to its name.  It wasn't the "Final Friday," as Jason would find himself going where all good horror villains go – to space – in 2001's Jason X before facing off with Freddy in 2003 (again, that's what the Friday the 13th series had become).  Jason Voorhees jumped the shark when he went to Manhattan, but going to hell made sure that he could never jump back.