In 1978, John Carpenter's Halloween ushered in the Golden Age of the Slasher Movie, spawning dozens (if not hundreds) of imitators. In order to separate themselves from the rest of the pack, many golden age slashers would take pride in their ability to come up with new and inventive ways to kill kids. It didn't take long for this to become the formula, either; as early as 1981, one movie bragged about including "six of the most bizarre murders you will ever see" on its theatrical poster. That movie was Happy Birthday to Me.
Happy Birthday to Me stars Melissa Sue Anderson ("Little House on the Prairie") as Virginia Wainwright, a young woman who, because of a tragic accident, had to undergo experimental brain surgery as a girl. Now recovered, Virginia attends the Crawford Academy where she is one of the "Top Ten" – a group of students who essentially run the school. One by one, the Top Ten begins to disappear, leaving them to not only wonder what is happening to them, but who is next. With Virginia's birthday party coming up, she and her friends try to figure out what's going on before there is no one left to come to her party.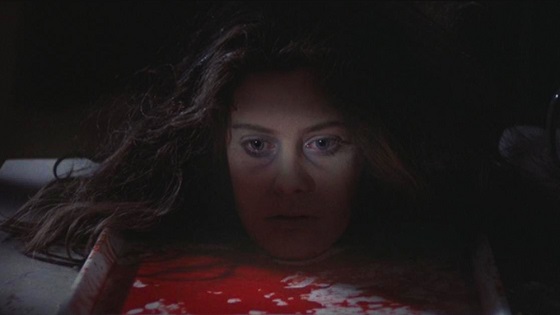 The big trend of the Golden Age of the Slasher, also pioneered by Halloween, was to make a movie based upon a special occasion, be it a holiday like My Bloody Valentine or Silent Night, Deadly Night, a specific date such as Friday the 13th or April Fools Day, or a celebratory event like Prom Night or Graduation Day. Obviously, Happy Birthday to Me is one of these movies, revolving around the upcoming birthday of Virginia. The screenplay was cooked up by John Saxton (Class of 1984, Ilsa: She Wolf of the SS), Peter Jobin (Pact with the Devil), and Timothy Bond (who directed a bunch of episodes of the "Goosebumps" TV show), along with some uncredited help from John Beaird (My Bloody Valentine), and handed to director J. Lee Thompson (Cape Fear, The Reincarnation of Peter Proud) to be turned into a bona-fide slasher classic.
Even though it is clearly a horror movie, Happy Birthday to Me has a weird focus to it. It almost feels like it may be too big and ambitious for its own good, packing too many subplots and side stories into the narrative and leaving the audience to wonder what the real story is. The search for the missing students turns into a hunt for their abductor/murderer, while Virginia's mysterious past and the soap opera antics of the Top Ten also become significant plot points as the film goes on. The killer is seemingly revealed very early on in the movie, about halfway through, so the tone of the picture at that point makes a clean switch from slasher whodunit to psychological thriller. Even with the suspected murderer's identity out in the open, false flags and red herrings run rampant throughout the narrative, and the climax to the movie reveals a clever twist that is part M. Night Shyamalan and part Scooby Doo mystery.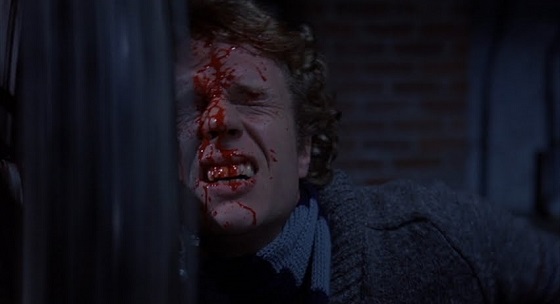 The body count in Happy Birthday to Me is pretty standard for a slasher movie; there are eight deaths in the film (nine if you count one in a flashback scene of Virginia's accident). Although the promotional campaign promises six bizarre murders, only three of the killings are really out of the ordinary. In one, which is depicted on the poster, a boy has a shish kabob skewer shoved into his mouth. In another, a young man is killed while he cleans his motorcycle, the killer using the bike as a weapon. The third occurs when the murderer uses a bodybuilder's weights against him. The rest of the killings are typical straight razor, garden shears, and fireplace poker kind of stuff; still fun, but not as creative as the tagline would suggest.
The ensemble cast that makes up the cannon fodder in Happy Birthday to Me are by no means famous actors and actresses, but many of them are experienced veteran performers. Thanks to her stint on "Little House on the Prairie," Melissa Sue Anderson is the most recognizable face, but Glenn Ford (Superman, 3:10 to Yuma) provides his household name to the film as Virginia's doctor as well. The rest of Crawford Academy's "Top Ten" consists of Jack Blum (Meatballs), Matt Craven (Jacob's Ladder), Lisa Langlois (The Nest), David Eisner (Bless the Child), Lenore Zahn (Visiting Hours), Richard Rebiere (Heavenly Bodies), Lesleh Donaldson (Curtains), Tracey E. Bregman ("The Young and the Restless"), and Michel-René Labelle (Ilsa the Tigress of Siberia). Adult-wise, Laurence Dane (Scanners, Bride of Chucky) plays Virginia's father and Frances Highland (The Changeling) appears as the headmistress of the school. Not exactly bell-ringing names, but there are some familiar faces in Happy Birthday to Me.
The music in Happy Birthday to Me includes a little of everything that made the soundtracks to early eighties horror movies fun. The score was a collaboration between composer Lance Rubin (Motel Hell) and soundman Bo Hardwood (Terror Train, Night of the Demons), so it walks a fine line between musical accompaniment and sound design. There are plenty of Psycho-esque synthesizer stings, but they're tastefully mixed with haunting and beautiful piano and string arrangements, all of which keep the tension high and the creepiness flowing. And, because it was released in 1981, there is a requisite disco dancing scene. There's a musical styling or a shocking sound to please everyone in Happy Birthday to Me.
Modern slashers like Stage Fright, Detention, and the Hatchet movies constantly challenge themselves to come up with bigger and better kill scenes in order to keep the fans horrified and happy. Because of this bolstered creativity, many of these newer films read like loving tributes to golden age slashers such as Happy Birthday to Me. And that's perfectly fine.