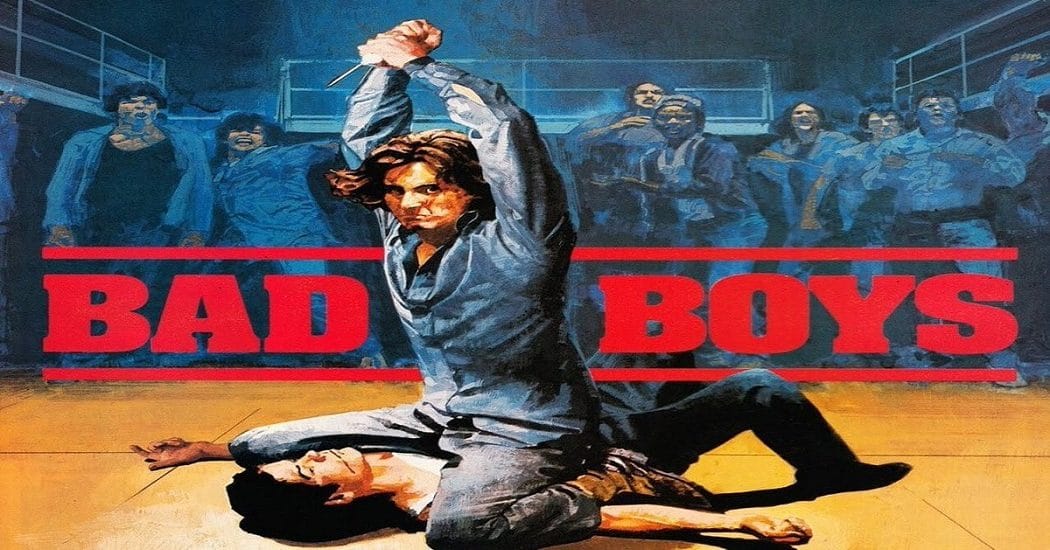 Cinema Fearité presents 'Bad Boys'
Sean Penn put himself on the map as a serious actor with Rick Rosenthal's 'Bad Boys.'
The era of modern cable television can be confusing and frustrating. One could be surfing through the channel guide and see Gladiator, but end up watching a movie about underground boxing instead of Roman fighters. One could click on Crash and wind up seeing the weirdest Cronenberg movie instead of the weirdest Best Picture Oscar winner. Kids who are looking for the safety and comfort of Frozen may wind up watching an Adam Green horror film. And people looking for a Michael Bay buddy cop action comedy might end up with a movie about a juvenile detention center if they catch the wrong (or right) Bad Boys.
Bad Boys is about a street thug named Mick O'Brien (Sean Penn, fresh off of his starmaking turn in Fast Times at Ridgemont High) who, during the course of one of his criminal exploits, accidentally kills the little brother of his biggest gang rival, Paco Moreno (La Bamba's Esai Morales). Mick is sent to juvenile hall, where, as the New Guy, he finds himself being harassed by yard bosses Viking (Clancy Brown from Cowboys & Aliens and John Dies at the End) and Tweety (Dressed to Kill's Robert Lee Rush). With the help of his cellmate, a whiz-kid named Horowitz (The Zoo Gang's Eric Gurry), Mick is able to rise to the top of the prison pecking order before too long. He seems to have it made with just six months left on his sentence when his arch-enemy, Paco Moreno, winds up in the same jail, looking for revenge.
After the success of his Halloween II, director Rick Rosenthal pounded out a few episodes of the short-lived "Darkroom" television series before making Bad Boys his next theatrical project. The screenplay was written by Richard Di Lello (Colors), and it fits in nicely with the late seventies/early eighties trend of exploitive films that artificially inflated the threat of street crime to attract an audience, movies like The Warriors, Class of 1984, Savage Streets, and even Assault on Precinct 13. Bad Boys is a step above the rest of these movies, however, mainly because of its first-rate cast.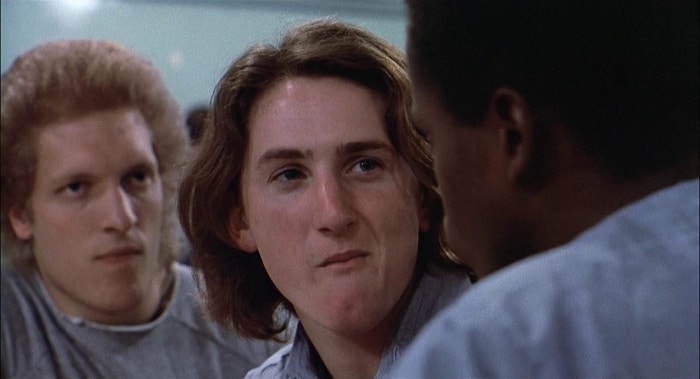 And the lead of that first-rate cast is Sean Penn. If Fast Times at Ridgemont High made Penn a household name, Bad Boys put him on the map as a serious actor. Even back in 1983, Penn was completely method, growing his hair out and getting tattoos to physically transform himself for the role (at the request of his mother, he stopped just short of breaking out some of his teeth). For research, Penn went on ridealongs with the Chicago Police Gang Unit, and was even mistaken for a gang member by another unit and roughed up a bit. During a scene where Mick is first brought to the facility and must do the prison walk to his cell, Penn encouraged the extras to really spit on him. Way back then, Penn was already willing to do whatever it takes to make a convincing movie.
The depiction of jail in Bad Boys is the most horrific aspect of the movie. While Mick is only thrown into a juvenile detention center (as opposed to an adult prison), it is still a brutal and violent environment. The "barn bosses" have their run of the place, assaulting and stealing from anyone and everyone in the yard. Some inmates fight back, and these battles are graphic and ruthless. Any object around the facility, from a piece of sharp metal found in a firepit in the agriculture yard to a ghetto blaster radio that's rigged to explode, can be used as a weapon, resulting in some terrible injuries…or worse. The frank portrayal of violence is what sets Bad Boys apart from more tame prison movies.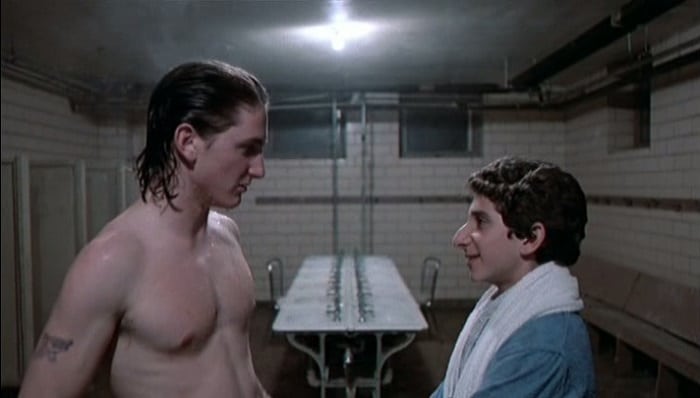 In spite of all of the bloodshed, Rick Rosenthal still went to great lengths to humanize his characters. The director plays with the viewer's emotions right from the start by showing pictures of his thug characters as children over the opening credits. Indeed, there are no good guys in Bad Boys, just different shades of gray. The anti-hero, Mick, is just as big of a villain as his nemesis, Paco. In order to help the audience side with Mick, Rosenthal emphasizes the devoted and loving relationship he has with his girlfriend, J.C. (The Breakfast Club's Ally Sheedy). On the flip side, Rosenthal shows the affection that Paco has for his little brother (the one that Mick accidentally kills). Even the toughest of the inmates shows a softer side – Viking breaks down when he gets some bad news about his best friend Tweety. These prisoners aren't monsters, they're people. And Rosenthal makes sure that the audience knows that.
Two cinematographers worked on Bad Boys: Bruce Surtees (Play Misty for Me, Psycho III) and Donald Thorin (Thief, Purple Rain). The nighttime scenes on the streets are dirty and gritty, more incandescent than neon, full of areas of shadows and darkness in which the denizens of the night can hide. The jail scenes are brighter, but just as grimy. Surtees and Thorin capture the claustrophobia and isolation of the situation, even though the prison room itself is cavernous. Surtees and Thorin manage to make a grindhouse movie look like an Oscar bait film. Which is basically what Bad Boys is: an Oscar bait grindhouse movie.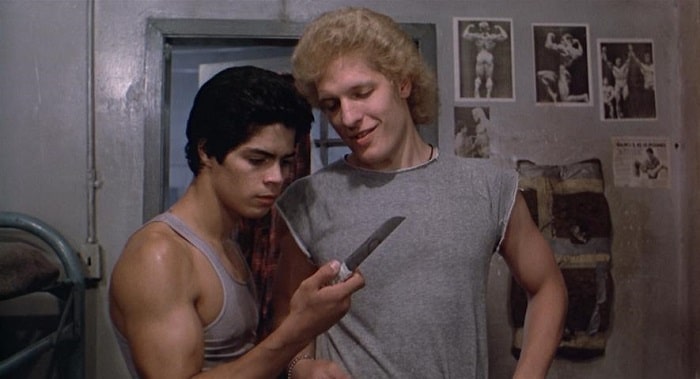 Speaking of Oscar bait, the score for Bad Boys was written by big-time Hollywood composer Bill Conti (Rocky, The Right Stuff). Conti's music is as schizophrenic and two-faced as the film's characters, peaceful and easy one minute and wildly cacophonous the next, sometimes all within the same short piano and string piece. The soundtrack is bolstered by songs from an eclectic mix of artists ranging from the hot funk of George Clinton to the soft pop of Little River Band, from the raucous guitar slinging of Billy Squier to the galloping heavy metal of Iron Maiden. Music is an important element in Bad Boys, and between Conti's crazy score and the wild mix of timeless tunes, the soundtrack is spot on.
Titles can't be copyrighted, so there's always going to be a chance that people who are looking for great music documentaries like The Kids are Alright and Gimme Shelter are going to end up seeing either Julianne Moore and Annette Bening or Vanessa Hudgens and Rosario Dawson. But sometimes, these redundant titles can lead to happy accidents. Sometimes, when you're looking for Martin Lawrence and Will Smith, you'll end up with Sean Penn and Esai Morales. And you won't be disappointed with this Bad Boys.