'Movie Title' Review
Ferocious creatures meet their Girl-Powered match in 'Book of Monsters.'
Release Date: March 19, 2019
Sophie's 18th birthday becomes a bloodbath when monsters descend upon her house and start to devour the party guests. Sophie and her friends must rally together to send their party crashers back to hell.
Director: Stewart Sparke
Screenwriter: Paul Butler
Producers: Stewart Sparke, Paul Butler 
Cast: Lyndsey Craine (Sophie), Michaela Longden (Mona), Lizzie Stanton (Beth), Anna Dawson (Arya), Rose Muirhead (Jess), Steph Mossman (Pandora), Nicholas Vince (Jonas), Daniel Thrace (Gary), Arron Dennis (Carl), Julian Alexander (Brice), Julia Munder (Helga)
Editor: Stewart Sparke
Cinematographer: Hamish Saks
Production Designer: Sam Hunter
Music Score: Dave S. Walker 

Zombies are old hat.  Vampires, too. Even slashers have gotten pretty generic since their heyday in the eighties. But one subgenre of horror movies that never gets old is the creature feature. And movies like Book of Monsters keep that faith alive.
Book of Monsters is about a high school girl named Sophie (Lyndsey Craine) who is looking forward to celebrating her 18th birthday with a small gathering. Her friends Mona (Michaela Longden) and Beth (Lizzie Stanton) have other ideas, and circulate flyers for the party, turning the intimate get-together into a raging party. The extra guests are the least of Sophie's problems, though; when one of the guests finds a mysterious tome called The Book of Monsters that belonged to Sophie's mother and was gifted to her by her father, a troop of beastly creatures is released upon the revelers. Sophie and her friends must band together to defeat the monsters.
Written by Paul Butler and directed by Stewart Sparke (the same duo behind The Creature Below), Book of Monsters is an awesome throwback to everything that horror fans loved about movies in the eighties.  Story-wise, there's not much there. Change a few plot details, and it could be a remake of Night of the Demons. But that's a big part of its charm. There's an energy and electricity to Book of Monsters that is sorely lacking in many modern horror movies. Plus, Book of Monsters is just plain fun. Good old-fashioned retro-horror fun.
There's a noteworthy Girl Power angle to Book of Monsters, too. Although pretty much all of the party goers are just simple cannon fodder for the monsters, the male characters are particularly useless. It's up to the ladies to save the day, and yes, the girls kick ass. It may not be slick or sleek enough to stand alongside other feminist manifestos like Annihilation or The Descent, but Book of Monsters is a new chapter in the story of strong female horror characters.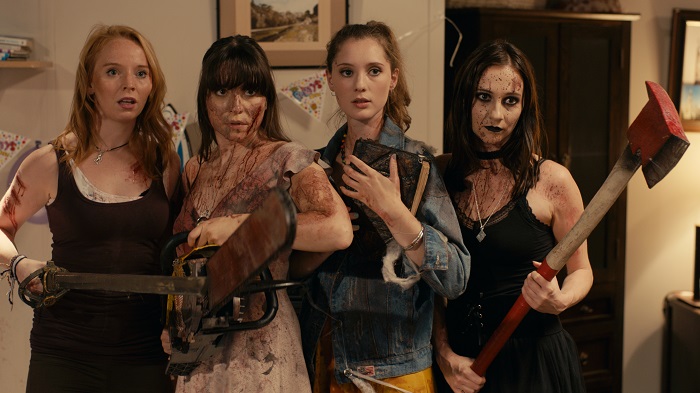 Book of Monsters is a remarkable tribute to independent microbudget filmmaking.  Sparke and Butler rallied their cast and crew from a list of people with whom they'd worked previously on The Creature Below, raised their money any way they could (there was even an inventive Kickstarter campaign in which backers could choose which monsters, kills, and weapons would appear in the film), and made their damn movie. And that spirit and camaraderie is apparent in the finished film. Book of Monsters looks like it was as much fun to make as it is to watch.

In true retro-horror style, the special effects in Book of Monsters are awesome, and they're all practical. The monsters were designed by The Creature Below alumni Paul Wilkins, who also served as the head puppeteer for the most memorable beast, an antler-stacked Wendigo (but he's not the most fearsome, that's the hook-wielding Slasher, portrayed by Paul's brother, Mark, who was part of the effects makeup team). The myriad of creatures that attack the party include things like shapeshifting demons and possessed lawn gnomes, and their looks seem to have been influenced by everything from The Dark Crystal and "Stranger Things" to Tremors and General Grievous from the Star Wars prequels. Together, they're the stuff of nightmares.
Which brings us to the gore effects.  When the monsters strike, they do so in a merciless barrage of blood, guts, slime, and ooze. Victims get decapitated and eviscerated, mutilated and dismembered. At times, the kills just seem like the special effects team is showing off, constantly trying to one-up themselves with each new death. Sure, the effects are campy, but so is the rest of the movie. Book of Monsters is a slimefest that will have fans grinning from ear to ear. 

Retro-horror was rarely scary even when it wasn't retro, so a movie that wears its eighties influences on its sleeve like Book of Monsters doesn't have a lot of scares to it. The monsters are frightening, and they kill with a ruthless efficiency, but they're obviously fantasy, and the heroes dispose of them quickly and easily enough so that the stakes never get too high. Even the kills, as impressive as they are, are more silly than scary. The attraction of Book of Monsters is watching the battle instead of cowering in a corner, so the lack of genuine scares doesn't really detract from the movie at all. But those expecting to jump out of their skin at every turn may be a bit disappointed.