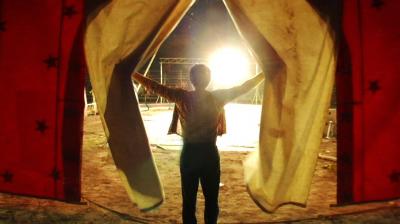 American writer/director Aaron Schock wanted to make a documentary about a traveling circus, but in the U.S. that kind of entertainment is a relic of a bygone era. So, he went to Mexico. The subject of Schock's film, La Gran Circo de Mexico, is nowhere near as majestic as its name, consisting only of members of the Ponce family who can trace back their participation in the circus business a century. The leader of the family now, Tino Ponce, is a man determined to live and die by the circus. He and his wife Ivonne are raising their four children in the hardscrabble, nomadic existence of a traveling circus troupe. Circo doesn't spend much time on the ins and outs of the circus show or what appeal these small entertainments have on the out-of-the-way Mexican villages they visit. Schock's primary concern is on the Ponce family dynamic, immediately presenting the intense physical labor it takes to put on a new show in a new town every day, and then slowly revealing the even more severe psychological toll Tino's fanaticism wreaks on his wife and children. Circo has all the drama, heartbreak, and familiar discord of a telenovella, made all the more wrenching for its authenticity.
At the heart of the documentary are the Ponce children. As Tino says in a double-edged insight, "Without children, there is no circus." Alexia, the eldest girl, is a talented gymnast and contortionist; middle sons Moises and Julio practice gymnastics, train as clowns and walk the high wire; as the eldest son, Cascaras trains as the troupe's animal trainer and ringmaster, prepping to replace his father. Everyone does everything. At the crack of dawn, they help Tino set up the massive big top and take it down every night. Cascaras drives the semi truck of supplies from one remote village to the next. Every family member has multiple acts in each performance, a burden that wears heavily on young people who can't quite understand why they're doing this.
Tino's children are enacting a legacy. Tino's father trained him and his three brothers—whose families all have their own circuses—in the only trade he knows. Generational tension is high; Tino's father still collects most of the circus' meager profits, to the great frustration of Tino's wife, Ivonne. Tino is a stubborn man, set in the old ways of tradition and these traditions are sometimes hard to stomach. In one scene, Tino's niece Naydeline, who can't be more than five years old, is forced to practice backflip after backflip at the insistence of her grandmother. The young girl screams and cries while contorting endlessly; all she wants to do is perform with hula-hoops like her older cousin. But circus performing is the family trade and it is strictly, blindly enforced, sometimes passed all sense and reason. Ponce children never attend school. Tino can barely write his own name; his own children stand little chance of ever rising above their own lot in life. Where most children in America dream of running away to the circus, the children of Circo dream of running from it.
Circo is a sad, complex insider's look into one family and the ambition that fuels it. Director Aaron Schock doesn't pass judgment on the Ponce family, but merely documents their inner workings and inevitable implosion. The traveling circus is a lost art, an entertainment form too often either idealized or demonized in an American nostalgia culture that cannibalizes its own history. Rarely has there been such a grounded, humanistic insight into the real grit and self-sacrifice required to entertain.
Another film from Mexico, the animated short La Nostalgia del Sr. Alambre (The Memories of Mr. Wire), was screened before the feature. It is the unique tale of a man from a small village who bends wire to create elaborate puppets of sorts, which he then brings to life by projecting light onto a sheet so that the wire structures spell out intricate stories of shadow. Dubbed Mr. Wire, he is offered an opportunity to perform in the big city, leaving behind his wife and friends. The story is told in flashback, as a parable against the corrupting influence of the sinister big city and the virtues of knowing your station in life. Sr. Alambre is a mixed bag, better in concept than in execution. The stop motion animation is stilted compared to more famous films in the medium, which wouldn't hamper the quality of the storytelling if not the moral of the story had been so pat and predictable. Still, the animation designs for the wire constructions are beautiful, unique and magical. If only the film captured some of Mr. Wire's own artistic earnestness and artistry.
Circo and La Nostalgia del Sr. Alambre were screened on Saturday, October 16, 2010 at the Anaheim International Film Festival. For more information, visit www.anaheimfilm.org.