Synopsis: More than a golf movie, 5 Hour Friends is about one man's redemption after a life time of being compulsively honest on the golf course while a voracious cheater and womanizer off.
Release Date: March 28, 2014     MPAA Rating: PG-13
Genre(s): Comedy,
Film Review
Production
There are some actors who seem to show up in everything. Kevin Bacon and Nicolas Cage are good examples of actors who, for better or worse, work steadily. Tom Sizemore is one of these mixed-output actors as well; for every Saving Private Ryan there's a Paranormal Movie, and for every Natural Born Killers there's a Toxic. Unfortunately for him, Sizemore's career has hit a new low with 5 Hour Friends.
In 5 Hour Friends, Tom Sizemore stars as Timothy Bonner, an almost-pro golfer with an ex-wife, an estranged mistress with whom he shares a kid, and a weakness for members of the opposite sex. One day while out on the links, a woman named Carla (soap opera star Kimberlin Brown from "The Bold and the Beautiful" and "General Hospital") joins his foursome and the two hit it off. The pair starts to date and seem to be really falling for each other. However, Carla is threatened by Tim's relationship with his ex-mistress, getting angry with him when he tries to take care of his child. Over the course of their relationship, Carla gets more and more psychotic with Tim, yet he keeps accepting her apologies. Tim has to decide how many times he is going to take Carla back before either she changes, or he decides to end it once and for all.
Everything about
5 Hour Friends
just screams amateur production, from the sophomoric writing and uninspired acting to the bland photography and unbalanced audio mixing. The movie is the first feature film for both director Theo Davis and writer Ron Jackson, and their inexperience shows; the whole thing comes off as a well-funded student film. The lousy production values could be forgiven (to an extent) if there was a little meat to the story and characters, but the repeating pattern of Carla freaking out and then apologizing followed by Tim's constantly taking her back so that she can do it again gets old and repetitive. It gets to the point where both characters are unlikeable; Carla is predictably unstable and Tim is just dumb for keeping her around as long as he does. There is no empathy generated with the audience for the characters; the only emotion that the viewer feels is pity for Tom Sizemore for getting stuck with this film on his resume.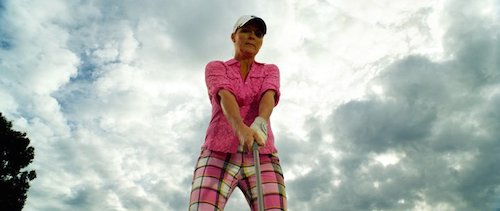 The title of
5 Hour Friends
is explained by Tim in an early scene in the film. He reveals that a game of golf can last about five hours, but there's only about three minutes or so of actual play. The rest of the time is spent waiting and socializing with the rest of the player's party – their 5 Hour Friends. The concept is actually a pretty good metaphor for the film; there's a lot of down time while very little happens and, although it's only a little over ninety minutes, it feels like the whole five hours.
Acting
It's safe to say that 5 Hour Friends is one of Tom Sizemore's weakest films, but his performance isn't abysmal. In fact, Sizemore is the only redeeming factor in the film. He plays his part as the misunderstood womanizer effectively with comfort and ease, like the seasoned professional that he is. The rest of the cast is horrible, and not in a fun, overacting kind of way; they're just bad. Kimberlin Brown's Carla is a one-trick pony, and the psycho girlfriend thing can only go so far. The supporting cast doesn't help much, either, with most of them seemingly reading their lines off of cue cards with barely the slightest hint of emotion or energy. Some of the blame can be placed on the script, as the actors are not given a whole lot with which to work. A good cast can breathe life into a mediocre screenplay, but this film has no such cast. It does have probably the stupidest stoned-acting scene that has ever been committed to film, and that is just another strike for 5 Hour Friends.
Cast and Crew
Director(s): Theo Davies
Producer(s):
Screenwriter(s): Ron Jackson
Story:
Cast: Tom Sizemore (Timothy Bonner)Kimberlin Brown (Carla Bianchi)Musetta Vander (Candy) Leilani Sarelle (Mab)
Editor(s): Rebecca Weigold
Cinematographer: Giorgio Daveed
Production Designer(s):
Costume Designer:
Casting Director(s):
Music Score: Marc Aaron Jacobs
Music Performed By:
Country Of Origin: USA