One of the more unlikely career moves of old Hollywood was Dick Powell's evolution from nice-guy hoofer to tough-guy lowlife. Between Murder, My Sweet (1944) and Cry Danger (1951), both his image and his position within the industry were transformed. The TCM Classic Film Festival had expert Eddie Mueller to introduce each of their noir screenings, and he filled us in on how Powell struck out on his own, found investment in the mid-west, and set up Olympia Productions, whose only picture was Cry Danger.
Powell knew writer William Bowers from playing the lead in André de Toth's crackerjack Pitfall (1948), and he knew that Bowers could write fleshed-out characters to compensate for lack of budget and scope of production.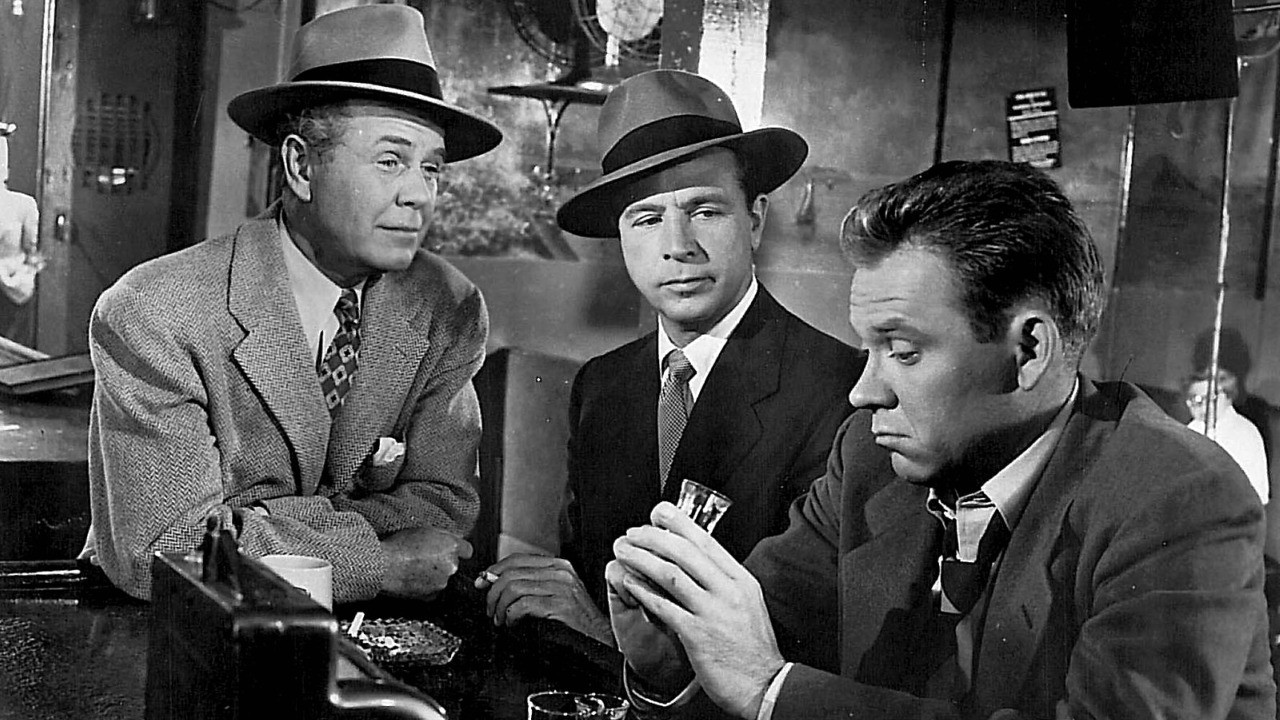 He also picked editor Robert Parrish to make his directorial debut, but it was Powell's party all the way. Legend has it he directed it himself, and the toughness is certainly of a piece with his credited debut Split Second (1953); Parrish's subsequent career is not especially distinguished.
The production was completely independent, sold to RKO for distribution and fairly successful. With financial limitations, it makes good use of now-vanished locations: much action in a terrific trailer park atop Bunker Hill; a detritus-filled deli of the sort one would never see on a sound stage; and a cracking hill-street shoot-out. It was a quick, cheap shoot, with a small cast and restrictions of action, but they pull it off.
This is partly thanks to Powell's own presence. He'd been a tough guy for a while by now, and he's getting on – when he gets out of jail at the start, he really looks like he's spent five years there. He stalks through the picture wearing a toadish expression and a ready gun.
It's a hefty service revolver, but the bad guy's old-fashioned Colt comes into play for a nicely sadistic Russian Roulette interrogation. The producer/star also allows himself to be a killer with the ladies (there's a particularly saucy widow), and his love interest is his best friend's girl (Rhonda Fleming), who used to be his, and whose motivations are decidedly cloudy.
Powell's Rocky Mulloy is on the trail of a missing hundred grand, and of the guy who set him up. Best pal is still inside, but freed by the late testimony of a one-legged GI, Rocky's out for righteous revenge. The GI (Richard Erdman) is a sardonic and resigned drunk, and Erdman reportedly based his fine performance on screenwriter Bowers. Certainly the script crackles with cynicism and one-liners, and it is constructed to make a tight corkscrew of the limited personae and locations. If the film had been made ten years later, and in New York, it would be of a piece with Blast of Silence and/or hailed as a new wave/Cassavetes precursor type of thing. But Hollywood movies had always ventured off the lot from time to time (they didn't even have a lot to start off with), and the post-war atmosphere (and activity in New York) led more and more directors to venture out into LA and beyond. Usually for the sake of the budget, frequently coupled with a search for realism, and mostly crime-based (de Toth once held up the Glendale Bank of America), the best of them clothe street-level realism in a high standard of craft, and do what Hollywood does best – blend psychological substance with excitement and entertainment, like Cry Danger.