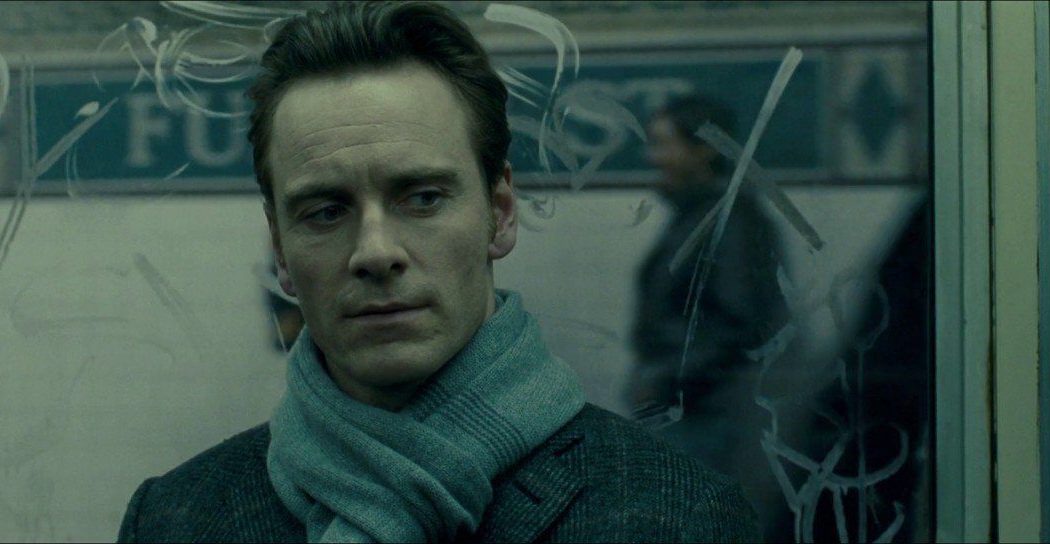 'Shame' Review
Style and performance make 'Shame' a must-see.
Release Date: December 2, 2011
In Shame, Brandon (Michael Fassbender) is a New Yorker who shuns intimacy with women but feeds his desires with a compulsive addiction to sex. When his wayward younger sister (Carey Mulligan) moves into his apartment stirring memories of their shared painful past, Brandon's insular life spirals out of control.
Director(s): Steve McQueen
Producer(s): Iaian Channing
Screenwriter(s): Steve McQueen
Cast: Michael Fassbender (Brandon), Carey Mulligan (Sissy), Amy Hargreaves (Hotel Lover), Hannah Ware (Samantha), James Badge Dale (David), Nicole Beharie (Marianne)
Editor(s): Joe Walker
Cinematographer: Sean Bobbitt
Production Designer(s): Judy Becker
Costume Designer: David C. Robinson
Casting Director(s): Amy Kaufman
Music Score: Harry Escott
Country Of Origin: USA

The first time we meet main character Brandon (Michael Fassbender) he is lying in bed alone amongst tousled sheets.  The camera holds on his position longer than need be, immediately setting the viewer inside the small world of Brandon's we will soon encounter throughout the film.  Brandon gets up from the bed and opens the curtains as the title <i>Shame</i> makes its way onto the screen.  Shame is indeed what Shame is about, and Brandon is a shamed man in more than one respect–how Director/Co-Writer Steve McQueen handles the character of Brandon is anything but sympathetic.  At times it feels judgmental, a social deviant being put on display for all the ways he does not belong nor conform to societal standards.
Brandon suffers from sexual addiction; the use of the word "suffer" is more in place with how the film perceives Brandon's inclinations towards gratuitous sex, pornography, and masturbation.  Again, a judgmental stance a viewer is unfortunately bred to believe.  Living alone in New York City Brandon's world is small–he engages in sexual activities with random women, enjoys pornography on his computer at work and home, and cannot control his urges.  The entire first act of Shame holds very little plot; it is merely an observation of Brandon's life, and his addiction.  The key element is the use of the answering machine, where his sister leaves message after message asking Brandon to call her back.  He never does, and when she arrives on his door needing a place to stay Shame finally begins to feel like an actual narrative.
This is of course due to the questionable relationship between Brandon and his sister Sissy (Carey Mulligan).  They have a closeness born out of an unpleasant childhood, although exactly what happened to them is left to conjecture by the viewer.  Given Brandon's sex addiction and Sissy's loose and easily attached ways with Men the psychoanalytical explanation would lean towards sexual abuse.  If one goes off of certain moments in the film between the two that are far too personal behaviors between a brother and sister, and that scream inappropriate, you may go so far as to believe incest has occurred.

Clear answers are never given, and Shame never really answers anything at all, or finds a semblance of closure.  The film is a portrait of a man struggling with his demons, and the possibility he can overcome his deviance to lead a normal life.  As for Sissy, she dreams of a relationship with Brandon, her neediness is deafening.  But Sissy has her own problems, and placing her and Brandon together makes for often times cataclysmic encounters.  The dysfunction between the two of them keeps interesting, amidst the lack of motivation.
The greatness in Shame lies in the filmic style and performances by Michael Fassbender and Carey Mulligan.  From the beginning the script does not build upon itself, or create a story arc for any of the characters.  It is a character piece where you simply watch the characters struggle with their respective relationships and own personal issues but never expect to find a resolution by film's end.

Brandon does experience emotional highs and lows with his sexual addiction.  The scene where he tries to have sex with a woman he took out on a date is more disgusting and disturbing than those where he hires a prostitute or performs masturbation.  McQueen makes Brandon a monster, and watching a monster have his way with an unsuspecting respectable woman is more terrifying than one who ask's for such behavior.  As for Sissy, her heart-breaking song performance says everything one needs to know about her desperation to be loved, something she will never come to terms with nor should she in such a small snippet of filmic time.
Shame should be seen by a viewer who does not expect to watch a conventional movie.  It is all but conventional, and it weighs heavy on the conscience at the end.  Whether you turn a sympathetic cheek to Brandon and Sissy is only for you to decide based on how the film affects you; should you see the patronizing and judgmental angles presented it will make for a much more rousing discussion in your own mind over just what is deviant behavior.  Regardless, Shame is an experience, part visceral and part psychological–it challenges the viewer, and by doing so makes it a film worth watching by those who crave the unconventional but can handle the trivial

The style of Shame as created by Cinematographer Sean Bobbitt captures you from the first frame and holds your attention fully.  There are a variety of canted angles, soft-muted lighting against the harsh backdrop of Brandon's stale and modern apartment and the use of intrusive still camera set-ups that really beckon the viewer to engage with the characters and surroundings.  


There is a consistent use of long takes between Sissy and Brandon that heighten the tension between the two characters, and also hints at their questionable brother-sister history.  One finds Sissy in the shower, and Brandon walks in on her there to chastise her for being in his apartment.  Viewing the scene from the doorway Sissy stands in the shower with a towel in front of her, barely masking her naked body and distinctly showing her most private parts.  Brandon and Sissy engage in an argument and the camera does not move.  There is no cutting to a close-up, or another angle, the still camera remains showing Brandon as he looks upon naked Sissy–a clearly uncomfortable moment for the viewer as they are siblings but a scene that tells a great deal about their relationship.
Secondly, when Brandon and Sissy are sitting on a couch talking the camera is behind them in a medium close-up.  The conservation is tense, both with sexual tension and emotional strings of attachment to one another.  The camera's view from behind them closes the viewer off to much of their body language, relying solely on their facial expressions and tonal inflections.  The camera remains still again, never relenting from forcing the viewer to endure the moment with Brandon and Sissy.
Lastly, the still camera is used a variety of times to introduce Brandon's state to the viewer.  Situated outside of the bedroom in a hallway area that shows the circular nature of Brandon's apartment from the bedroom around to the living area hall the camera sits.  Brandon walks in a circle from one room to the other, naked completely and the camera captures every piece of his body.  His unabashed and unashamed nature becomes evident. Sissy's voice on the machine during these scenes gives a glimpse into his cold nature. His constant movement in a circle shows the seemingly unbreakable nature of his habits.
The camera usage in Shame is deliberate, and undeniably one of the greatest parts of the film for a viewer.  The long takes are a tad bit too long, creating an unease for the viewer that mimics the uneasiness between Brandon, Sissy, and the two of them together.  When it lingers in an extreme close-up of Sissy's face performing a song the strong emotional pull of her words and facial expressions is overwhelming.  The emotion and tension that Shame builds is due to the eye the camera provides a viewer inside of their world; it is not voyeuristic, but wholly intrusive–and it makes the film fascinating to watch.