Synopsis: A troubled family must face the facts when something goes terribly wrong at their son's desolate military post.
Release Date: March 30, 2018     MPAA Rating: PG-13
Genre(s): Drama,
Film Review

It's no secret that overseas films take a while to get released in America. The Oscar for Best Foreign Language Film had already been awarded by the time the winner, Chile's A Fantastic Woman, as well as the other favorite, the Russian Loveless, surfaced in the States. And they're still coming; Israel's Academy Award entry, which made the shortlist but ultimately did not receive a nomination, has found its way here – the strangely schizophrenic war drama Foxtrot.
Foxtrot plays out like three different short films. The first act concerns itself with a married Tel Aviv couple, Michael and Dafna Feldman (Lior Ashkenazi from Big Bad Wolves and Sarah Adler from Jellyfish), that receives terrible news from the government about their son, a soldier in the field named Jonathan (Yonathan Shiray from A Tale of Love and Darkness). The second section of the film switches to Jonathan's unit as they keep watch over a secluded border checkpoint. The third segment switches back to the parents, an undisclosed time in the future, and shows how their lives and love has suffered through the ongoing ordeal.
Just as there are different chapters to the film, there are different moods and emotions evoked by Foxtrot. Writer/director Samuel Maoz (Lebanon) purposely designed the movie this way. The first section is a shocking emotional gut punch. The second is a darkly comedic, almost quirky look at life under the monotonous and tedious conditions of military life. The third act is a depressing – yet warm – look at how love can be tried and broken in times of crisis. The surreally wacky segment in the middle stands in stark contrast to the other two, providing a bit of strained relief from the heart-wrecking drama, but also sticking out like a sore thumb in the process.
Although it's a mixed bag of genre and emotions, Foxtrot is a well-made movie. It's hard to call it fun, because the two bookending segments are anything but, but the film is a powerful testament to Maoz's versatility and prowess as a filmmaker who is adept at manipulating his audience's psyches. And that's what good filmmaking is all about.

Foxtrot was shot by cinematographer Giora Bejach, who not only shot Lebanon for Maoz, but has also worked on everything from "Mossad 101" to ABCs of Death 2. Bejach's photography uses plenty of long takes which give the actors the chance to spread their wings and really pour out their performances. The extended takes don't mean that Bejach just set up his camera and rolled film, though; Bejach utilizes unique angles and slow-sliding motion to help the viewer feel like a part of the story. Establishing shots are captured with cranes or drones, which makes the photography all the more visually inventive. Giora Bejach's cinematography helps sell Foxtrot's story without bringing too much attention to itself.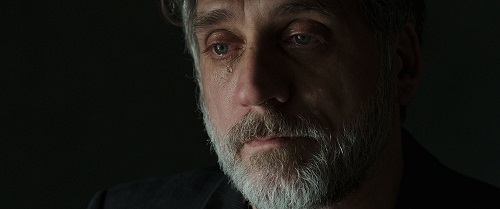 Cast and Crew
Director(s): Samuel Maoz
Producer(s): Marc BaschetViola FügenCédomir KolarEitan MansuriMichel MerktMichael Weber
Screenwriter(s): Samuel Maoz
Story: 
Cast: Lior Ashkenazi (Michael Feldmann)Sarah Adler (Daphna Feldmann)Yonaton Shiray (Jonathan) Shira Haas (Alma)
Editor(s): Arik Leibovitch
Cinematographer: Giora Bejach
Production Designer(s):
Costume Designer: 
Casting Director(s): Tanja SchuhChamutal Zerem
Music Score: Ophir Leibovitch & Amit Poznansky
Music Performed By: 
Country Of Origin: IsraelSwitzerland