In Leos Carax's rather wonderful and fantastic new film Holy Motors, there are several points at which one may wonder what is real. The answer is none of it, and all of it. It begins explicitly as a dream, after all, in a cinema, with Carax the dreamer himself; but it is a dream of life, of possible lives, and a dream of the very process of cinema.
The episodic structure maybe a little linear for a dream, but must surely have helped the production schedule, and help return Carax to features after a woeful absence of 13 years. The film's truth is strictly of the poetic variety, as Carax abandons the ostensible realism of his previous features for a whorl of metaphors around things that he loves, and things that trouble him, conjured with the desperate yearning of those years' silence. Carax's first love, it seems, is cinema. Points of reference are there to spot, ranging from clear to obscure to happenstantial: the French poets loom large, from the Cocteauesque opening, to statuesque Edith Scob, who chauffeurs a mysterious impersonator around Paris, over one day and one night, in a gleaming and cavernous limousine, and even gets to don her famous mask, from Les yeux sans visage.
M. Oscar gets to don many more masks, however, none of them blank. It is through longtime collaborator Denis Lavant, that Carax sings his hymn to performance, to the joy of filming physical motion, and to the actor himself. Lavant takes on 11 guises in turn, from an old bag lady, to reprising his feral leprechaun M. Merde, from Carax's Tokyo! [2008] contribution. His body is exposed and marveled at; the transformations he undergoes revered, before the personal bulbs of the mirror in his car-cum-dressing room.
As M. Oscar steps into each of his roles, he passes through possibilities, with no hint of a finite spectrum – his parts will doubtless be quite different tomorrow (not least as having woken as a sleek, silver-haired , captain of industry, he goes to bed in a suburban semi with a family of primates,). The physicality of these transformations is early on taken to its abstract extreme, a possibility for future forms of interaction, as the limitlessness of virtual physicality: Lavant enters a motion-capture studio, and Carax thrills to the new way of seeing motion (as thrilling as the early Marey films of motion that he splices in from time to time) as he goes to town with line, color and light around Lavant's acrobatics, and a very talented contortionist in latex.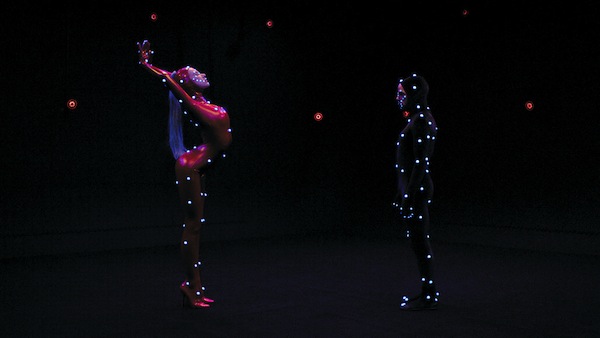 This is as explicit a displacement of reality as the dream structure itself, repeated again and again as Oscar takes on a new role. His emotional reality, however, is engulfed by his roles, expended on a death-bed scene that rings hollow for just that reason, or a chance meeting with another actor that we want to be real, but which plays with no more affect than just another appointment. Yet as Lavant sits before his mirror, head and face free of make-up and wig, behind that caveman visage and black hole eyes, he lets us see a soul that stirs. Cocooned in his limo, he gives little away, working diligently through his files of appointments. We do learn his one fear, however: that maybe nobody will be watching.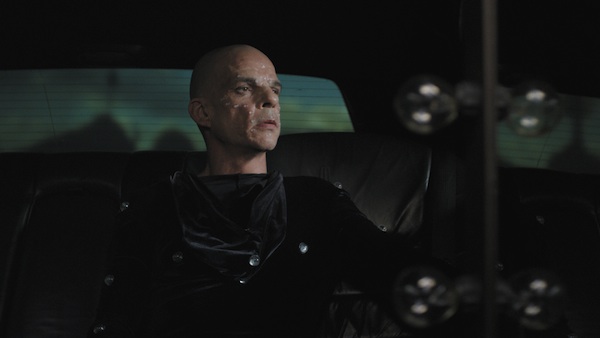 This incorporates an uneasiness at the decreasing size of the camera. The camera smaller than one's head already commands too little respect, leaving the actor to work harder to summon a performance for it; Oscar fears for the day when the cameras are too small to see. Carax plays with digital for the first time, and for all that he seems to enjoy some of its possibilities, he mourns the passing of the large, mechanical tools of image-making. It is not a for-and-against case, but merely a mourning, and recognition that the holy motors of the cinema are like fetish objects, reverence towards them a fundamental part of the process.
Machines are getting smaller. The physical elegance of machinery is displaced by the abstract sterility of digital technology. The limo itself is a ridiculous, outsized motor, representative of some sort of absurd, physical decadence (as Carax has reflected), an obsolescence in waiting , as the cars themselves remark in a charmingly odd coda, settling down for the night in their garage. But it is also the motor of Oscar's psyche, ferrying him onward, a not-quite-separate physical entity, the ur-mask, or womb of untainted selfhood. The implication of its imminent redundancy, or what Oscar might do without it, is not clear, but the human body is clearly no longer sacrosanct: motion capture studio aside, Oscar twice slays incarnations of his own self, and on one of the occasions we cannot be sure which of the two identical figures it is who is stumbling back to the car.
None of this ties up neatly, as is quite right for the dream, but nor does it belabor itself beyond poetical suggestiveness. Carax asks to be felt, rather than understood, and is as much about creating specifically cinematic thrills as anything. There's playfulness and myth-making (the raucous accordion jam entr'acte; Merde's rousing entrance to the Godzilla theme) and he reaches constantly for the magical, transportive moments that make us gasp in pleasure, sadness, shock, or we know not what. The final encounter, with a Seberg-coiffed Kylie Minogue, has us unsure whether their past acquaintance is real, or just another appointment, but as she breaks into a yearning song (appropriately entitled "Who Were We") and the camera swooshes in on her on a mezzanine of the atmospherically abandoned Samaritaine building, we want to believe. This is something like the essence of cinema. Even as the apparatus of performance is laid bare, and partly because of that, with the evident passion and commitment involved, we can still be captivated.