Synopsis: Since they met at a party, ambitious high-flyer Nat (Rose Byrne) and struggling novelist Josh (Rafe Spall) have been deliriously happy despite their differences. Josh is a thinker, Nat's a doer, but the spark between them is undeniable. Their wedding is a dream come true, but no one – family, friends and even the minister who marries them – is convinced that they will last. Josh's ex-girlfriend, Chloe (Anna Faris), and Nat's handsome American client Guy (Simon Baker) could offer attractive alternatives.
Release Date: August 9, 2013     MPAA Rating: PG-13
Genre(s): Comedy, Romance
Film Review

Close your eyes for a moment and think back to the beginning of your last relationship. What can be termed "the honeymoon phase." Recall how much fun it was, how the individual appeared to be the greatest gift bestowed upon your life. Everything was shiny, new, and finding fault in them nearly impossible. Then remember how as the days, months, maybe years ticked by and you started to discover things weren't as perfect as you once thought them to be. Little annoying habits grated on your sanity; the way they sang in the shower infuriated you, or how they clipped their toenails on the couch. Maybe it was the way they could not hold their liquor, and would become an insane embarrassing monster in public. Perhaps the profound intimacy you had together was nothing more than an easy movie buddy on a Friday night. Even worse, the amazing sex you shared wasn't actually anything close to amazing, and could easily be forgotten if you really thought about the tiny details that were in fact big problems. In this situation, where you discover Mr. Right is actually Mr. Wrong, you may have told yourself, "oh, I'll give it another month, or two, things will change." They don't, and you escape with a few new battle scars and a new perspective on what you want from a partner.
Now, what if you skipped all of the above except the honeymoon phase and just jumped right into marriage. What then? That would bring you to director Dan Mazer's debut feature film, I Give It A Year, the story of a man and woman who have an incredible honeymoon phase, only to jump into marriage and realize they may not be right for one another. Not willing to just chuck it in at the first signs of incompatibility they agree to give it a year, and see if they can make it–everyone tells them if you can survive the first year of marriage you can survive an eternity.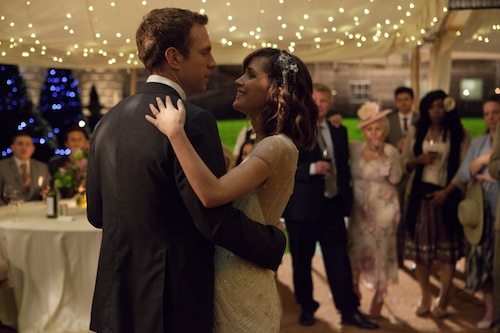 I Give It A Year opens on a montage of the honeymoon phase for Nat (Rose Byrne) and Josh (Rafe Spall). Its very romantic, gay, and full of awe-inspiring loveliness watching the two of them fall in love. When the wedding arrives, its perfect in that it does not go perfectly, and then, suddenly, Minnie Driver's Naomi very bluntly states, "I give it a year." That, dear readers, is where we begin the story of Nat and Josh, officially, because the honeymoon is long over when we find the two of them in a therapist's office working on their marriage, a mere months after getting married. I Give It A Year makes no apologies for the set-up between Nat and Josh.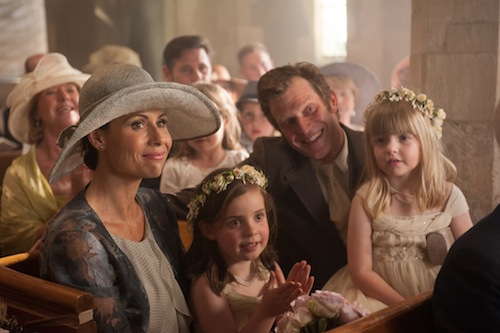 It is immediately known that Nat is ambitious, to the point where she is willing to lie about being married to sign a new client at work. Josh is a writer, and a tad immature. His days are spent writing, or not writing, and its all inconsequential to him. They are two very different people, but they are both good people who offer one another stability and care–that is the crutch. To walk away would be to give up that portion of the relationship, even if the chemistry isn't there. Everyone who has ever been in a relationship has dealt with their ordeal, married or not. You're with someone who is a good person, they just aren't the right one for you. Its a hard decision to walk away from that situation, but one that has to be made for the sake of your future happiness. I Give It A Year embarks on showing a couple's journey in making the aforementioned decision, and displays just how difficult it can be even when all the signs are there that it must be done.
In order to counteract the seemingly heavy storyline of a relationship falling apart, I Give It A Year balances it out with plenty of comedy. Anna Faris is Josh's ex-girlfriend Chloe who left him to save the world years ago; she's back and clearly still in love with him. Watching her and Nat converse leads to plenty of hilarity as the women are complete opposites. Nat is prim and polished, Chloe plain and not concerned with materialistic things. Nat offends her, by chance, maybe, on many occasions and it only leads to great laughs. Josh and Nat together, bickering or snarling at one another, is yet another baited area for comedy to naturally flow. The real scene stealer when it comes to laughs is Minnie Driver's Naomi. She rattles off about her miserable marriage, how much she hates everything her husband does, et al, and does it with such dry sarcastic wit the laughter that exudes is infectious.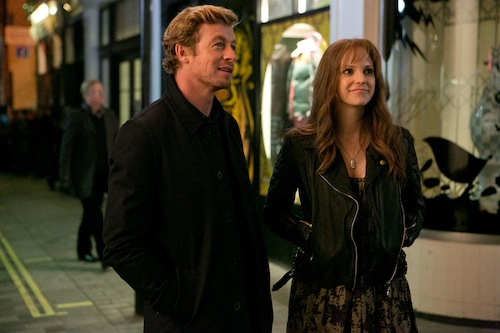 It would not be a romantic comedy about a failing marriage without the inclusion of temptation. For Nat it is Simon Baker's smooth businessman Guy; for Josh it is Chloe. You not only watch Nat and Josh try and discover if they are meant to be but you also get to see them with other people, whom they clearly have greater chemistry with. It all makes for creating lessons in love, friendship, and having the ability to know and speak up about what it is you want in your life. Nat and Josh may not end up together. If they become involved with Chloe and Guy, respectively, it does not mean those relationship's are going to be lifelong. I give one a year, two at most. The other, that may be for life, but then again, nothing is ever certain when it comes to love. The phrase, "I love you, but I'm not in love with you" could be the tagline for I Give It A Year. While you may think the ending will come with pain and sorrow you will be horribly mistaken. I Give It A Year is actually one of the most uplifting romantic comedies to come along in ages because its rooted in reality–not Hollywood movie magic reality; you can only help yourself by seeing this film, regardless of the state of your current relationship.

The chemistry between two people in a movie is normally rated as a'4′ having great chemistry and a '1' meaning zilch. It works oppositely with I Give It A Year because it has perfect chemistry between its two main characters, Josh and Nat, because they have absolutely no chemistry together. You know right away these two people should not be together, and it works perfectly. This is also because on occasion you see small nuances that make you doubt the lack of chemistry between them, and then something happens and you realize they are not meant to be together. Had Josh and Nat made a great couple it would leave the audience confused as to why their relationship was not working. The entire plot of the movie would blow up before it even began. By casting two people who are able to act in character at having zero chemistry with one another, and then igniting it with others in the film, it makes I Give It A Year a perfectly cast film for chemistry's sake.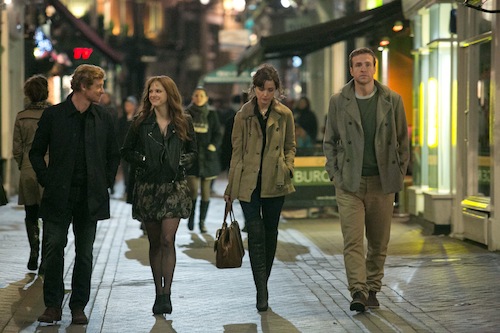 Cast and Crew
Director(s): Dan Mazer
Producer(s):
Screenwriter(s): Dan Mazer
Story: 
Cast: Rose Byrne (Nat)Rafe Spall (Josh)Minnie Driver (Naomi) Anna Faris (Chloe)Simon Baker (Guy)
Editor(s): Tony Cranstoun
Cinematographer: Ben Davis
Production Designer(s):
Costume Designer: 
Casting Director(s): 
Music Score: Ilan Eshkeri
Music Performed By: 
Country Of Origin: USA