One of the biggest and most important advances in entertainment technology to come out of the 1980s is the advent of cable television and satellite reception. No longer were people limited to movies at a theater and a mere thirteen channels of programming. As with any new technology, however, there was a learning curve, and the features ended up confusing and frightening some customers. Someone was bound to make a movie about it and, in 1986, B-movie producers Albert and Charles Band did. That movie, equally hysterical and horrifying, was called TerrorVision.
TerrorVision is the story of the Putterman clan, a colorful but annoying family living in the suburbs of Anytown, USA. Father Stanley (Phantom of the Paradise's Gerrit Graham) has just bought a new satellite dish and, after a long battle, finally gets it up and running. Stanley and his wife Raquel (Mary Woronov from The Devil's Rejects), a pair of swingers, go out for the evening and leave the kids, Sherman (Chad Allen from "Our House") and Suzy (Amityville II: The Possession's Diane Franklin) home with Grampa (Bert Remsen from McCabe & Mrs. Miller) to watch all their new channels. Unfortunately, the new satellite dish receives more than just television signals; it also gets programming from outer space in the form of a warning from a reptilian creature named Pluthar (William Paulson, who also played an alien in Zone Troopers). Before the family can figure out what's going on, the dish brings in a blast of extraterrestrial junk that leaves a hungry, hulking mound of an alien beast in the house. With the help of Suzy's boyfriend, O.D. (Jonathan Gries from Real Genius), they decide that the best thing to do is to contact the only expert they can think of – the host of the local monster movie marathon show, a buxom woman named Medusa (China Cat's Jennifer Richards) – for help. With the assistance of Medusa and Pluthar, the kids have to find a way to get rid of the starving alien before it eats them all.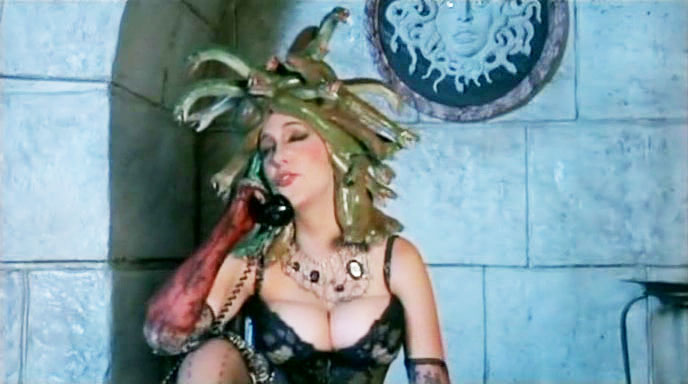 Writer/director Ted Nicolaou is a veteran of the campy horror scene. One of Tobe Hooper's disciples who did sound for the original The Texas Chain Saw Massacre, Nicolaou has made tongue-in-cheek horror films as a writer (Assault of the Killer Bimbos), a director (Puppet Master vs Demonic Toys) and an editor (Ghoulies). TerrorVision was his first full length feature as a writer and a director, and he definitely got his money's worth out of the experience; TerrorVision has become a cult favorite amongst horror/comedy fanatics all over the world.
Everything about TerrorVision screams eighties. The characters' clothing, wigs and make-up are flamboyant and colorful. The sets and props are space-age and modern for the decade. The dialogue and its delivery are full of slang and sound dated. There's even a totally eighties sounding theme song by new wave art-rock band The Fibonaccis. Even though it is still enjoyed today, TerrorVision does not let the viewer forget when it was made.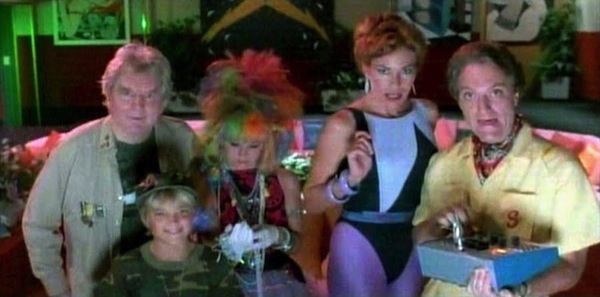 The alien monster is one of the most memorable, and therefore coolest, elements of TerrorVision. The creature was designed, created, and controlled by John Carl Buechler (Prison, Hatchet) and his team from Mechanical and Makeup Imageries, Inc. (who did creatures for From Beyond, Troll, Dolls, Carnosaur and tons more) and voiced by prolific voice actor Frank Welker (who provided the sounds of both Mogwai and Stripe in Gremlins). The monster itself is a slimy, rubbery mixture of puppetry and animatronics, looking like a second rate Jabba the Hut with claw-like tentacles, one of which comes complete with a huge eye on the end of it. It is slow and trudging, yet still manages to be an effectively ruthless killer. As awesome as the monster is, the rest of the visual make-up effects are more goo than gore – one human victim is stabbed and green liquid squirts out of the wound – but that all fits in with the alien surrealism of TerrorVision.
TerrorVision was photographed by Italian cinematographer Romano Albani, who shot Inferno and Phenomena for Dario Argento. Albani has a field day with color, as TerrorVision has the same comic book look and feel as the Creepshow movies and Suspiria. Even the external shots look to have been done in a studio, giving the picture an artificial, closed-in feeling that re-enforces the suburban setting of the film. Albani uses bright, primary colored lights mixed with haze and fog to capture the crazy, dreamlike tone of the movie perfectly. Albani's cinematography is one more reason to love TerrorVision.
The cable revolution of the eighties saw lots of technology with kinks in the works, and satellite dishes were particularly distrusted, and TerrorVision may have been one of the reasons. Nowadays, it's safe to enjoy movies like TerrorVision, but it's best to watch them late at night…and on cable.