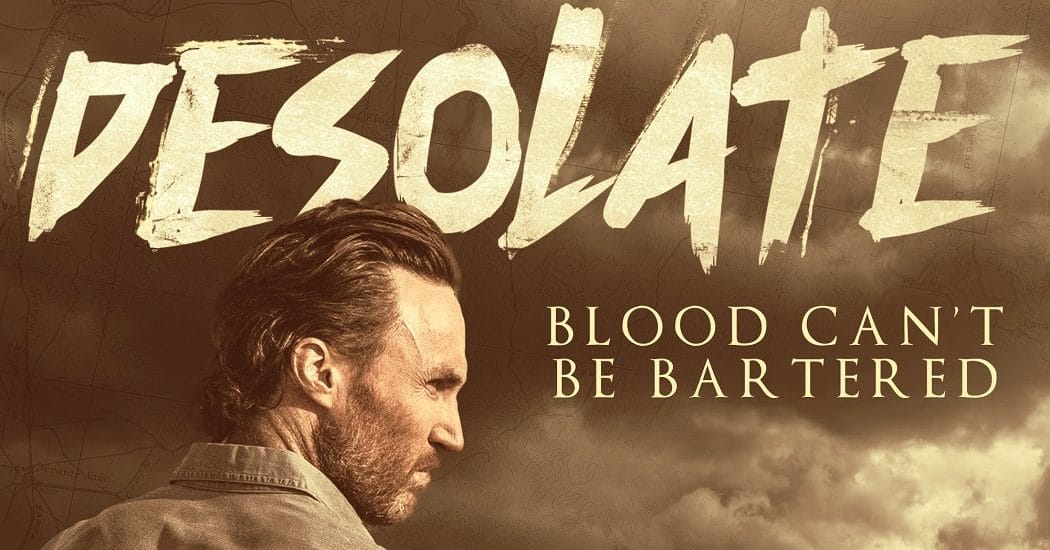 Desolate Review: Modern Dystopia Meets Classic Western

Release Date: July 12, 2019
While trying to survive the worst drought in history, a family of farmers force their youngest brother down a path of destruction; betrayed and left for dead in an unfamiliar land, he must survive, endure and seek the revenge he deserves.
Director: Frederick Cipoletti
Screenwriters: Frederick Cipoletti, Jonathan Rosenthal
Producers: Frederick Cipoletti, Jordan Foley, Jonathan Rosenthal
Cast: Will Brittain (Billy Stone), Callan Mulvey (Van), Tyson Ritter (Ned Stone), Bill Tangradi (Kyle Stone), Jonathan Rosenthal (Parker Stone), Natasha Bassett (Kayla May), James Russo (Duke Stone), Takuya Iba (Long), Juston Street (Creed), Jack Conley (Jeb Turner), Michael Rhys Kan (Win), Mark Kassen (Raymond), Ana Lake (Viv)
Editors: Giacomo Ambrosini, Scott Beatty
Cinematographer: Isaac Bauman 
Production Designer: Carlos Laszlo 
Casting Director: Brandon Henry Rodriguez
Music Score: Nima Fakhrara
Although the western has never really gone out of style, the past few years have seen an uptick in modern versions of the classic genre. We're not talking about revisionist westerns like The Sisters Brothers, The Keeping Room, or The Homesman. We're talking about movies that take place in present day that still have a sense of the adventure and lawlessness of the old west, movies like Hell or High Water, No Country for Old Men, or even Three Billboards Outside Ebbing, Missouri. Now we can add Desolate to that list.

Desolate takes place in an ever-so-slightly futuristic world where a severe drought has devastated the land. A family of farmers named Stone is wrapped up in a feud with another family named Turner, and when the Turners draw blood, the Stones head out to even the score. Their mission for vengeance turns up a treasure map, and the desperate boys go searching for their big score.
Nothing's ever that easy, though, and after part of the job goes bad, the youngest Stone, Billy (Will Brittain from Kong: Skull Island) is left behind for dead. He doesn't die, though, and his own quest for revenge takes him on a path through sex traffickers, drug dealers, and mad mercenaries. With the help of an unlikely ally named Van (Callan Mulvey from Kill Me Three Times), Billy fights his way back to the brothers who betrayed him.

That's a watered-down synopsis, but Desolate is packed with twists and turns that make explaining what it's about a little difficult. Writer/director Frederick Cipoletti (Martial Science) and co-writer Jonathan Rosenthal ("ODDitions") craft a believable dystopian world that's more along the lines of The Rover or a scaled-back, not-as-distant Mad Max: Fury Road than it is something like The Hunger Games or Divergent.
Desolate is a grim look at how things could actually be rather than a speculative glance into an imagined world, so it's far more relatable than the average world-in-ruins flick. There's a clear message about climate change to the movie, although it's hardly preachy. The point is unsubtle, but it takes a back seat to the action and intrigue. It's more of an ever-present underlying theme than it is a moral to the story.

There's a gritty, grimy Coens-esque vibe to Desolate that will please fans of independent cinema. Part of it is the wide open-yet-constricted photography (courtesy of "Channel Zero" cinematographer Isaac Bauman), but mostly it's the constantly shifting narrative, so full of double- and triple-crosses that the audience never fully knows which characters to believe or trust. Billy is the obvious protagonist, but after that, there are no heroes or villains, just a bunch of desperate, conniving grifters who have been driven to the brink of ethicality by their hopeless situation. There are even reasons to be suspect of Van, Billy's eventual partner in grime. No one is who they seem to be, and that makes Desolate an exciting ride.

Desolate takes the classic western themes of loyalty, distrust, and revenge, and drags them kicking and screaming into the modern era, substituting motorcycles for horses and assault rifles for six-shooters. What starts off as a standard Hatfield-McCoy family feud situation changes quickly and often, and after going through a few strategic tonal and genre shifts, it all winds up as a very different film than it began. This is no typical end-of-the-world movie. This one seems like it could really happen. And that should terrify all of us.