As frightening as male characters can be, the role of the villain in horror movies has not always belonged strictly to guys; women can be every bit as terrifying, if not more so. Whether she comes in the form of an unstable woman, like Annie Wilkes in Misery, or a supernatural banshee, like the title character in Mama, a lady is just as adept at inducing fear in an audience as a man. Although the trend has seen a boost since the seventies, the female horror antagonist is hardly a new concept; audiences were treated to it as early as 1944 in The Soul of a Monster.
The Soul of a Monster stars George Macready (who would go on to play Martin Peyton on "Peyton Place") as Dr. George Winson, a renowned surgeon who is being mourned by the world as he lies on his deathbed. With everything looking hopeless, his wife Ann (Eraserhead's Jeanne Bates) sends out a prayer for help to no one in particular that is inexplicably answered; a strange woman named Lilyan Gregg (Rose Hobart, who would join Macready on "Peyton Place") shows up, asks to be left alone with George and miraculously heals him. However, the recovered George is not the same honorable and kind man as he was before; he is an empty shell of his former self. Along with George's best friend, Dr. Roger Vance (Jim Bannon from The Devil's Mask), Ann learns that Lilyan's healing powers have come with a horrible pricetag – and George is now at the mercy of the evil woman. Roger and Ann are tasked with figuring out how to save George from Lilyan's all-consuming trance.
Made right in the middle of the golden age of monster movies, The Soul of a Monster is a breath of fresh air amongst its contemporaries. Directed by Will Jason (The Dark Horse) and written by Edward Dein (Curse of the Undead), The Soul of a Monster is a rare film that manages to be scary without relying on gimmicky creatures or typical madmen. The revived character of George is a throwback to the classic zombies from films like I Walked with a Zombie and Revolt of the Zombies: cold to the touch, no pulse, doesn't bleed when cut. Still Lilyan is no voodoo priestess, and George still has his powers of cognitive reasoning; he is just being kept under a hypnotic spell by his master. With its concept falling somewhere between White Zombie and Night of the Living Dead, The Soul of a Monster brings the voodoo zombie into a civilized, first-world setting.
Lilyan is a great villain. On the surface, she has classic Hollywood beauty and a no-nonsense demeanor. Underneath, however, she is cold, calculating and brutally efficient in doing whatever it takes to control George. More than a typical zombie master, Lilyan is the Mephistopheles to Ann's Faust – offering healing in exchange for her husband's soul. Rose Hobart plays the role chillingly, making the audience uncomfortable in their hatred for her. Both her mannerisms and her vocal inflections (or lack thereof – she speaks with a robotic disengagement that only adds to her character's creepiness) help to make Lilyan one of the more under appreciated horror villains of all time. Lilyan is the anti-Ann; they are black and white, light and darkness, good and evil battling for George's soul.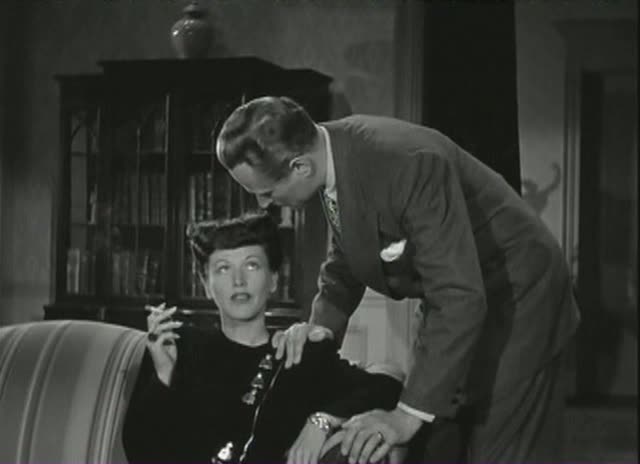 Aside from one of the great villains in horror history, The Soul of a Monster also boasts some very memorable and inspirational cinematography from the talented Burnett Guffey (who, when not shooting horror films like Mr. Sardonicus and Screaming Mimi, was winning Oscars for Bonnie and Clyde and From Here to Eternity). Guffey's photography is almost noir-like in its simplicity, separating darkness from light with strict lines and shadows. The film is backlit in all the right places, accenting characters that need to be shown as mysterious or threatening. Guffey's extensive experience shows in several scenes that would prove influential to filmmakers for years to come. For example, in one scene where Lilyan sends George to kill Roger with an icepick, the camera shows George stalking his would-be victim down a darkened street. Guffey follows George's legs, with his icepick-holding hand clearly in the frame, as they gain on Roger. The sequence builds incredible tension without relying on the actor's faces. The setup is simple yet incredibly effective, and the foot-follow is a technique that has been imitated by every slasher film ever made. The Soul of a Monster is a clinic on horror movie making, both technically and creatively.
Despite getting a little preachy and highbrow in its attempt at a twist ending, The Soul of a Monster is a tight and effective classic horror film. It should go down in history not only for having one of the greatest villainesses of all time, but for its influence on future films, and for doing it all without seeming generic or stale.