In order for an audience to really be able to root for a horror movie protagonist, said protagonist has to have some kind of weakness or flaw, making them vulnerable. This concept is the reason why many horror heroes are teenage babysitters or young schoolboys; these are the archetypes that are at a serious and definite disadvantage to the monster or killer who may be stalking them. When traditional stereotypes won't do, the director can raise the stakes even further by giving the hero an even bigger disadvantage, like putting them in a wheelchair, as in Rear Window, or by making them deaf, as in Wait Until Dark. In 1961, Hammer Horror gave the heroine-in-a-wheelchair theme a shot in the creepy ghost-mystery Scream of Fear.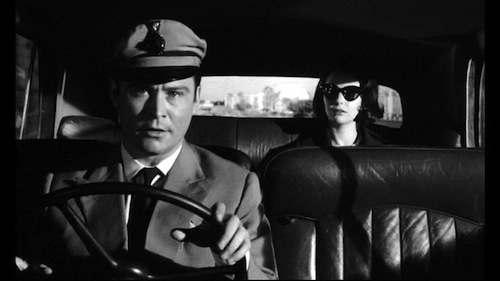 Scream of Fear stars Susan Strasberg (Bloody Birthday) as Penny Appleby, a young, wheelchair-bound woman who travels to France to visit her estranged father, a man whom she has not seen in ten years. She is picked up at the airport by her father's chauffer, Robert (Ronald Lewis from Mr. Sardonicus), and driven home. There, she meets her stepmother, Jane (The Paradine Case's Ann Todd), who tells her that her father is out of town on business. That night, Penny hears strange noises in the guest house and investigates. She is greeted by burning candles and the lifeless body of her father. Horrified, she tries to flee but ends up rolling her chair into the pool. Rescued from drowning by Robert, she wakes up under the care of Dr. Pierre Gerrard (Hammer horror icon Christopher Lee). Penny tells Dr. Gerrard and Jane about seeing her father, but they explain to her that a search of the summer house found nothing. The strange occurrences do not stop for Penny, however; she sees her father's car in the garage, hears him playing the piano, and, finally, sees his corpse again. Believing that they have killed her father, she does not trust either the doctor or her stepmother. She does, however, find a sympathetic ear in Robert and, with his help, Penny has to figure out if she's really seeing her father's body, or if it's all in her head…and, either way, what does it all mean?
Written by Hammer suspense genius Jimmy Sangster (Horror of Dracula, The Snorkel) and directed by Seth Holt (Blood from the Mummy's Tomb), Scream of Fear starts off like a typical supernatural horror movie. Penny's repeated sightings of her father's corpse have her – and the audience – seriously doubting her mental state. Once Robert gets involved, the movie switches from ghost story to mystery; the pair struggles to get to the bottom of the strange happenings around the house, even if the bottom is Penny being crazy. The final act of the film becomes a twist-a-minute roller coaster ride, with surprises around every turn. While it may not be a typical Hammer Horror picture, Scream of Fear is a great hybrid fright flick.
Like most of his screenplays for Hammer, Jimmy Sangster's script for Scream of Fear is chock full of suspense and intrigue. Not only is the story unique and fresh, but Sangster's approach is spot on as well. Sangster knows how to tell a story, never letting the audience know any more than they have to. This slow-burn approach sets up the multiple surprises that come rapid-fire in the second half of the film. Sangster's script is almost Hitchcockian in style, making Scream of Fear one of Hammer's more well-written gems.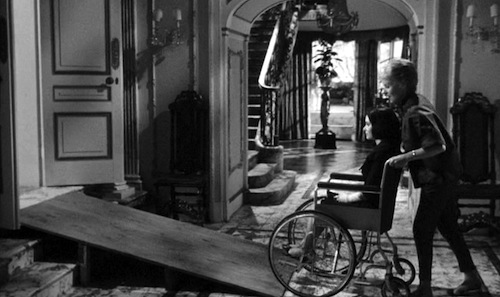 The script is not the only notable aspect of Scream of Fear. The experienced cast members all deliver memorable performances as well, walking the line between hard-boiled film-noir subtlety and gothic-terror overacting. Susan Strasberg plays the part of Penny innocently and naïvely, making her character a perfect victim. Ronald Lewis' Robert is the prototypical hero, somewhat similar to his role as Sir Robert Cargrave in Mr. Sardonicus, and he plays it well. Likewise, Ann Todd's two-faced evil stepmother is a lot of fun to watch, especially as the twists and turns unfold towards the end of the film. And what more needs to be said about the legendary Christopher Lee; the man is horror royalty, and it says a lot that the actor considered Scream of Fear his favorite Hammer film – and he was in a lot of them.
The director of photography on Scream of Fear was Douglas Slocombe, who would go on to shoot classic films like Jesus Christ Superstar, Rollerball, and the original three Indiana Jones movies. Slocombe's work on Scream of Fear serves the film perfectly; it has all of the long shadows and dark corners of typical Hammer films with just a splash of motivated lighting to remind the viewer that it's not a Dracula movie. Slocombe's photography becomes part of the storytelling, alternately capturing and creating. In one instance, right after the first time Penny sees her father's image in the guest house, the camera switches to a point-of-view shot while Penny flees. The viewer sees what she sees as she rolls out of the house, along the pathway, and into the water in the pool. The shot fades out, but doesn't cut away from the P.O.V. until she wakes up, with the first thing she sees being Dr. Gerrard. It is then that the camerawork cuts back to traditional filmmaking. It's a very effective sequence, made more effective by the fact that it isn't overdone. Although Douglas Slocombe made many higher profile movies, Scream of Fear contains some of his best work.
The peril into which horror movie heroes are put is exaggerated when that hero is put at a disadvantage, whether that disadvantage is physical, emotional, or psychological. Scream of Fear may not be as well-known as Hitchcock's Rear Window, but it takes a similar theme and runs with it. It's more of a straight horror film with a twist (or several), and it's a blast to watch.