W.W. Jacobs' short story about wishes-gone-bad, "The Monkey's Paw," has been adapted into several effective films, but most of them stop when the story ends, when the mother has wished her dead son back to life and he knocks on the door. Although it draws inspiration from the same place, director Bob Clark's 1974 film Deathdream starts at the end of the classic story, showing what would happen if the door was opened.
Deathdream takes places during the Vietnam War, where an American soldier named Andy Brooks (Richard Backus, who played Barry Ryan on "Ryan's Hope") gets shot.
In his dying moments, he hears his mother's voice in his mind telling him not to die because he promised that he'd come back. Back home, his mother Christine (Lynn Carlin from Faces) and father Charles (John Marley, who is most well known for waking up next to a horse's head in The Godfather) get a visit from an army representative who informs them that Andy has been killed in action. Andy's sister, Cathy (screenwriter Alan Ormsby's then-wife Anya Ormsby) and Charles begin to grieve, but Christine refuses to accept the fact that her son is dead. Later that night, Andy shows up at home, very much alive and in uniform, and the family chalks the mistake up to a clerical error and enjoy their relief. However, Andy is not his old self, as he prefers to sit alone in the house and refuses to eat, sleep or be social. When he does go out, he covers his entire body in clothing and wears dark sunglasses.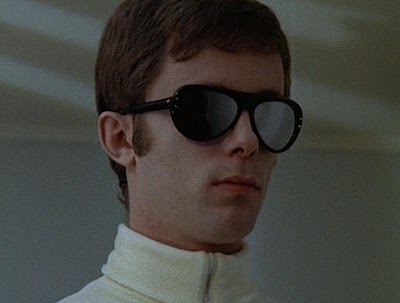 When the body of a trucker is discovered and the police calculate the time of death as the night that Andy arrived at home, Charles starts to get suspicious, and his suspicions are confirmed as the body count around town begins to rise. However, even when presented with facts that prove that her son is not quite himself, Christine stills protects him. Knowing that Andy is capable of very dangerous things, Charles has to go against his own wife and stop his own son from killing again.
Whether in production or in release in different countries, Deathdream has been also known as Dead of Night, Night Walk, The Night Walker, The Veteran and even The Night Andy Came Home. Written by Alan Ormsby (who also wrote Deranged and Cat People) and directed by Bob Clark (who collaborated with Ormsby on Children Shouldn't Play with Dead Things before hitting the big time with Porky's and A Christmas Story), Deathdream is a chilling film that is both disturbing and creative, no matter what title it goes by.
Deathdream functions on two levels; not only is it a disturbing and shocking horror film, but it's a fairly obvious social commentary about the war in Vietnam. Although it was released in 1974, towards the tail end of the conflict, it was shot in 1972 and written well before then, when the unpopular and unwinnable war was in full swing. Deathdream makes a clear statement about what veterans were feeling when they got home, after seeing what they saw and doing the things that they did. Andy Brooks takes Post-Traumatic Stress-Disorder to a whole new level.
The cast in Deathdream is remarkable. The undead Andy is a combination of supernatural monsters, requiring the tenacity and durability of a zombie mixed with the thirst for blood and uncanny strength of a vampire.
It is not revealed at first whether he is dead or just in shock from the war, and Richard Backus plays the ambiguous hostility perfectly. Also great are the performances by John Marley and Lynn Carlin as the concerned parents. Overall, the acting in Deathdream is a factor that makes it more than just another horror/zombie/vampire movie.
There are two scenes in particular that are as disturbing as horror cinema gets, and neither involve any sort of elaborate effects; they're just good acting and exceptional direction. In one, Andy shows off his superhuman strength by strangling a barking dog with one hand while a group of horrified children watch, screaming their heads off. In the other, Andy attacks a group of people in a car at a drive-in theater and runs one of them over, an act that is shown onscreen in realistic detail.
These two cringe-worthy scenes let the viewer know that they are not watching just another campy horror film – Deathdream means business.
Ormsby and Clark loved to use a core group of specialists on their films, and one of the key members of their crew is composer Carl Zittrer. Zittrer, who would go on to score Black Christmas and Prom Night, contributes a minimalistic score that is suitably creepy and stinging. The soundtrack sets itself up with short bursts of violin or harp, and leads to a cacophonous payoff of piano and orchestra that sounds exactly like a horror movie score should. Zittrer understands the importance of music to a horror movie, and his score for Deathdream is a forgotten gem of terrifying music.
Another member of Ormsby and Clark's team was special effects legend Tom Savini. Although the effects in Deathdream are nowhere near what Savini would accomplish in his later work on films like Friday the 13th and Creepshow, the makeup and effects in Deathdream are a nice preview of what Savini will get into later in his career. Deathdream is not a splatter film, but there's plenty of bright-red blood and blue-faced zombies, and Savini does it all convincingly.
As much fun as the mystery of what's knocking on the door is at the end of "The Monkey's Paw," it's also fun to see what happens when the father is not fast enough at wishing the visitor away. Deathdream is an amazing view of what happens when the mother actually answers the door.