Just last week we lamented the fact that Cinema Fearité was turning into a memorial column for legends who have recently passed away. The bandwidth used to post that article had not even been calculated before another loss was suffered – Miguel Ferrer died of throat cancer at the age of 61. Most recognizable to horror and cult movie fans from his supporting roles in "Twin Peaks" and Robocop, Ferrer was one of those actors whose face was more famous than his name. In 1997, he took center stage as the lead in Stephen King's The Night Flier.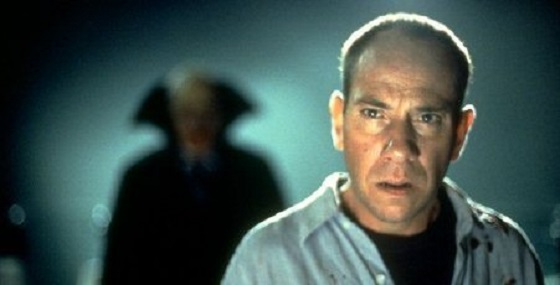 The Night Flier is about a serial killer, predictably nicknamed the Night Flier (Passenger 57's Michael H. Moss), who flies a private plane into small airports, kills whoever is unlucky enough to be there when he lands, and takes off again into the night sky. Because he has a pilot's license and his own plane, a tabloid reporter named Richard Dees (Ferrer) is assigned the story by his editor-in chief, Merton Morrison (Dan Monahan, better known as Pee Wee from the Porky's movies). As Dees chases the murderer around, Morrison also tasks a rookie reporter named Katherine Blair (Julie Entwistle, whose only other screen role is as "Student" in In & Out) to gather facts about the case, working the two writers against each other to get a more sensational story. Soon enough, however, it becomes clear that the writers are chasing something that is more supernatural than human.
Based on a short story from Stephen King's Nightmares & Dreamscapes anthology, The Night Flier was directed by Mark Pavia (Fender Bender), who adapted the story for the screen himself along with his writing partner Jack O'Donnell. As a movie, it's both creepy and campy, sort of like a feature-length episode of "Tales from the Darkside," with as much dime-store pulp in it as there is in Richard Dees' tabloid headlines. At its root, it's a vampire story (yes, the Night Flier is a vampire, and no, that's not a spoiler), but it's one unlike any that you've ever seen.
Miguel Ferrer's performance in The Night Flier is a lot of fun to watch. The actor embraces the sleaziness of his character, making Richard Dees almost like an anti-hero – the only reason he's the good guy is because he's chasing a bloodthirsty vampire. Dees is always one step behind The Night Flier, but his interest in not in stopping him; he interviews witnesses, visits grave sites, and examines bodies, all with the purpose of making his news story more sensational so that he can get his name and picture on the cover. He even stages crime scenes upon which he stumbles in order to get better photographs – think Louis Bloom in Nightcrawler, only not as psychotic. Richard Dees is a hardboiled scumbag, and Ferrer seems to relish in the bad-boy role.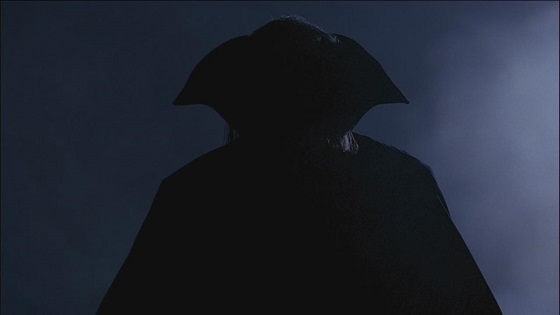 Of course, an anti-hero is still a hero, and a hero is only as good as his villain, so luckily, the vampire pilot in The Night Flier is a great antagonist. He's played as a cartoonish stereotype in many ways, with a big black cape and razor-sharp fangs. There's even a scene where Dees encounters him in a restroom, first noticing him in a mirror as The Night Flier pees blood into a urinal, which looks to Dees as a stream of blood squirting out of thin air, since vampires have no reflections. And his name – his name is Dwight Renfield, and just in case the viewer doesn't get the reference, it's explained verbally that it's a combination of Renfield from Tod Browning's version of Dracula and Dwight Frye, the horror legend who brought the character to life. But there's nothing cartoonish about his murders; The Night Flier (or Dwight Renfield, if you feel familiar enough with him), is more monstrous and brutal than a Count Dracula-type bloodsucker, leaving a trail of viscera and carnage everywhere he goes.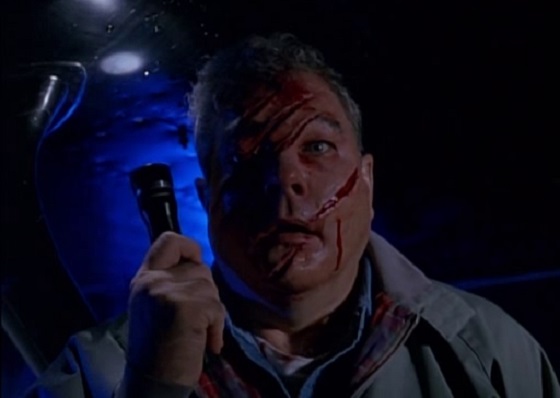 That trail of carnage is realized onscreen by special effects makeup artists Robert Kurtzman, Howard Berger, and Greg Nicotero, who are known collectively as KNB EFX and have been behind the effects for everything from Night of the Creeps and The Horror Show to "The Walking Dead" and The Hateful Eight. The blood and guts in The Night Flier are used sparingly, so that when they do show up, they are all the more shocking. The Night Flier does more than just bite necks and suck blood, though; he slashes, slices, and dices, ripping his victims apart as he murders them, and that's where the KNB guys shine. Oh, and just for good measure, the film turns into an almost dreamily surreal zombie flick at one point, which also shows off the skills of the KNB EFX fellas rather nicely. The Night Flier is not wall-to-wall gore, but what there is looks pretty cool.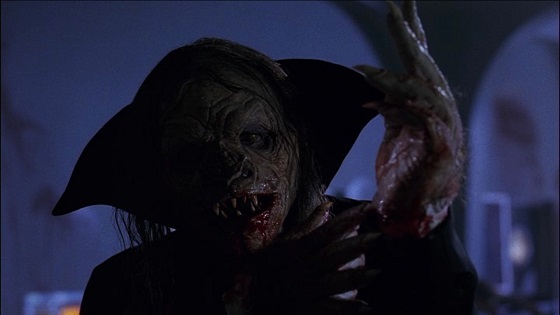 There are little clues all over The Night Flier that hint towards the existence of a larger Stephen King universe. For example, the character of Richard Dees himself is a recurring one, first popping up in King's novel The Dead Zone years before he dropped into The Night Flier. At one point in The Night Flier, Katherine is looking over a bunch of framed tabloid covers of Dees' older stories, and the headlines refer to many other King tales like Children of the Corn, Thinner, Needful Things. In another scene, Dees tells Katherine stories from his career that are more King short story plots, further showing that Dees has been covering the New England news of the weird that comes from King's imagination for a long time. All that's missing in The Night Flier is a Stephen King cameo – unfortunately, King's schedule at the time didn't permit it. But, the Easter Eggs make it quite clear that The Night Flier takes place in the same dark corner of the world as Stephen King's other works.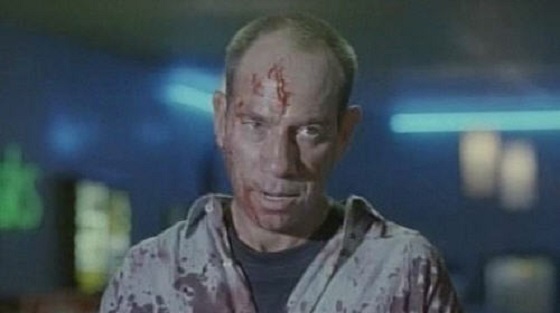 For his part, Miguel Ferrer also found work on two other Stephen King adaptations – the Mick Garris television productions of both The Stand and The Shining. In the years before his death, he ended up with his most mainstream role, one as a regular on "NCIS: Los Angeles." But he will always have a place in the hearts of horror fans everywhere as the cult figure he was, mainly because of loveable movies like The Night Flier. May he rest in peace.