Synopsis: Stephen King's "Carrie" gets a new life in this remake starring Chloe Grace Moretz as a teenager who discovers that she has the extraordinary ability to move objects with the power of her mind, which eventually leads to mayhem and horror at her high-school prom.
Release Date: October 18, 2013     MPAA Rating: PG-13
Genre(s): Horror,
Film Review

Horror movie remakes are a touchy subject – some viewers hate them, others love them. Done correctly, as is the case with this year's Evil Dead and Maniac, they can bring a new dimension to the original. Done poorly, and the result is an inferior replication, such as Gus Van Sant's Psycho. While Carrie is not exactly a shot-by-shot retelling of Brian De Palma's 1976 masterpiece, it doesn't bring anything new to the table, either.
This version of Carrie stars Chloe Grace Moretz (Hit Girl from Kick-Ass) as Carrie White, an outcast who is constantly picked on and bullied by the other girls at her high school. One day, after gym class, Carrie has the misfortune of getting her first menstrual period in the showers. All of the other girls laugh and throw tampons at her until she is rescued by the physical education teacher, Ms. Desjardin (Jeff, Who Lives At Home's Judy Greer). The ringleader of the bullying girls, Chris Hargensen (Portia Doubleday from Youth in Revolt) is suspended from school and vows revenge on Carrie. Meanwhile, another of the tormenters, Sue Snell (Gabriella Wilde from The Three Musketeers), wants to make it up to Carrie and has her boyfriend, Tommy Ross (Divergent's Ansel Elgort), ask Carrie to the prom. Carrie's religious zealot of a mother (Julianne Moore from Boogie Nights) refuses to let her go, but Carrie has a trick up her sleeve – she is telekinetic, and uses her power to move objects without touching them to force her mother to let her go. However, Chris still has her revenge plans, and they involve Carrie's big night at the prom.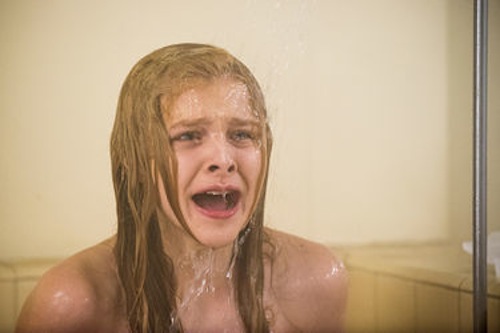 If one has not seen the original Carrie and has no frame of reference, the remake is not a bad film. However, De Palma's film is far superior, both creatively and technically. The script for the remake was written by Lawrence D. Cohen (who wrote the screenplay for the original) and Roberto Aguirre-Sacasa (who has written episodes of "Glee"), and sticks pretty close to the Stephen King source material. Certain aspects of the original story are modernized – when the girls are throwing tampons at Carrie, one of them pulls out an iPhone to video the event, when Carrie is researching her psychic abilities, she uses the internet instead of the library's card catalog, and Aguirre-Sacasa's "Glee" experience comes out loud and clear in the trendy portrayals of the high school kids. Director Kimberly Peirce (Boys Don't Cry) brings a bit of grit and gore to the picture, but not enough to keep Carrie from seeming like an MTV Horror Flick. It's never boring, it's just never that thrilling, either. Peirce has turned the classic Carrie into just another horror film.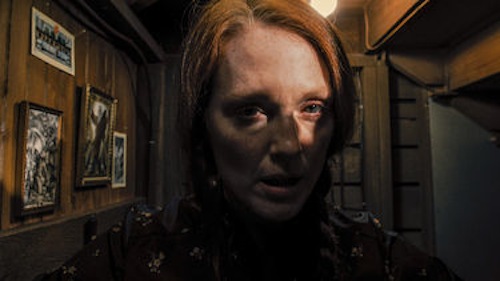 Upon hearing that Carrie was being remade again (it was also done as a television movie in 2002), Stephen King reportedly asked "why, when the original is so good?" That's the question viewers who have seen the original will ask themselves after seeing the remake; the new generation of moviegoers would be better off renting De Palma's definitive version. However, if they like their horror movies to contain twenty-first century technology and fashionable modern hairstyles, then this Carrie will do.

The casting in the remake of Carrie does not even begin to compare with the original. Chloe Grace Moretz is no Sissy Spacek, Judy Greer is no Betty Buckley, and Julianne Moore is no Piper Laurie. However, even without the herculean task of competing with a superior film, the performances are bad. Moretz is too cute and perky to play an outcast like Carrie White. Judy Greer comes off as more of a high school student herself rather than a figure of authority. And, while she at least puts a little bit of commitment and energy into her role, Julianne Moore just doesn't sell the craziness of Carrie's mom like she should. The combination of the lackluster performances just adds to the TV movie vibe of the movie. The casting in Carrie is flat, and the film suffers because of it.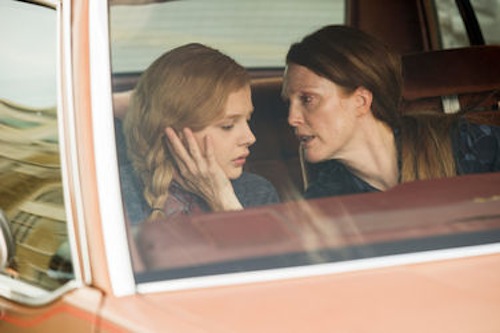 There aren't a lot of scares in Carrie. There's a bit of tension and suspense built up, and that helps, but there's little payoff. There are a handful of cringe-worthy moments of brutality and gore, and those are good for some goose bumps, but they are few and far between and cannot be counted on to cause any nightmares. Even without knowing the arc of the story from seeing the original, the entire film is laid out in the trailer, so there's little shock in the plot, either. Overall, despite the blood and carnage, Carrie is not an extremely effective horror film, it's just another disappointing remake.
Cast and Crew
Director(s): Kimberly Peirce
Producer(s):
Screenwriter(s): Lawrence D. CohenRoberto Aguirre-Sacasa
Story: 
Cast: Julianne Moore (Margaret White)Chloe Grace Moretz (Carrie White)Gabriella Wilde (Sue Snell) Judy Greer (Ms. Desjardin)
Editor(s): Lee Percy
Cinematographer: Steve Yedlin
Production Designer(s):
Costume Designer: 
Casting Director(s): 
Music Score: Marco Beltrami
Music Performed By: 
Country Of Origin: USA