Synopsis: February 12 is just another day in Sam's charmed life until it turns out to be her last. Stuck reliving her last day over one inexplicable week, Sam untangles the mystery around her death and discovers everything she's in danger of losing.
Release Date: March 3, 2017     MPAA Rating: PG-13
Genre(s): Drama, Mystery
Film Review

Ever since the breakaway success of the Twilight series of books, there has been a section in many mainstream bookstores for "Paranormal Teen Romance" selections. This is where the novel upon which Before I Fall is based can be found.
Set in the Pacific Northwest, Before I Fall is about a high school girl named Samantha Kingston (Everybody Wants Some!!'s Zoey Duetch) who spends her days being popular along with her friends Lindsay (Halston Sage from Paper Towns), Ally (Cynthy Wu from "Twisted"), and Elody (Extraction's Medalion Rahimi). One night after a party, Sam and her friends get into a car accident, and Sam dies. Only she doesn't actually die, she winds up having to relive that same day, that one February 12th, over and over until she is able to figure out the circumstances surrounding her death, therefore allowing her to either prevent herself from dying…or move on to the next world.
Before I Fall was directed by Ry Russo-Young (Nobody Walks) from a screenplay by Maria Maggenti (Monte Carlo) that was adapted from that Young Adult novel of the same name by Lauren Oliver (Delirium). On the one hand, it's a typical high school movie with all of the usual tropes. It's got a group of popular girls, a shunned outcast, and a token lesbian. There's the idiot jock boyfriend, the sensitive nice-guy should-be boyfriend, and the obligatory raging house party. Of course, on the other hand, the school day and the raging party both take place over and over in Sam's loop, so the effect is kind of like Clueless-meets-Groundhog Day. Each day, Sam tweaks little things about herself and how she lives – being nicer to her mother, convincing her girlfriends to not go to the party – hoping that she can break the cycle, so there's more than a little bit of The Butterfly Effect concept in there, too.
Unfortunately, Before I Fall is no The Butterfly Effect. Instead of a deep-thinking, "The Twilight Zone"-esque kind of thing, it winds up being a brainless and melodramatic teen movie that wastes a ton of potential. There are so many possibilities that could have been explored in the movie, but what ends up onscreen is an obvious and convenient – albeit, never boring – story about a girl longing for redemption, with no real jaw-dropping revelations or epiphanies to speak of.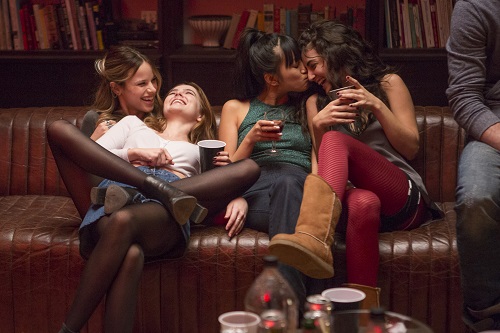 There is an audience for movies like Before I Fall. It's made up of kids who are like the kids in the movie, and they're not going to care that the story is lacking. They'll see a slick movie full of pretty faces and a pumping soundtrack, and they'll go right out and buy the book (if they don't already own it) and line up for the sequel.

Like all good YA movies, Before I Fall has a rocking soundtrack made up of songs by hip, modern rock artists like Grimes, Yeah Yeah Yeahs, and Lolawolf (fun fact: Lolawolf is Zoë Kravitz's band). Sometimes the tunes just show up as transitions to other scenes, but more often, songs are used as part of the scenery, either playing on a car radio or blasting from a house stereo. Every February 12th morning that Sam wakes up, for example, she is greeted by the alarm on her phone, which happens to be the unmistakably recognizable drum and bass groove of Big Data's "Dangerous," signifying to her that she's starting another day in the loop. Sometimes they're snuck into the film in subliminal places, but the songs on the soundtrack to Before I Fall should have no problem shifting some units, as they say in the biz.
Cast and Crew
Director(s): Ry Russo-Young
Producer(s): Matthew KaplanBrian RobbinsJonathan Shestack
Screenwriter(s): Maria Maggenti
Story: 
Cast: Zoey Deutch (Samantha Kingston)Halston Sage (Lindsay)Medalion Rahimi (Elody) Cynthy Wu (Ally)Logan Miller (Kent)Kian Lawley (Rob)Elena Kampouris (Juliet Sykes)Liv Hewson (Anna)Jennifer Beals (Mom)Erica Tremblay (Izzy)Nicholas Lea (Dan)
Editor(s): Joe Landauer
Cinematographer: Michael Fimognari
Production Designer(s):
Costume Designer: Eilidh McAllister
Casting Director(s): Nancy Nayor
Music Score: Adam Taylor
Music Performed By: 
Country Of Origin: USA