Even if one's not seen Quentin Dupieux's loopy telekinetic tire movie Rubber [2010] it's quite clear from the start of Wrong – the wrong "A Film By" credit, followed by a nice if obvious gag on the hackneyed alarm clock shot – that this is going to be another surreal oddity.
Dolph (Jack Plotnick) wakes in his neighborhood LA home to find his dog Paul has gone missing. After an odd encounter with his neighbor, an amusing phone conversation with a pizza girl (of Jesus Organic Pizza, no less), and the discovery that his palm tree has inexplicably transformed itself, a mysterious voice on the telephone summons him to meet the mysterious Master Chang. Chang reveals something of the how and why Paul disappeared, and also reveals that stalwart supporting guy William Fichtner can be truly hilarious.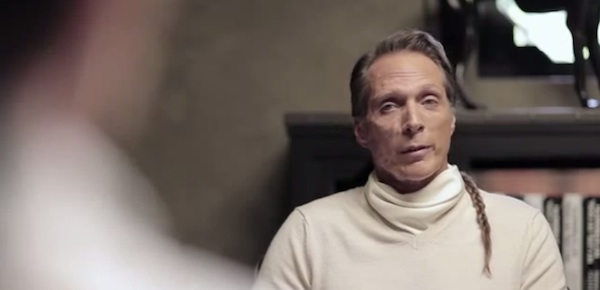 Plotnick too does a fine job as an archetypal little man refusing to be totally bewildered by the bizarrity that surrounds him. And much bizarrity there is, in incidental details like the guy who takes it upon himself to paint park cars, the perpetual, torrential downpour in Dolph's office, and the whole subplot with that pizza girl, who turns out to be fantastically annoying (and credulous) in person. Dupieux conjures a world that is recognizably, banally, our own, but with constant tweaks to how it should rightly be. There's a fair bit of humour in how the characters just go with it, only occasionally prompted to a weary "but that doesn't make sense", and there's much humour in the surreal inventiveness; this is all very much of a piece but rarely predictable, and when it is, creates a kind of fond pre-amusement in anticipation. The general light-heartedness is offset, however, and the off-kilter comedy heightened by, ominous and incongruous piano chords and obsessive rack focusing (Dupieux wields the camera himself), but all in all the film is little more than a string of gags which, however, funny, don't add up to much, and as with Rubber, Dupieux really has no ending. A frippery then, but a frequently amusing one at least.
World Cinema Section
Country: France | USA
Year: 2012
Director: Quentin Dupieux
Screenwriter: Quentin Dupieux
Producers: Gregory Bernard, Charles-Marie Anthonioz
Executive Producers: Gregoire Melin, Sindika Dokolo, George Goldman
Cinematographer: Quentin Dupieux
Editor: Quentin Dupieux
Production Designer: Joan Le Boru
Music: Tahiti Boy & Mr. Oizo
Cast: Jack Plotnick, Eric Judor, Alexis Dziena, Steve Little, William Fichtner
Running Time (minutes): 94
WRONG (sundance teaser) from Mr OIZO / Q.DUPIEUX on Vimeo.