Synopsis: Based on Frank Miller's latest graphic novel "Xerxes" and told in the breathtaking visual style of the blockbuster 300, this new chapter of the epic saga takes the action to a fresh battlefield-on the sea-as Greek general Themistokles (Sullivan Stapleton) attempts to unite all of Greece by leading the charge that will change the course of the war. 300: Rise of an Empire pits Themistokles against the massive invading Persian forces led by mortal-turned-god Xerxes (Rodrigo Santoro), and Artemisia (Eva Green), vengeful commander of the Persian navy.
Release Date: March 7, 2014     MPAA Rating: PG-13
Genre(s): Action, Adventure
Film Review
Production
In 2007, Director Zack Snyder successfully bridged the gap between stylized comic book and film with his bloody, machismo-filled sword and sandals epic 300. Since that time, 300 has informed a whole new genre of comic book adaptations and action flicks, all highlighted by speed-ramped action sequences, hyper-violence, and a razor thin story. But, there will always be just one 300.
Yet, because 300 was a box office success, talk of a sequel would always permeate the ether, even if Snyder and star Gerard Butler didn't seem too keen on the idea. Even so, that first film captured an idea and delivered an experience in a way few films before it had, which meant someone was bound to try to duplicate that success. And, by most accounts, 300: Rise of an Empire is a success. It competently recreates the visceral cinematic viewing experience that was 300; and does so on the back of hyper stylized action sequences and a fantastic villain.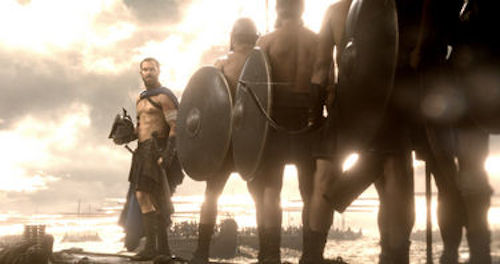 Positioned as an interquel of sorts, 300: Rise of an Empire features a storyline that runs prior to, concurrent with, and after the events of the first film. It shows audiences how the god-king Xerxes (Rodrigo Santoro from What To Expect When You're Expecting) developed his self-indulgent moniker, how the skilled Athenian naval captain Themistocles (Sullivan Stapleton) found himself at the center of a major conflict between Greece and Persia, and even gives plenty of screen time to our film's scenery chewing villain, Artemisia (Eva Green from Dark Shadows). In fact, 300: Rise of an Empire's ultimate focus is the battle – of wits, brawn, and even sex – between Themistocles and Artemisia.
Artemisia, like Xerxes in the first film, has a vast (naval) fleet at her disposal, and Themistocles is vastly outnumbered. But his skill and knowledge of the terrain help the insurmountable, at times, feel surmountable. There's still an unnerving sense of dread, but at brief moments it seems like Themistocles might have a chance. When Themistocles men, made up of mostly farmhands and husbands, find victory, it's only ever on the small scale; and that only enrages the bloodthirsty Artemisia further. Themistocles' hope is that the actual 300 soldiers of Sparta will inspire and unite the whole nation of Greece with their sacrifice, but in the mean time he hopes to hold off the Persian army for as long as possible.
300: Rise of an Empire
is a thin David and Goliath story, and most audiences will dismiss it as nothing more than the impetus behind each bloody battle. Even the film's cast, aside from the surprisingly hammy performance from Eva Green, is forgettable. Stapleton does well as Leonidas-lite, but he plays Themistocles as an earnest, noble leader without any of the fun that made Gerard Butler's character so memorable. And any time he's matched against Green, whose Artemisia is equal parts sex, cheese, and badass, the disparity is hard to overlook. She is easily the best part of the film.
It isn't fair to judge the performances or the story too harshly, though, because where it really counts 300: Rise of an Empire delivers. Fight sequences are better choreographed, more dynamic, and, frankly, bloodier than those in the first 300. Obviously, the film is aping its predecessor's style, only by trading sand and dirt for water and wood, but where 300: Rise of an Empire needed to be bigger or bolder it is. 300: Rise of an Empire isn't just running with 300's lead, it's sprinting away with it – upping the ante in every conceivable way.
Recommending 300: Rise of an Empire boils down to one question: how much did you enjoy 300? If there was any moment throughout that brisk, action-packed film that you scoffed at the stylized cinematography, the excessive violence, or the over-the-top characters, then you'll likely walk away from 300: Rise of an Empire feeling the same way. However, if you reveled in the gore and didn't mind the thin plot and characters, you will be equally as pleased here. For a genre picture this rare, more of the same isn't bad. 300: Rise of an Empire is a bloody, good time at the movies – a chance to check your brain at the door and bask in what is largely a teenage boy's fantasy.
Action Sequences
It may not seem that, after 300, it was possible to crank the knob any further to the right, yet 300: Rise of an Empire finds some clever ways to up the ante in terms of creative action and spectacular set pieces, most of which are bolstered by strong effects work. The film just plain delivers when it comes to giving more. More of everything you could want out of a sequel.
At times it does feel like a little much – an endless wave of body parts highlighted by tons of CGI blood and even more speed ramping – but it's not as bothersome as you might think. Ultimately, the action is exciting enough to generate a few cheers and conceived in such a way that it all feels different, even in a limited setting. Most will flock to 300: Rise of an Empire looking for action of the same quality as its predecessor, and in that regard the film succeeds.
Although the film would have been perfectly fine as a 2D flick, the use of 3D does give a textural quality to the fights. Anytime blood, limb, or any other manner of viscera is seen flailing around screen, the 3D helps bring it right to the forefront, making sure the audience is right there. You want 3D to thrust you into battle, and this film does so with aplomb. Even the dialogue scenes have some added 3D particles just to make sure the audience has something to look at, because frankly, any non-action, non-Artemisia scene is a struggle to get through. Thankfully, there are very few of those.
Cast and Crew
Director(s): Noam Murro
Producer(s):
Screenwriter(s): Zack SnyderKurt Johnstad
Story:
Cast: Lena Headey (Queen Gorgo)Eva Green (Artemisia)Rodrigo Santoro (Xerxes) Sullivan Stapleton (Themistocles)
Editor(s): David Brenner
Cinematographer: Simon Duggan
Production Designer(s):
Costume Designer:
Casting Director(s):
Music Score: Junkie XL
Music Performed By:
Country Of Origin: USA